7 pop stars who are incredibly good at the piano
10 September 2018, 15:50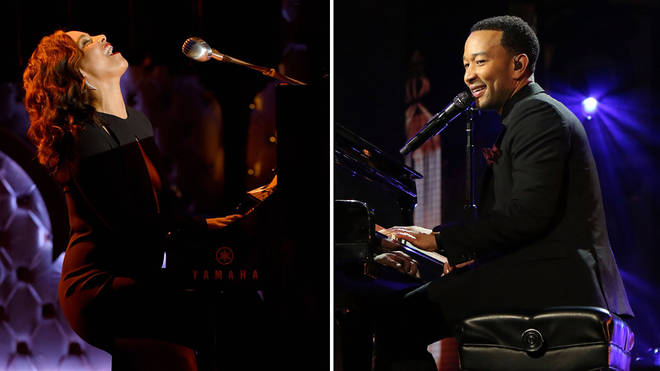 From Billy Joel to Lady Gaga, here's proof that some of today's biggest pop stars are also ridiculously good at playing the piano.
These famous singers all know their way around a keyboard...
Billy Joel

As the brains behind piano-driven ballads like 'She's Always a Woman', Joel is a long-time devotee of the piano – but it didn't all start out smoothly. He reluctantly began lessons at a very early age, thanks to the insistence of his mother, and ended up never graduating from high school, because he missed an exam after playing a gig at a piano bar the night before.

Joel has also dabbled in classical music, and once released an album of self-composed classical piano pieces called Fantasies and Delusions. Here he is with Elton John, duetting on 'Piano Man' and doing what he does best (making us all cry).

John Legend

Legend, whose real name is John Stephens (you can see why he went with Legend), started playing piano at the age of seven. While at college, he was introduced to American singer Lauryn Hill, and found his first break: playing piano on her record 'Everything is Everything'.

Legend's old-school vocals are incredibly distinctive – and they lend themselves perfectly to the piano. Here he is playing his 2004 hit 'Ordinary People', with a gorgeous piano fantasy in the introduction.

Alicia Keys

Literally named after the instrument, Keys (real name Alicia Cook) began playing the piano at the age of seven, and graduated from the Professional Performing Arts School aged 16.

Unlike many of her contemporaries, Keys isn't known for being a great show-woman, and is far more comfortable sitting at the piano, playing her keyboard-based hits 'Fallin'' and 'No One'. As she should be; she's brilliant at it.

Regina Spektor

Despite finding her fame in folk-slash-indie-pop, Spektor grew up listening to classical music. The singer-songwriter discovered a love for the piano when she started practising on an old Petrof upright in her family home in Moscow.

But in 1989, her family left the Soviet Union, leaving the treasured piano behind.

After that, Spektor practised on tabletops and any other hard surfaces she could find, before winning a place to study classical piano at the Manhattan School of Music in New York City. In 2012, she was made an official 'Steinway Artist', and almost exclusively plays Steinway & Sons pianos.

Sara Bareilles

Bareilles taught herself to play the piano at a young age, along with the guitar. Finding inspiration from Etta James and Sam Cooke, she describes her sound as 'piano-based pop soul'.

In both live performances and the recording studio, Bareilles is rarely seen away from the instrument. And all the better for it – here's a storming live piano and vocals performance of her biggest hit, 'Love Song'.

Elton John

A classically-trained pianist, Elton had his first piano lesson aged seven – and by the age of 11, he had won a junior scholarship to the Royal Academy of Music. According to one of his teachers at the Academy, John was played a four-page piece by Handel, and promptly played it back like a "gramophone record".

As many aspiring pianists soon find out, Elton John's piano parts are very difficult to play. Often they run counter to the vocal melodies which go over the top, to allow for Elton's famous flourishes, and this means that his melodies are very rarely doubled in the piano part. His 2009 live performance of 'Don't Let The Sun Go Down On Me' is a perfect example of this style, with his characteristic arpeggiated flow in the right hand broken up by some funky syncopated octaves.

Lady Gaga

She might be better known for her extraordinary mezzo voice and meat-inspired costumes, but Lady Gaga was also once accepted to study piano at Juilliard. And from theatrical acoustic versions of her own songs to a brief flirtation with ragtime, she frequently plays the instrument in her live shows.

Her 2009 live session with Capital is a great demonstration of Gaga's musical abilities. She turns her pop hit 'Paparazzi' into a catchy acoustic number, toying with us with a dark piano opening, and gradually bringing in the melody of the chorus before launching back into that stilted, staccato accompaniment.

To quote Gaga herself, "all good music can be played on a piano and still sound like a hit".