A colossal Rachmaninov and Mahler-inspired improvisation on Auld Lang Syne
2 January 2018, 16:56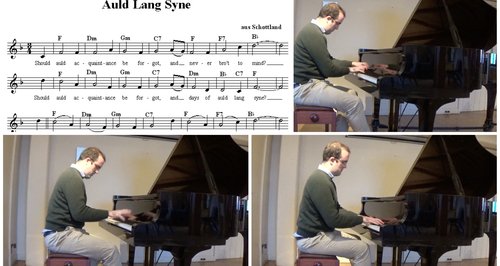 Start your year off right - with a mammoth improvised pianistic tour-de-force on that Scottish tune. You're welcome.
It's the time when most of us are quaffing champagne, linking arms and pretending they know all the words to Robbie Burns' poem Auld Lang Syne. However, for pianist Peter Foggitt, it's a chance to sit down at his instrument and dream up another extraordinary improvisation.
The pianist has been treating his followers on social media to improvisations of festive themes for the past few weeks – you can find more here.
Peter, with what sounds like a hefty inspiration from Russian virtuoso composer-pianists such as Rachmaninov and Nikolai Medtner.
The pianist also explains the way he thought through the improvisation as it unfolded. Peter told us it tells the story of a 'hero's journey' on his journey (the theme); getting a spot of help along the way (harmonisation of the theme); his first adventure (the allegro section that follows); a setback (the high slow episode); finding new strength (the scherzo after 3 minutes); and finally, the dramatic conclusion.
It's the same form that's used in great works like Richard Strauss' Ein Heldenleben (A Hero's Journey)
Take a listen: