Top pianist's advice: 'Let music be the reminder that we do this because it's so beautiful and amazing'
14 September 2016, 12:55 | Updated: 6 January 2017, 14:45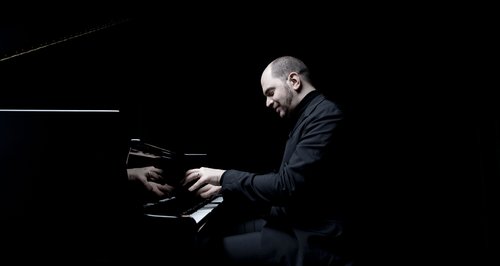 Pianist Kirill Gerstein talks to us about life on the road as a classical pianist, and why you always have to return to the music.
Picture: Marco Borggreve
Being a musician on the road can be a demanding existence, especially when you're a soloist. We spoke to Russian-born pianist Krill Gerstein backstage at the Jerusalem International Chamber Music Festival (where he was performing several times across the programme) about the trials and privileges of being a modern classical soloist.
How long have you been away from home this year?
I didn't count this year, but last year I think it was 285 day that I wasn't at home.
And how many countries have you played in this year?
Certainly over 10, possibly over 20.
Do you get into a cycle of plane-hotel-concert, plane-hotel-concert etc?
In some ways it's very different with every city. Some you know, some you don't, every time it's a different hotel and concert hall. And as a pianist it's even less of a routine because it's a different instrument for us. I think that's not a bad thing, I feel that one doesn't get into a routine. There's enough variety. And at the same time there's a constant: you get somewhere, you rehearse, you play a concert, you meet some interesting people, you go away.

Do the other musicians you see at festivals and concerts around the world become a surrogate family on the road?
Some more so than others, obviously, but especially here there are a lot of dear friends that have been a constant in my life, and that's a great pleasure, such as András Schiff [with whom Gerstein duetted at the JCMF] and Elena Bashkirova [the JCMF's founder].

Does the pressure of the lifestyle and the constant travelling ever make you want to take time off and try something else?
I don't know about try something else, but I think there are periods I try to make in my schedule where there is more stability and I'm at home more, and I have time to learn new pieces. On the other hand, I don't feel compelled by external factors to travel as much as I do. I really like playing music, and so it's a blessed life. We get to touch amazing musical substance with our hands as instrumentalists. It's a privilege.

You started living this lifestyle relatively young. What advice would you give to a young musician who's about to embark on a professional career?
It's terrible to give advice to young musicians or anybody, but I would say… obviously there are a lot of external factors which interfere with the main thing we want to do, which is play these amazing pieces and be involved fully in the art to the best of our ability.

The advice I'd give is not to let the interferences interfere. Whenever it might be depressing or discouraging, when one sits with one's instrument and plays the music, let it be the reminder that we do this because it's so beautiful and amazing. It's not always easy to execute this advice but this is what I do for myself. When I come to the keyboard, the nonsense dissipates and you can be in communion with these amazing pieces.

So you have to nurture your relationship with the music itself?
Yes. This is why we are here, if one is a musician. It should always be nurtured and kindled and kept.
Kirill's new recording of Liszt's Transcendetal Études is out now: get it from iTunes