Lizzo and Sir James Galway's 'treasured' duet – flute footage emerges from 2023 Met Gala
4 May 2023, 07:30 | Updated: 4 May 2023, 13:34
Lizzo plays the flute with Sir James Galway backstage at the Met Gala
Two star flautists come together in a wholesome duet across musical generations.
New York's iconic and star-studded Met Gala took place on Sunday night. And amongst the glitz, the flowing flocks, and the slightly bemusing feline outfits, there was also time for some red carpet-worthy flute playing.
At the 2022 gala, pop star and flautist Lizzo stood on the red carpet and serenaded the entertainment world with Debussy. The pressure was on for a follow-up performance this year, so she enlisted some help.
Sir James Galway is popularly known as 'The man with the golden flute', which seems very fitting for the Met Gala's opulent aesthetics.
Lizzo and Galway have struck up a social media friendship over a few years, and the younger instrumentalist has frequently shared her admiration for the 83-year-old classical virtuoso. And so, she reached out to Galway with an invitation to America's premier society event.
Though they have exchanged musical greetings virtually, this was their first in-person performance.
During the gala event, they played a lively duet of Rimsky-Korsakov's 'Flight of the Bumblebee' (watch a short clip below). Both members of woodwind royalty were rightly enthroned in Met Gala splendour.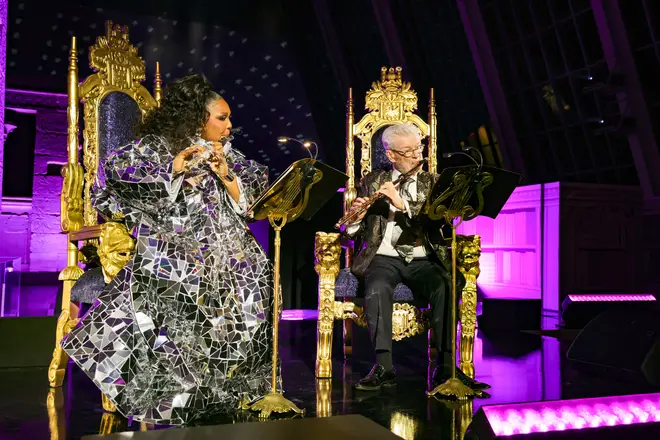 Read more: Lizzo makes history by playing the Library of Congress' 200-year-old crystal flute
Earlier in the night, Lizzo serenaded gala guests with an interlude from Mozart's opera The Magic Flute, ahead of a table-top sung performance. Vogue Magazine shared clips of what they called the pop star's 'shimmering surprise'.
The singer later shared a video of the duo practising a flute duet arrangement of Henry Mancini's theme for The Pink Panther, at a studio in New York. Lizzo and Galway's duet will feature on an upcoming centennial tribute EP for Mancini.
In the video caption, Lizzo paid tribute to her flute idol Galway, whose album The Man with the Golden Flute she says "changed the trajectory of my life" when she was 11 years old.
"I learned most of the songs by ear because the sheet music was too difficult to read at the time but eventually I fell in love with virtuosic flute music and memorized The Carnival of Venice (James Version) when I was 14. My father heard that and took my flute very seriously, he bought me lessons from university level teachers and my parents eventually got me Sasha Flute to keep up. When my dad passed away I played Amazing Grace into Carnival of Venice at his funeral… it was my promise to never give up.
"Now, years later I had the honor to play beside Sir James Galway, and receive lessons from him and even play his alto flute. I can confidently say I wouldn't be the musician I am today without his influence.
"You are truly the King of Flutes and I can't wait to play with you again," Lizzo wrote on Instagram.
After the image of the wholesome duo playing together went viral on Monday, Sir James Galway's team revealed what happened at the Gala. The Northern Irish great said it was an invitation and musical collaboration that the legendary flautist will treasure forever.
He said: "I hope my duet with Lizzo will inspire young artists, showing them that it is possible to cross the boundaries and bring music genres together in extraordinary ways."
Here's to many more duets.