Sir James Galway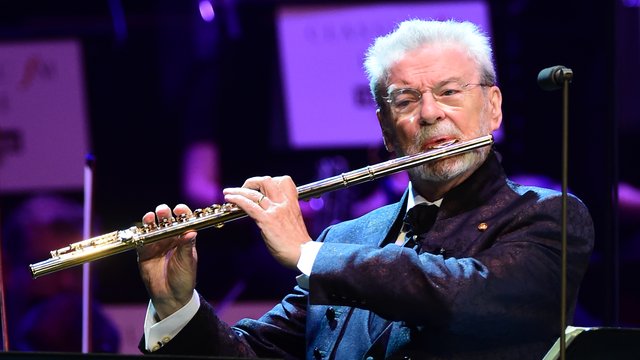 Sir James studied at the Royal College of Music and the Guildhall School of Music and Drama in London, followed by the Paris Conservatory before embarking on his musical career at the Sadlers Wells Opera and the Royal Opera Covent Garden.

In 1969 he was appointed Principal Flute of the Berlin Philharmonic where he played for six years. In 1975 Sir James launched his career as a soloist and within one year he had played 120 concerts, including appearances with all the London orchestras. Since then, he has traveled extensively giving recitals, performing with the world's leading orchestras, participating in chamber music engagements, popular music concerts and giving masterclasses.

Galway has won numerous awards, including the 1997 Musician of the Year from Musical America and Record of the Year awards from Billboard and Cash Box magazines. In 1979 he was honoured with an OBE and in 2001 he received a Knighthood for services to music.

In February 2004, Sir James was given the President's Merit Award from the Recording Academy at the Grammy's 8th Annual 'Salute to Classical Music'.

He was a member of the BBC Symphony Orchestra where he played piccolo and he joined the London Symphony Orchestra and the Royal Philharmonic Orchestra where he was Principal Flute.

Sir James has released over 50 albums during his career spanning a variety of styles from the traditional masters to Japanese and Irish folk music.

He also performs on several tracks from the soundtrack for 'The Lord of the Rings: The Return of the King' composed, orchestrated and conducted by Academy Award winner Howard Shore.

Did you know?
In his free time, Sir James devotes much of his time to charity work as the president of Flutewise, a volunteer-based non-profit organisation which donates instruments (including flutes) to young people with disabilities.
View more
Sir James Galway and Lady Jeanne Galway play Mozart's Rondo alla Turca
Discover Sir James Galway
Best Sir James Galway recordings
Peer Gynt Suite No. 1 (Morning)
Edvard Grieg