A church accidentally printed the lyrics to Tupac's 'Hail Mary' instead of the Latin prayer
18 November 2019, 21:42 | Updated: 18 November 2019, 21:47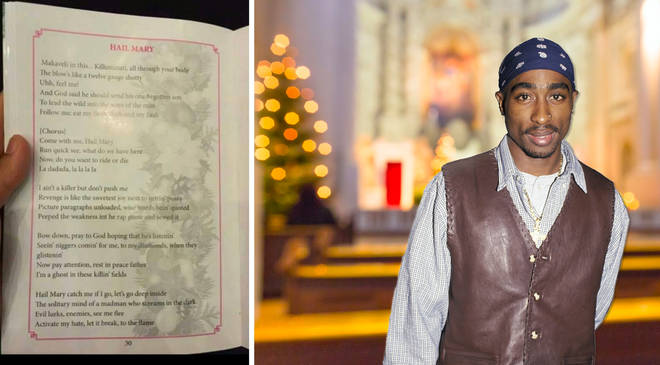 An epic copy and paste error leads to a very different sort of Christmas anthem...
A reflective, seasonal 'Ave Maria', courtesy of 90s star rapper Tupac Shakur: that's what was on offer in this carol service, courtesy of a spectacular order of service typo.
The copy and paste disaster was printed back in 2016, in a programme for a 'Joy to the World' concert in Colombo, Sri Lanka.
"A Christmas carol service in Sri Lanka has accidentally printed the lyrics of Tupac's Hail Mary, instead of the prayer", wrote Twitter user Ravindu Thimantha who attended the carol concert and quickly snapped the editorial error.
The 'Hail Mary' is a traditional Catholic prayer, asking for the intercession of the Virgin Mary. In music, it is most commonly found in its Latin form, Ave Maria, with famous settings coming from the likes of Franz Schubert and Sergei Rachmaninov, along with Renaissance composers Josquin des Prez and William Byrd.
'Hail Mary' is also the title of a song by 1990s rapper Tupac Shakur, who wrote it alongside hip-hop songwriters Young Noble and Kastro.
The song depicts desperate prayer in a violent and troubled world. It also contains language not found in your usual festive church service.
Instead of the traditional Latin prayer, which translates as 'Hail Mary full of grace, the Lord is with thee', Tupac's version asks Mary: 'Do you want to ride or die?'
After the 2016 tweet went viral, CNN spoke to Father Da Silva, from the Sri Lankan archdiocese where the mix-up happened. He told them that there was an error in downloading and printing the wrong song text.
"The page was in the middle of the booklet. When people looked at this page, they saw it before the start of the show. Two people saw it and alerted us to it."
"We are very sorry to say that this happened," he said.