This string quartet improvised live a bizarre soundtrack to the presidential debate
20 October 2016, 11:47 | Updated: 11 January 2017, 14:26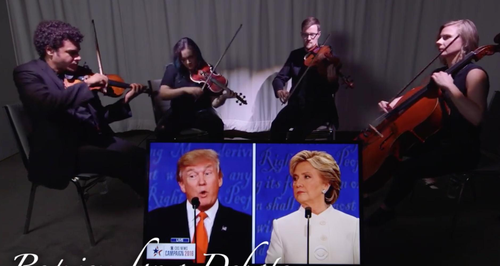 Watch this epic, live streamed improvisation to accompany the barbs, bellowing and back and forths of the final Trump vs Clinton debate.
What did the final US Presidential debate 2016 need? Glissandi, pizzicato and a healthy dose of tremolo, according to The Late Show with Stephen Colbert.
As Donald Trump and Hillary Clinton took to their podiums in Las Vegas, US string quartet PUBLIquartet had their instruments ready and improvised a 90-minute soundtrack to the lines of the candidates, titled Requiem for a Debate.
Here are some things to watch out for -
47:30 Descending glissando screeches with Trump's tax talk
1:11:00 Darkly menacing cello figures to accompany those assertions of a rigged election.
1:28:30 Comically raspy motifs when Trump interrupts Clinton over Russia.
Throughout Lots of percussive bluegrass influenced moments, and a jazzy nod to those swing states.