New Releases: Immortal Memory from Paul Mealor and Andrew von Oeyen's piano concertos
23 January 2017, 10:00 | Updated: 15 June 2017, 15:36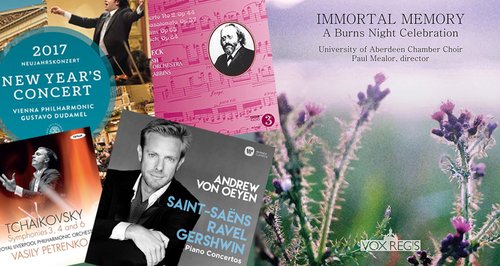 Throughout the week Classic FM's presenters bring you the best new recordings, including world exclusives and premiere broadcasts of latest releases.

John Suchet plays a track from his featured album at 10:15am every weekday.
Paul Mealor: Immortal Memory - University of Aberdeen Chamber Choir
Vox Regis
The poetry of Robert Burns will be given a new lease of musical life in a unique recording featuring the University of Aberdeen's world-renowned composer, Paul Mealor, and its much-celebrated Chamber Choir.
A new album, titled Immortal Memory, will be released under the University's own record label, VoxRegis, with all proceeds from the sale of the disc donated to support the projects established in Ballater by HRH The Duke of Rothesay and The Dumfries House Trust following the 2016 floods.
Professor Mealor said the decision to donate all revenue from sales of the album to the His Royal Highness's appeal came from strong ties forged with the Deeside community. "The Chamber Choir has performed regularly at events in Royal Deeside, including at celebrations at Balmoral, in Braemar and in Crathie Kirk," he added. "We have got to know the people of this area through our concerts and they have been a tremendous support to the choir over the years. We thought it would be appropriate to give something back in recognition of that support."
The album was launched at a special concert in the village's Glenmuick Kirk on Thursday 12th January and was attended by their Royal Highnesses The Prince of Wales and the Duchess of Cornwall.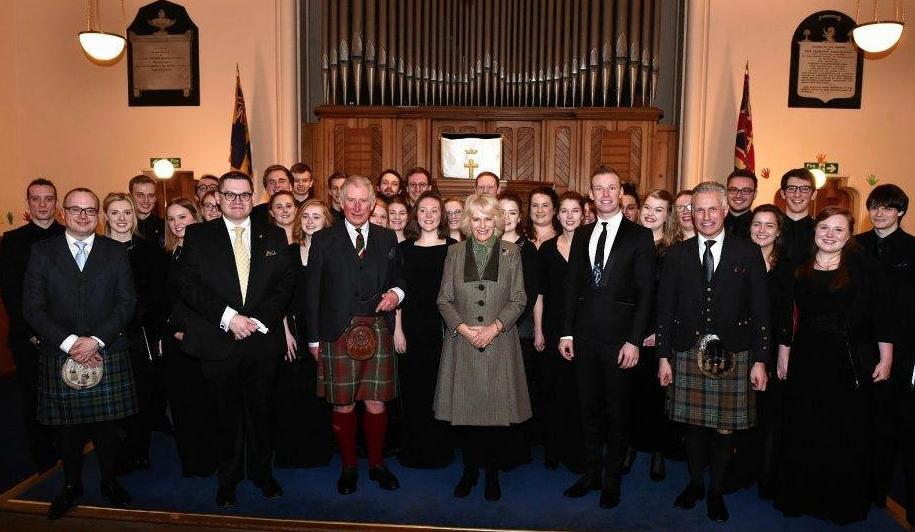 The concept for the record was developed by Professor Mealor, who has received global acclaim for his work which has been performed at a number of high-profile royal events including the wedding of the Duke and Duchess of Cambridge, when he discovered that few choral arrangements for Robert Burns exist. Immortal Memory follows a traditional Burns Supper and includes many of his favourite works including Auld Lang Syne, Ae Fond Kiss, A Man's a Man and Afton Water.
"Burns is admired the world over for his poetry and songs but despite his enduring popularity, this does not seem to extend into the choral tradition," he said. "The richness and depth of Burns' verse lends itself well to choral performance and with the creation of the University's record label, Vox Regis, it seemed a wonderful opportunity for a new interpretation of his much-loved work."
The University's Chamber Choir accompany traditional singer Robert Lovie, who was given the honour of performing the national anthem at the opening of the Glasgow commonwealth games, with fiddle music from Raemond Jappy and soprano Jillian Bain Christie. The Chamber Choir has been invited to perform at a number of high-profile events including the BBC Proms, celebrations for the Queen's 90th birthday and Songs of Praise.

John Brunning plays a track from his featured album after 6pm every weekday.
Saint-Saens, Ravel, Gershwin: Piano Concertos - Andrew von Oeyen
Warner Classics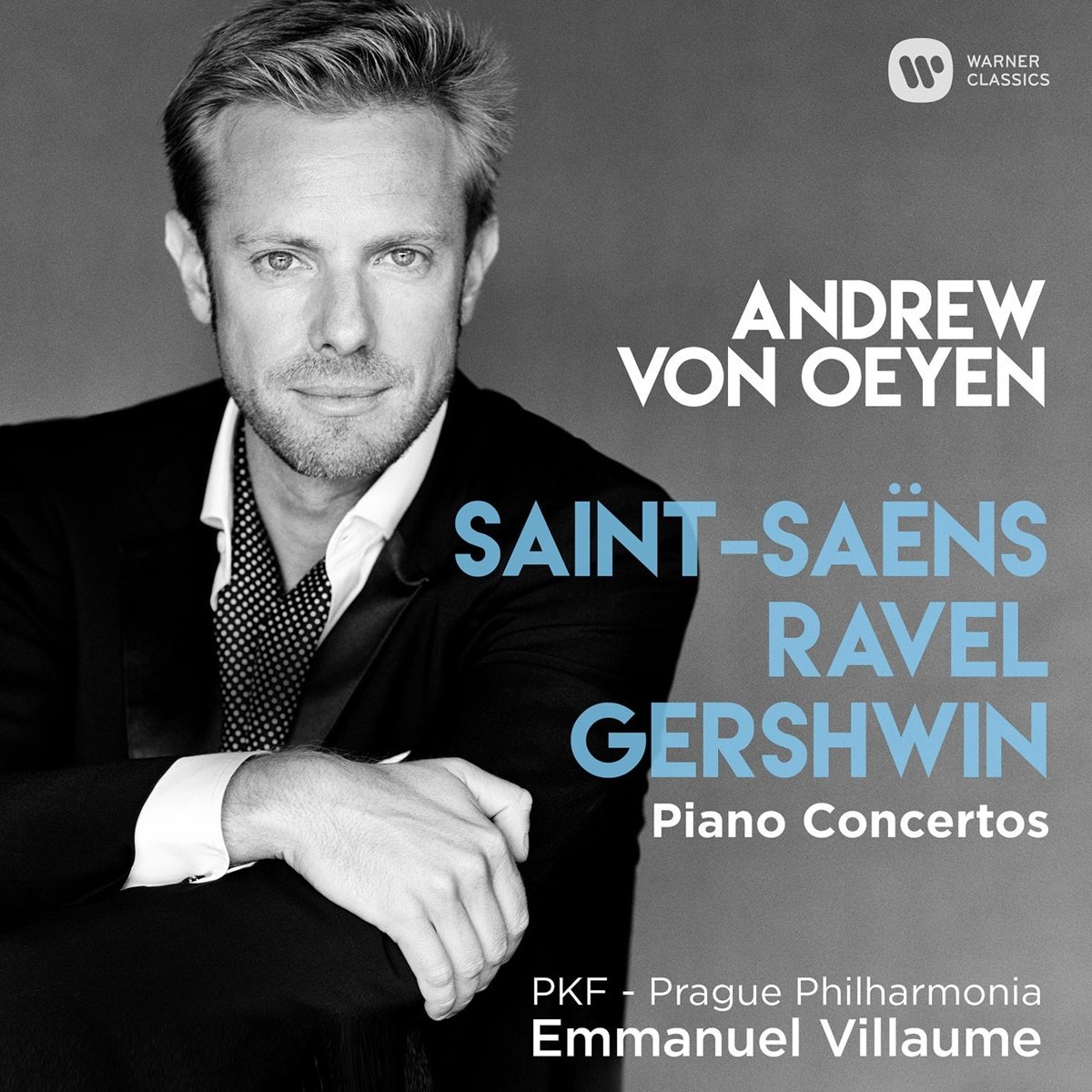 Living as he does between Paris and Los Angeles, pianist Andrew von Oeyen is the ideal interpreter for this enticing programme: flanking Ravel's Piano Concerto in G with Saint-Saëns' Piano Concerto No. 2 and Gershwin's Second Rhapsody, it explores Franco-American cross-currents. Von Oeyen is partnered by the PFK Prague Philharmonia under its Music Director and Chief Conductor Emmanuel Villaume.
"Perhaps it is no coincidence that my debut album for Warner Classics presents a Franco-American theme," says Andrew. An American (of German and Dutch origin) who trained at New York's Juilliard School, he now lives between Los Angeles and Paris. He is partnered on the album by the PFK Prague Philharmonia under its Music Director and Chief Conductor Emmanuel Villaume – a Frenchman who is very much at home in the USA, as Music Director of the Dallas Opera and as a frequent guest conductor with America's leading opera companies and orchestras.
"I am grateful for the opportunity to live between two continents," continues Andrew von Oeyen, "and extremely fortunate that my profession allows for this situation. I often say that if someone were to put a gun to my head and make me choose between Europe and America, I would probably get shot! … As a musician of the 21st century, I'd like to think that my passport has little to do with the kind of artist I am; certainly, it doesn't determine the repertoire I choose to play."
The works he has chosen for this album are Saint-Saëns' Piano Concerto No. 2 in G minor, dating from 1868, Ravel's Piano Concerto in G, written between 1929 and 1931, and Gershwin's Second Rhapsody, composed in 1931, seven years after the better-known Rhapsody in Blue.
When it came to putting this album together, Ravel was, as von Oeyen explains, "the unifying thread in the programme – he knew both Saint-Saëns and Gershwin." Saint-Saëns died in 1921 at the age of 86, just at the time Gershwin was achieving huge success. Ravel cited the older composer's five piano concertos, works full of colour and elegance, as an influence on his G major concerto, but today's listeners will inevitably be struck by its fusion of characteristic Gallic refinement (epitomised in a central movement of delicate poetry and discreet melancholy) with jazzy bluesiness and angularity. "No music from outside the European Continent would influence Ravel more than American jazz," says von Oeyen. "In 1928 he even wrote 'I like jazz far more than grand opera'. His use of jazz in his Concerto in G is probably the most discussed and obvious aspect of the work. But what most impresses me is that the piece doesn't reflect a classically trained French musician trying to write in the style, thereby diluting, simplifying or mimicking jazz's core features … Rather it reflects a creator who makes the genre his own, masterfully employing its harmonic and rhythmic idioms and without resorting to cliché.
"No French composer was more influenced by the music of Gershwin than Ravel, and probably no American composer was more influenced by the music of Ravel than Gershwin," continues von Oeyen. The two composers met in Paris in 1926 when Gershwin was on the trip that led to the composition of An American in Paris. In 1928, when Ravel visited the US, he saw Gershwin's musical Funny Face on Broadway, the two composers visited a jazz club in Harlem and Gershwin played Ravel his Rhapsody in Blue. Andrew von Oeyen recounts the famous anecdote – perhaps apocryphal – of Gershwin's request to study with Ravel. The Frenchman replied: "Why would you want to be a second-rate Ravel when you are already a first-rate Gershwin? Plus, you make more money than me, so I should take lessons from you!"
Ravel's Concerto in G and Second Rhapsody received their premieres within weeks of each other. While Ravel's concerto has become one of his best-loved works, Gershwin's Second Rhapsody has not achieved the phenomenal popularity of Rhapsody in Blue. Andrew von Oeyen finds that hard to explain: "It bears all the qualities of Gershwin's genius and, in my estimation, at times even surpasses its prototype. Certainly, it deserves to be played more often."
A short piece that is an undoubted favourite completes Andrew von Oeyen's album. It is an arrangement for piano of the soaring Méditation from the opera Thaïs by Massenet. Here too there is a Franco-American connection. The title role of the opera, first seen in 1894, was written for the charismatic soprano Sybil Sanderson, who was born in California, but enjoyed her greatest successes in Paris."

Tchaikovsky:

Symphonies 3, 4 and 6 - Royal Liverpool Philharmonic & Vasily Petrenko

Onyx (2Cds)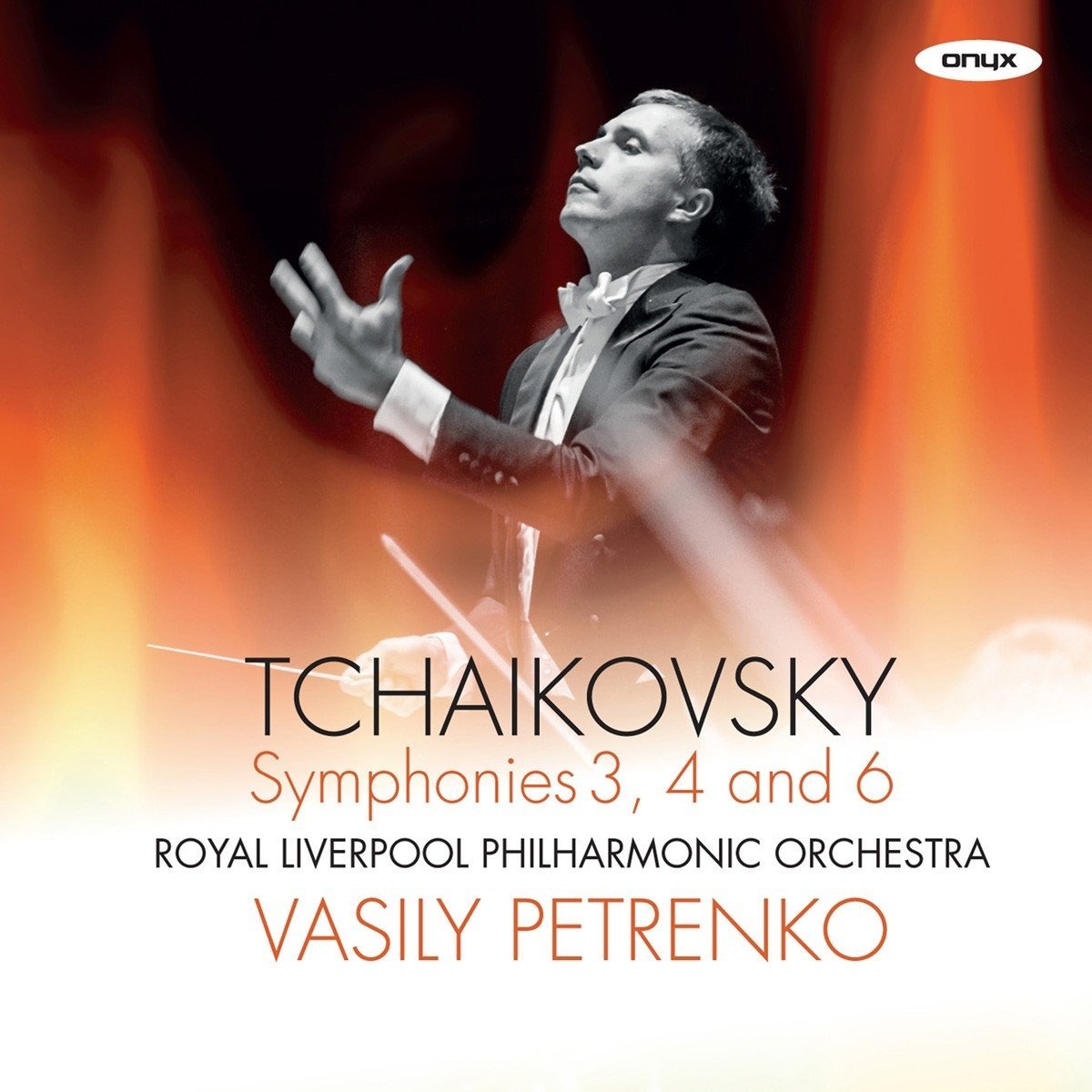 This year, its 60 years since the Liverpool Philharmonic got the right to call itself Royal. And the orchestra celebrates this milestone with this release of recordings they financed themselves in 2015, of three of Tchaikovsky's symphonies – 3, 4 and 6 – which show the band to be in the finest possible fettle.
During his decade with the orchestra, Vasily Petrenko, officially awarded the title of "Honorary Scouser" by Liverpool Council, has shown himself to be a dab hand at a wide range of music, including notable recordings of Elgar's two symphonies.
But it is the Russian repertoire that suits him best. His recordings of Shostakovich's symphonies won high praise everywhere. And now, with this complete Tchaikovsky symphony cycle, Onyx having issued a while ago their recordings of Symphonies 1, 2 and 5, Petrenko returns to an earlier love.
Back in 2009, he won a prestigious Gramophone Award for Best Orchestral Recording of the Year for his account of Tchaikovsky's unnumbered symphony, Manfred.
This issue could be in line for an award as well. Because here Petrenko strikes an ideal balance between Russian passion, and western discipline.
By which I mean, some of the greatest Russian conductors – men like Yevgeny Mravinsky, who led the Soviet Union's finest orchestra, the Leningrad Philharmonic, for fifty years, and Yevgeny Svetlanov – made their reputation in Tchaikovsky with high voltage recordings, full of tempi adjustments not greatly favoured in the west.
Some thought they pulled the music around too much. Petrenko loses none of the passion, but his readings are far more straightforward, in the western style.
This brings huge benefits, particularly in the Tchaikovsky's cinderella Symphony, No3, spuriously called the Polish.
Petrenko's account of the first movement makes sense of one of the most difficult symphonic movements to get right, while he also gets right to the heart of the matter in the pivotal slow movement.
Obviously Symphony No4, modelled on Beethoven's 5th, with its Fate motif; and the tragic, Pathétique, first performed only days before Tchaikovsky's sadly premature death, have attracted dozens of recordings.
I think Petrenko with these readings rises towards the top of the pile, mainly because of his disciplined intensity and clarity in the Pathétique, where he makes sense of the descriptions of each of the four movements found, after his death, amongst Tchaikovsky's papers: "Life, Love, Disappointment and Death".
Cheerful stuff!
But turned into memorable listening by the Merseysiders.
I shall be celebrating the 60th anniversary of the granting of the Royal appellation in my programme on February 5th, and the orchestra themselves will be celebrating at a grand concert in Philharmonic Hall on February 18th.
In my programme, as well as playing lots of highlights from the orchestra's discography, going back to 1943, just a year after the orchestra's players gained permanent status, I shall also be playing three movements on this new album: The first movement of No3, the Scherzo of No4, and the finale of the Pathétique.
Bruch -

Jack Liebeck

Hyperion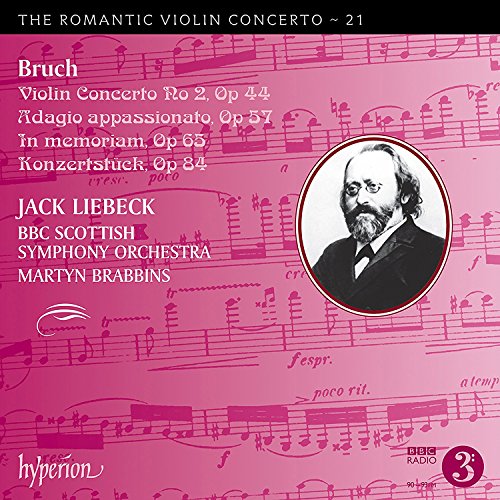 This Hyperion January issue is a winner at several levels. The repertoire, the reasonably well known Violin Concerto No2, and the almost totally unknown Konzertstück, In Memoriam, and Adagio Appassionato will fill a gap in most violin lovers collection, and give them a chance to hear Bruch's output beyond the oh so popular (oh so notorious!) Concerto No 1.
Lieback plays very well, and what emerges is that Bruch should not be described as a one hit wonder. The In Memoriam is a particularly powerful piece. No wonder Bruch's publishers asked him to turn it into a full concerto. He said he thought it was fine as it is - a massive misjudgement, which has surely all but guaranteed the work's total neglect in the concert hall. It is, however, well worth getting to know on disc.
Bach Cantatas -

Iestyn Davies

Hyperion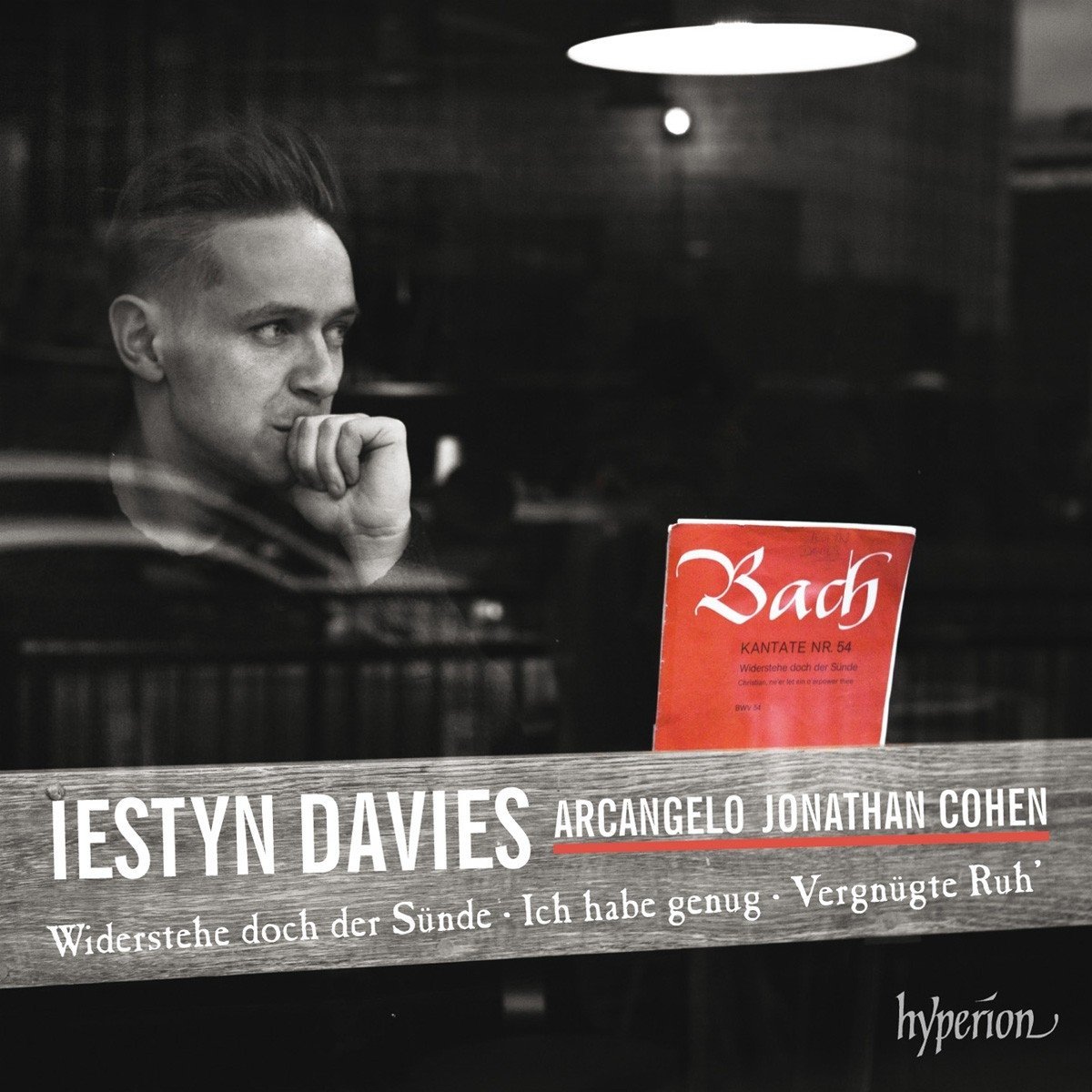 Iestyn Davies is surely the finest counter-tenor around today, and proves the depths of his musicianship with this Bach album, mainly devoted to cantatas Bach would originally have written for male altos, i.e., teenage boys whose voices hadn't fully broken. And they must have been accomplished young men to cope with some of the sophisticated solo writing here. Needless to say Iestyn Davies presents all this stuff better than I can imagine any other counter-tenor doing, and it's extremely well accompanied by the London based, original instruments orchestra, Arcangelo, under its founder/conductor Jonathan Cohen.
The real masterpiece here is of course Ich Habe Genug, originally written for a bass soloist. And despite all Iestyn Davies' skills, I remain convinced that a bass voice suits this music best.
However, the ever pragmatic Bach did arrange the piece for both soprano, and for alto, so Davies can't be blamed for taking it up.
This quite well filled disc – 65 minutes – is completed by two orchestral sinfonias, both rearrangements by Bach of music originally to be found in his Brandenburg Concertos.