A bass and a pianist walked up to a public piano and belted out a one-hour Schubert song-cycle
2 February 2018, 09:41 | Updated: 2 February 2018, 17:16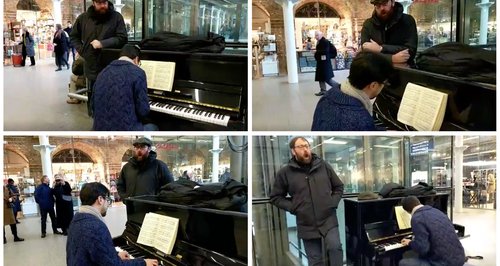 Schubert's 'Winterreise' is a heartbreaking journey through a wintery landscape with some of the composer's most beautiful melodies. And these two musicians decided to give it a full performance on a London street piano.
Franz Schubert was a master of writing for piano and voice. His songs are effortlessly lyrical, engaging and have a profound emotional depth.
Schubert wrote several song cycles (collections of songs that tell an over-arching story) and his legendary Winterreise is considered one of the greatest musical masterpieces of all time.
The cycle uses a set of poems by Wilhelm Müller in which the protagonist leaves his home because the girl he hoped to marry has rejected him. Things only go downhill from there as he walks alone in the bleak landscape until, in the final song, he meets a hurdy-gurdy player, and they play a lonely duet together. It's not as weird as it sounds.
It's the morning of 2nd of February we found ourselves at London's St Pancras Station. It seemed a very appropriate place for a 'Winter's Journey' - and bass Matthew Rose and pianist Tom Poster were keen to make something special happen for the day's passers-by.
Here's the text to this incredible work.
Discover this masterpiece with this superb recording from British bass Matthew Rose's recording, available here.
Tom's next London performance is on 16 March - Beethoven Emperor Concerto with the Philharmonia at the Royal Festival Hall. More on his website here.