Paul Potts sings 'Nessun dorma' to neighbours in 70th wedding anniversary lockdown serenade
4 June 2020, 11:31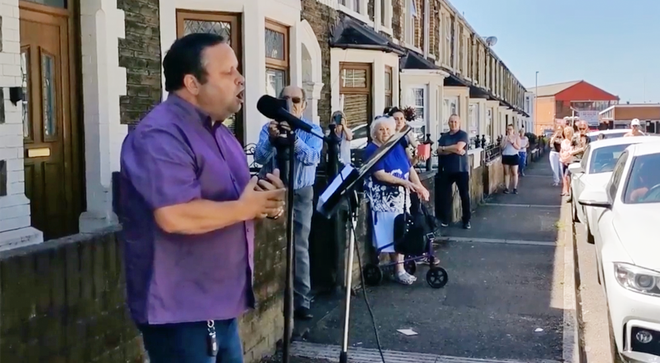 The tenor gave a powerful performance of Puccini's aria to neighbours on a street in Aberavon, Wales.
Operatic singer and former Britain's Got Talent winner Paul Potts gave a rousing rendition of 'Nessun dorma' to onlookers on a street in Wales.
The socially-distanced performance was put on in celebration of town locals Gwyneth and Gerwyn's 70th wedding anniversary, as well as neighbour Hywel's birthday.
The tenor serenaded the couple on the street where they live in Aberavon, Wales.
Onlookers watched at a distance from their gardens and outside their front doors. Watch the charming moment below.
Read more: Quarantined opera star sings 'Nessun dorma' in garden to thank carers >
Read more: Opera-singing doctor serenades hospital staff with Puccini aria >
Potts gave the lockdown performance of Puccini's aria, from the opera Turandot, after being contacted by the local council with a request to send a video to the couple.
"I felt that as 70 years is such a significant achievement, that this wouldn't be enough and decided that I would perform for them in their street," the tenor told Wales Online.
"It turned out that it was their next door neighbour Hywel's 90th birthday also," Potts added.
"There was quite a (socially distanced) street party atmosphere on the street and it was a real pleasure to be part of their celebrations, especially at a time like this."
It's not every day you celebrate your 70th wedding anniversary – and how lucky they were to have a singer just around the corner, generous enough to share his music on their special day. We all need music...