The 10 best versions of 'Nessun dorma' – ranked!
26 July 2023, 16:19 | Updated: 27 July 2023, 15:43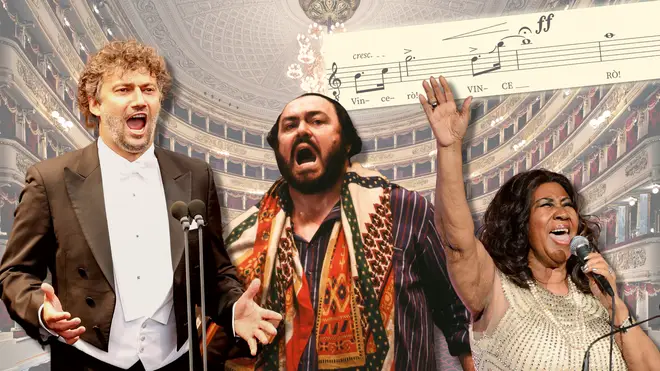 Who sang the greatest version of 'Nessun dorma'? We count down the ten best thunderings of Puccini's operatic belter.
Heard at sporting events, in opera houses, and in movies like Bend it like Beckham, 'Nessun dorma' from Giacomo Puccini's opera Turandot is not only one of the greatest arias of all time, but a piece of music that resonates with so many around the world.
But which version is the best of all? We explore, and rank, 10 of the greatest performances.
From the tranquil "none shall sleep" opening, through to that great crescendo, and the iconic, sustained high B note, stand by for some epic Puccini...
Mario Lanza

Lanza was a pioneering pop star tenor, and the first tenor to really break through into popular consciousness in the age of filmed performances. He had only done a little 'proper' opera by the time he came to prominence, but his reading of 'Nessun dorma' is truly majestic. Here, he sings it as part of the 1955 film Serenade, his penultimate movie performance, that featured a variety of opera arias.

Read more: What are the lyrics to Puccini's 'Nessun Dorma'?

Mario Lanza - Nessun Dorma (HQ)

Andrea Bocelli

Few tenors have quite so clear a voice as Andrea Bocelli, so the plaintive opening section of 'Nessun dorma' suits him perfectly. There are people who may decry Bocelli's ability at the top end of his register, but he sounds perfectly comfortable here, performing at his wildly popular 'A Night In Tuscany' show. And as always, the Italian singer has that ability to connect with people, which rightly wins him extra marks.

Read more: Andrea Bocelli's greatest songs of all time

ANDREA BOCELLI (HQ) NESSUM DORMA

Michael Spyres

Have you heard a Baritenor? That's just what Michael Spyres is. The American singer has a voice with a true operatic range of three octaves, which encompasses both the baritone and tenor range. For a tenor aria like this one, Spyres brings a deep resonance and sonority to those low notes of the hushed opening, and then reveals the power of his upper register in those final triumphant notes.

His 'Nessun dorma' is very special, with plenty of emotion and feeling behind his jaw-dropping vocal technique.

Read more: Baritenor's tongue-twisting 'Figaro' aria blows Royal Albert Hall roof off

An epic 'Nessun dorma' from opera star Michael Spyres at Classic FM Live | Classic FM

Jussi Björling

This is a truly luxurious interpretation by the great Swedish tenor. Stylistically it may not be what we're now accustomed to, but listen to how he extends and colours certain notes to give them more impact, milking them for drama as he goes. There's also something of an intimate ease to it all, accompanied only by piano in front of a clearly appreciative crowd at New York's Carnegie Hall.

Jussi Bjoerling -- Nessun Dorma (Live at Carnegie Hall)

Franco Corelli

The iconic Italian tenor was renowned for the power and vibrancy of his voice, as much as his movie-star looks. As ever, he offers Puccini that's both hall-filling, rich in beauty of sound, and visually worthy of any big screen. Some might find his interpretation indulgent in parts – but when you look and sound this good, who could argue?

Franco Corelli sings Nessun Dorma (vaimusic.com)

Jonas Kaufmann

Calaf is written for a spinto, a voice type that has a weightier sound compared to lighter, lyric tenors. Jonas Kaufmann is one of the standout spinto tenors of the past two decades, and the power of his voice is perfectly suited to this sort of dramatic repertoire.

With his voice's natural heft, it really does sound like a baritone taking it on, right up to and including those high notes. Listen as his voice rings out around Berlin's iconic Waldbühne.

Jonas Kaufmann - Nessun Dorma - Live from Berlin's Waldbühne

Francesco Merli

This is an incredible recording for several reasons. Firstly, it's taken from the first time that Puccini's unfinished opera Turandot was ever recorded in its entirety in 1937, but more interestingly, it also shows just how indulgent subsequent tenors are with its performance.

Merli sticks exactly to the score, and doesn't hold that famous top note at the end at all – completely changing how it sounds to our modern ears. But this is precisely how Puccini wrote it, too – which makes it probably the most 'authentic' version on this list.

Puccini- Nessun Dorma (with English subtitles) - Francesco Merli 1937

Aretha Franklin

One might not have immediately expected to see the Queen of Soul on this list. At the 1998 Grammy Awards, Luciano Pavarotti was due to sing 'Nessun dorma' during the ceremony. But after the legendary Italian tenor suddenly fell ill, his good friend Aretha Franklin was asked to step in. That night, she stepped on stage and gave us a moment of improvisation, adaption and imagination that oozes musicality, life and class.

From those first low notes and their smoky, soulful sonority, to the ornamentation which feels it falls exquisitely between gospel and opera. And what she does with "Vincero!" ...wow. Just wow.

Aretha Franklin "Nessun Dorma" Liveᴴᴰ (Grammy Awards)

Freddie De Tommaso

This 29-year-old's 'Nessun dorma' is the real deal. Hailed as one of this generation's finest operatic talents, British-Italian tenor Freddie De Tommaso has the beautiful voice, Italianate touch, and soaring quality you want for some stonking Puccini.

Add in the youthful quality of the voice, and loads of passion, it's just absolutely smashing.

Puccini: Turandot, SC 91, Act III - Nessun dorma

Luciano Pavarotti

Was it ever in doubt? The great tenor who brought this aria to more than ever before remains unsurpassed. It was an aria he championed since the 1960s, but it was at the 1990 FIFA World Cup that he captivated the world and introduced fans of the beautiful game to the most beautiful aria. The rest is history, that has been felt by all.

Pavarotti has an incredible tone, command, and a red-hot passion. And then, there's the eternal magic of his world-winning, and list-winning 'Vincero!'.

Pavarotti sings 'Nessun Dorma', with English translation