Opera star's tongue-twisting 'Figaro' aria blows Royal Albert Hall roof off
14 June 2023, 15:46 | Updated: 18 September 2023, 11:53
Baritenor Michael Spyres sings a blistering Rossini 'Largo al factotum' | Classic FM Live
A perfectly pronounced display of virtuosic vocal acrobatics, from world-leading opera star and 'baritenor', Michael Spyres...
'Largo al factotum' is the spectacular entrance music for Figaro, the famous barber character in Rossini's comic opera, The Barber of Seville.
As the aria is the audience's first introduction to the production's heroic main character, the music is as joyous, showy, and expositional in nature as you might expect.
And American baritenor Michael Spyres, performing the aria at Classic FM Live – a night of operatic hits at the Royal Albert Hall in April – it's safe to say, nailed the brief.
Beginning at the back of the arena, Spyres serenades the crowds with the opening 'la la la's with charm and flair, while making seemingly light work of the intensely technical aria.
Read more: What is a Baritenor? Meet the singer with an incredible three-octave operatic range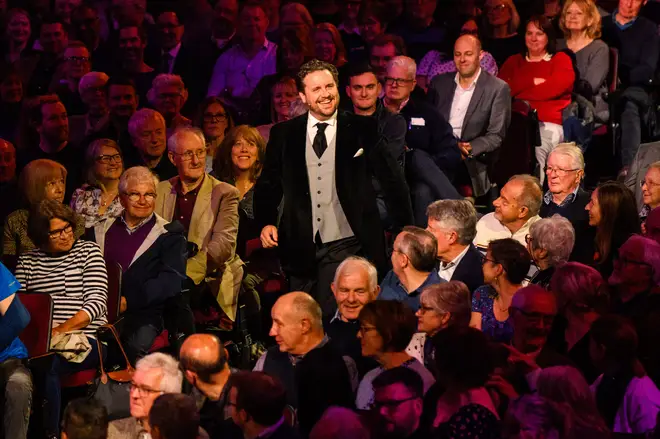 With an impressively controlled three-octave range encompassing both that of a standard baritone and tenor voice, Spyres expertly navigates Rossini's vocal acrobatics, even throwing in a Robin Williams-esque variety of voices.
With over eight million views across Classic FM's social channels, the aria has struck a chord with viewers of all ages, perhaps due to its illustrious past within popular culture.
No pop-culture moment featuring the Rossini work is as beloved, as the opening to the 1993 film Mrs Doubtfire, where the multi-talented late actor, Robin Williams, sings the aria as the credits roll.
Watch Spyres' impeccable performance above, and take a look at the video below to learn more about his voice type.
What is a Baritenor? Michael Spyres and his three-octave operatic range | Classic FM
The Rossini aria triumphantly begins, "Make way for the city's fixer". The character of Figaro is the title barber from the Spanish city, and the opera follows his clever and fantastical adventures.
The act one aria, 'Largo al factotum' is a bombastic sing, full of flamboyantly high notes and a fiendish tongue-twister of a libretto.
Despite a shaky premiere performance in 1816, the opera would go on to be a huge success.
Ludwig van Beethoven even complimented Rossini on the composition, stating, "So you're the composer of Il Barbiere di Siviglia, I congratulate you.
"It will be played as long as Italian opera exists."
And thank goodness, Beethoven was right!