Hildegard of Bingen (1098 - 1179)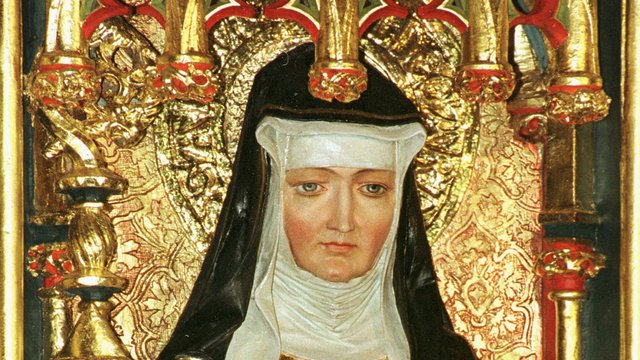 Biography
Life and Music
During her life she was a leading light of the medieval intelligentsia and one of the most influential women in Europe.

She was the author of several visionary books, works of natural history and medicine.

In the States, it's her theology and mysticism that have won her most friends, with radical priests like Matthew Fox championing her as a leader of 'Creation Spirituality'.

She wrote rambling religious poems in Latin and painted pictures of herself, most famously as a tiny seated figure gazing upwards at a circular design perhaps intended to symbolise the cosmos but looking remarkably like a Tibetan mandala.

Her poems and devotional texts were often set to music, to be sung by the choir of her convent.

Hildegard is the first composer whose biographical details we have any clear idea about. She is still best known in Britain.

She gave conventional plainsong a new flexibility and expressiveness, creating long, spiralling melismas that make the music of the monks of Santo Domingo de Silos seem curiously flatfooted and earthbound in comparison.

For a first taste of Hildegard's genius the CD A Feather on the Breath of God, featuring the voice of Emma Kirkby and a group of equally fine female singers, released in 1981, sold a remarkable 260,000 copies, making it the eleventh biggest-selling classical CD of all time.

In the early Eighties, with the early-music movement in full swing, her name began to be heard again in the company of Guillaume de Machaut, Perotin, Josquin Desprez and other masters of the pre-Renaissance era.

Did you know?
In Germany, Hildegard-mania has tended to focus on her avant-garde contribution to holistic medicine and nutrition. In health shops all over the country you can buy 'Hildegard bread' and naturopathic Hildegard face creams and moisturisers made from a primitive grain called Dinkel.
View more