People are sharing their own versions of the Bach Google Doodle – and they're really good
22 March 2019, 11:44 | Updated: 20 June 2022, 11:39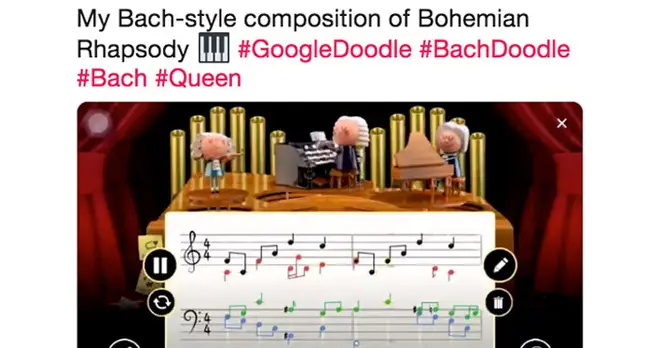 The most recent Google Doodle allows you to compose your very own Bach chorale, using a clever bit of interactive AI counterpoint. Now, people are sharing their own compositions.
To celebrate J.S. Bach's 334th birthday, Google created a special AI game that has studied 306 Bach compositions in order to create patterns and harmonies from any melody of your choice.
You can even download your completed composition in four-part counterpoint. Here are our favourites so far...
'Undertale', but it's a Bach chorale

The rhythm isn't quite there, but this Twitter user deserves several brownie points for managing to create the first Bach-video game music mash-up on the Internet.

A Webern tone row, in Baroque harmony

With beautiful resolutions and a lovely anticipatory F sharp at the end of the line, this gets our vote for the most believable piece of fake-Bach.

If Bach had written Bohemian Rhapsody

The idea might be stronger than the execution on this one...

This guy, who got very excited about using semiquavers

In the famous words of Guinness World Record-winning violinist Ben Lee, "if you can play it slowly, you can play it quickly". It's certainly speedy...

And finally, the greatest jingle of them all

We couldn't resist.