What is Glyndebourne? The annual opera festival in a 500-year-old country house
9 August 2023, 15:19 | Updated: 15 August 2023, 21:03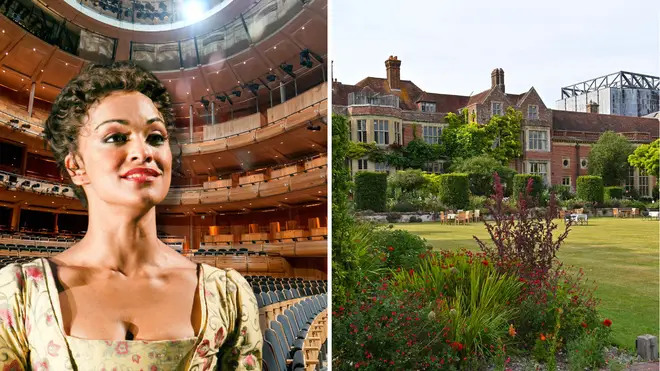 The East Sussex opera house is home to the famed Glyndebourne Festival every summer – here's everything that happens in this historic place of music.
Almost a century old, the Glyndebourne Festival Opera takes place on the grounds of a grand house in East Sussex every summer.
The impressive Glyndebourne manor house has roots dating back to the fifteenth century, but it's only since the twentieth that thousands have begun flocking to its grounds for the world-class opera it puts on.
Known for its association with dressing up and picnicking on vast lawns in between acts, Glyndebourne appeals to music fans and anyone who likes their opera with a dose of classy summer party. But don't let dinner jackets and gowns make you think it's all just for the elite in society – its celebrated Under 30s and Under 40s ticketing scheme has helped open the venue's doors to a much wider audience of fans.
So if you're travelling to the house this year, or just want to find out more about this famously English experience, read on to learn more about the festival, the venue, and what happens during the off-season.
Read more: The UK's best cheap orchestra and opera tickets for young audiences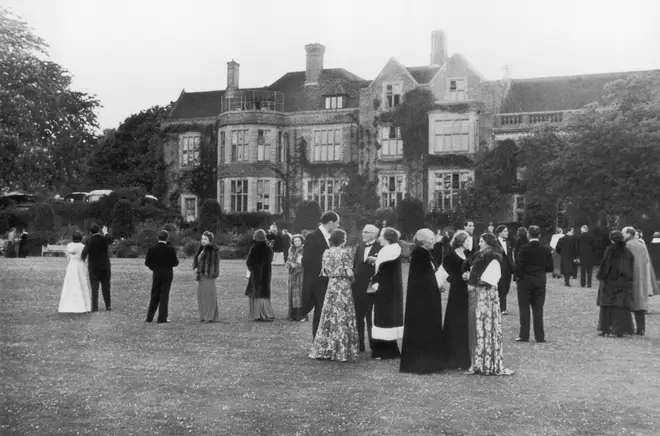 What is Glyndebourne Festival Opera?
Typically shortened to 'Glyndebourne', the Glyndebourne Festival Opera takes place every year at the manor of the same name, between May and August.
The summer festival first began in 1934, when house owners, John Christie and his wife Audrey Mildmay, put on a summer of productions in their Glyndebourne home. Christie and Mildmay first hosted concerts in their Organ Room, a part of their house which at the time, contained one of the largest organs in the country, outside of a cathedral.
What began as a small set of concerts has since turned into an international festival, with musical talents coming from around the world to perform at this venue in the beautiful East Sussex countryside.
Read more: Opera star's tongue-twisting 'Figaro' aria blows Royal Albert Hall roof off
What opera and music is performed at Glyndebourne?
During the summer festival, Glyndebourne puts on a range of operatic favourites, from Mozartian classics to new commissions.
Every Autumn, after the summer festival concludes, the opera house stays alive with six weeks of more informal opera, concerts, masterclasses, recitals, and their traditional Christmas concerts.
All of Glyndebourne's productions, masterclasses and recitals have run on power produced by a 67m tall wind turbine energy since 2012. In the first decade of its running, the turbine produced 105 percent of the power needed by the opera venue each year, cutting half of all its carbon emissions.
In 2021 the opera house joined the global movement, Race to Zero, and pledged to again halve its carbon emissions by 2030, and to reach net zero by 2050.
Read more: King's College Cambridge to install solar panels on chapel roof, reducing yearly emissions by 27 tonnes
How many seats are there at Glyndebourne?
The current theatre at Glyndebourne is a world-class opera venue with 1,200 seats.
However, Glyndebourne's first theatre, which was originally built as an annexe to its organ room, could only sit 300 audience members.
This original theatre continued to grow, and by 1936 it could sit 433 people. In 1952 this capacity grew to almost 600 and in 1977, it stretched to its largest size of 850 seats.
The first performance at the 1,200-seater venue was given on 28 May 1994, 60 years to the day the first 300-seater theatre opened in 1934.
Read more: Rubbish dump pianos are being upcycled as intimate amphitheatres, by this musical team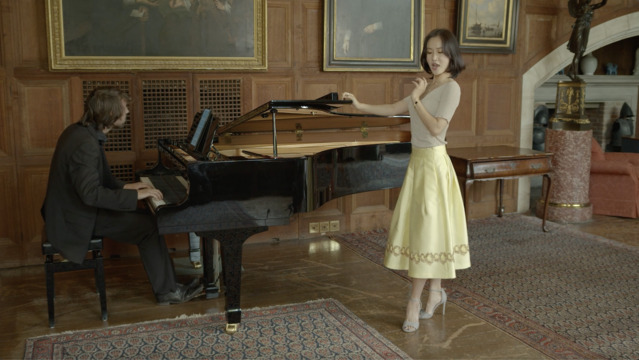 Soprano Hera Hyesang Park sings in Glyndebourne's historic Organ Room
How much are tickets to Glyndebourne?
Like many opera houses in the UK, tickets to Glyndebourne can range between as low as £18, to upwards of £245.
However, Glyndebourne has two ticket schemes for Under 30s and Under 40s. If you're between the ages of 16-29, you can get £30 tickets to an opera performance during the Glyndebourne Festival Opera as part of their New Generation Programme. You can also choose some of the best seats in the house for just £45.
And if you're between 16-39 years old, you can apply for an Under 40s membership, which gives 50 percent off a pair of tickets to the festival, meaning you and a friend can go watch an opera from some of the best seats in the house, for half the price.
Read more: The UK's best cheap orchestra and opera tickets for young audiences
What is the dress code at Glyndebourne?
When imagining a scene at Glyndebourne Festival Opera, people often tend to think of black tie-adorned gentlemen, and ladies made up in long flowing dresses.
But whilst Glyndebourne does have a tradition of dressing up to enjoy an opera, it is not an absolute must. Instead, the opera house's website suggests audience members dress up in a way that suits them as "there are no rules."
One suggestion the website does give, however (which we would also recommend) is preparing for the temperamental British summertime weather, and remembering to bring an umbrella and/or raincoat.
Outside of the summer festival, the formal wear of Glyndebourne patrons tends to relax further during its Autumn season, with audiences reaching for outfits at a 'smart-casual' level of dress.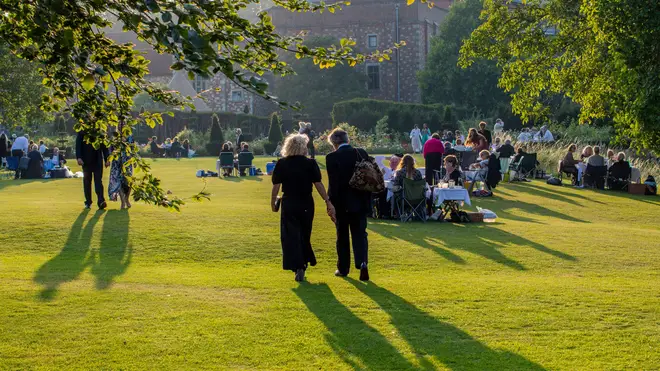 Who lives at Glyndebourne?
Before it was an opera house, Glyndebourne Manor was quite simply, a house, and remains one today with its own resident family.
Gus Christie, John's grandson and the Executive Chairman of Glyndebourne since 2000, lives at Glyndebourne with his wife, the international operatic soprano Danielle de Niese, and their two children.
Every summer during the festival Christie and de Niese invite all the operatic teams – conductors, directors, lighting, costume, set designers, repetiteurs, choreographers, and assistants – to stay with them in the house. In a 2015 interview with Classic FM, de Niese described the thrill of having all of these creatives in one place as "wonderful".
"It makes the house feel like an artistic commune," she said, "and it is very much part of the ethos and fabric of Glyndebourne."
Read more: Danielle De Niese on the future of opera: 'It's transformative and worth hanging onto!'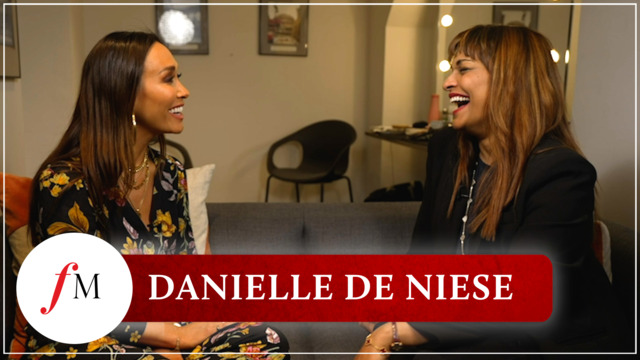 Danielle de Niese: 'Opera is transformative! It's an experience worth hanging onto'
How long is the interval at Glyndebourne?
The summer festival usually includes a 90-minute long interval. This generous length of time gives guests the option to eat at one of the on-site dining options at Glyndebourne or choose to set down a blanket and enjoy a picnic in the landscaped gardens.
Audience members can either bring their own picnic with them, or the opera festival offers pre-made hampers which you can order before arrival.
Which orchestra plays at Glyndebourne?
Glyndebourne currently has two resident orchestras, the London Philharmonic Orchestra (LPO) and the Orchestra of the Age of Enlightenment (OAE).
The LPO has been Glyndebourne's resident festival orchestra since 1964. The orchestra is also two years older than the opera festival; while the festival began in 1934, the LPO was formed by Sir Thomas Beecham in 1932, making it the more senior of the two musical institutions.
The OAE however is a much younger ensemble, having only been formed in 1986. The orchestra specialises in performances of Baroque and Classical opera at the festival due to its members performing on period-specific instruments.