Police officer plays snake charmer's flute to capture snake in station
11 November 2019, 14:19 | Updated: 11 November 2019, 14:26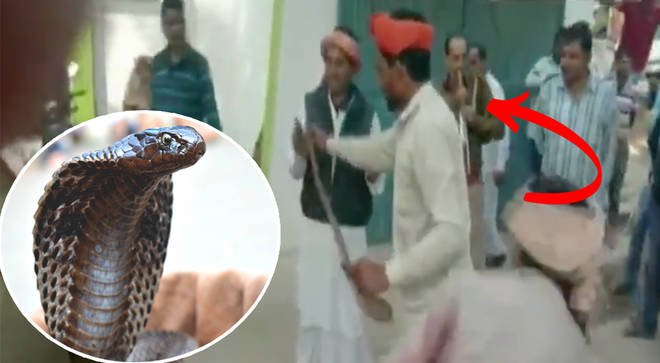 The policeman tried to capture the snake with his energetic flute skills.
A police officer has been filmed trying to capture a snake which was spotted in a police station, by playing a snake charmer's flute.
The snake had made its way into the police station in Uttar Pradesh's Bijnor in India last Tuesday (5 November).
Although help had already been contacted, the flute-playing policeman decided to step in to offer some assistance.
Dressed in a khaki uniform, the officer stands in the crowd as he attempts to calm the snake with his musical skills.
Multiple social media users have been responding to the funny clip, since it was posted on 6 November by Asian News International (ANI Up).
Lol, police and snakes dont have ears 😂🤪

— Lyfe Ghosh 🇮🇳❤🇮🇱 (@Lyfeghosh) November 6, 2019
Snake charming is the practice of appearing to hypnotise a snake by playing a folk instrument called a pungi, which is waved around as it is played.
Curiously, it is the movement and shape of the wind instrument, rather than the sound it produces, that captures the snake's attention, as it perceives the charmer and instrument to be a threat.
Although reptiles are able to sense sound, they lack the outer part of the ear needed to actually hear it.
So while the policeman may have given his best performance, the snake – sadly – probably couldn't hear a single note of it.