Opera Holland Park staff member among the missing following the Grenfell Tower fire
19 June 2017, 15:50 | Updated: 20 June 2017, 09:21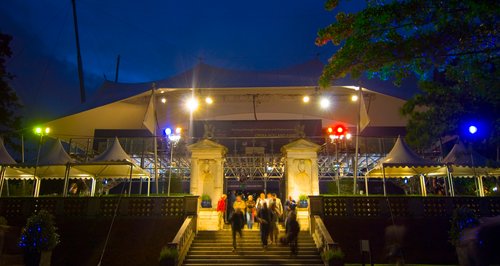 The Kensington-based opera company today issued a statement saying one of its staff members was among those missing following the disaster
A statement posted on the opera company's website today said:
"Opera Holland Park (OHP) has been directly affected by the Grenfell Tower fire, with one of our most valued and much loved staff members currently missing. Several of OHP's staff are, and have historically been, residents of North Kensington. This tragedy has had a profound effect on the company and our thoughts and sympathies are with all those affected."
The statement was released in response to reports in the press and on social media about the opera company's financial relationship with The Royal Borough of Kensington and Chelsea (RBKC), the council that built Grenfell Tower in 1974.
In a statement today Opera Holland Park said:
"Opera Holland Park is an ex-council service, previously part of a culture service that included Leighton House Museum and other cultural events. The historical expenditure by RBKC on its cultural portfolio is a matter of record. Since 2015, OHP has not received funding from RBKC."
OHP is in the same borough as Grenfell Tower and until 2015 the opera company was 'a department of The Royal Borough of Kensington and Chelsea' and received an annual subsidy of £450,000.
According to the council's accounts RBKC lost £1.5m in staffing and operating costs at Opera Holland Park in 2015-16, and £1.5m in 2014. OHP has been independent of the council since October 2015, when it received a final grant of £5m from RBKC. That grant is shown in the opera company's financial accounts released in May this year.
The opera company's statement today went on to say:
"It is our belief that classical music and theatre are for the enjoyment of the entire community and that culture is not mutually exclusive with other forms of social funding and policy.
"Opera Holland Park has been collecting for victims of the Grenfell Tower tragedy at the theatre each night, and will continue to do so."