Sir Roger Norrington, Steve Reich and Vladimir Jurowski awarded honorary doctorates by the Royal College of Music
10 March 2016, 13:25 | Updated: 10 March 2016, 14:19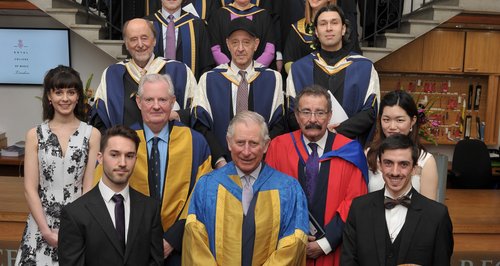 HRH The Prince of Wales, the President of the Royal College of Music presented honorary doctorates to one of today's leading composers and two great conductors in a ceremony in London today.
Sir Roger Norrington, best known for his work on early music said: "It's very fine to receive this doctorate. I'm a largely self-taught musician and I don't have a proper degree in music, so it's nice to get an honorary one."
Sir Roger, who attended the RCM in the 1960s, is currently a visiting professor and guest conductor at the College.
Also honoured was the conductor Vladimir Jurowski, who is the Principal Conductor of the London Philharmonic Orchestra and a former Music Director of Glyndebourne Festival.
Bravo Maestro! @LPOrchestra's Vladimir Jurowski awarded Doctor of Music of @RCMLondon by HRH The Prince of Wales. pic.twitter.com/Xik7GjBvYE

— Classic FM (@ClassicFM) March 10, 2016
He told Classic FM: "It's a huge honour to receive an honorary doctorate, I was absolutely overwhelmed when I heard about it. I feel very close to this institution, working with young students has become increasingly important to me and I hope this will tie our bond even firmer."
The legendary minimalist composer Steve Reich also received an honorary doctorate from His Royal Highness. The composer was wearing his trademark cap for the occasion.
"I've had honorary doctorates from Juilliard and other places but the Royal College is famous," Reich told Classic FM.
"I've spent a lot of time in London since 1971, it's sort of my second home after New York. So of course it's a great honour to receive something and to have Prince Charles present it. I'm delighted."
Congratulations to film music maestro @bpheloung - Fellowship of @RCMLondon! #PresidentsVisit pic.twitter.com/HWD4kMNtxl

— Classic FM (@ClassicFM) March 10, 2016
Also being honoured was composer Barrington Pheloung – best known for composing the theme music for the TV series Inspector Morse, Lewis and Endeavour, who was made a Fellow of the RCM. And Chief Executive of Arts Council England, Darren Henley, formerly the managing director of Classic FM, who was awarded an Honorary Membership.