Flautist Emma Halnan wins Arts Club-Karl Jenkins Music Award
15 March 2016, 12:05 | Updated: 15 March 2016, 12:08
Young flautist will now record a performance of a piece composed for her by Sir Karl Jenkins after winning classical music prize, in collaboration with Classic FM.
Flautist Emma Halnan has won the Arts Club-Karl Jenkins Music Award, a classical music competition in collaboration with Classic FM that is now in its second year.
Halnan impressed the panel of judges with her performances of repertoire by all female composers: Kokopeli by Katherine Hoover and Concertino by Cécile Chaminade. Halnan's prize is £4,000 - and the chance to record her winning performance, as well as a short work especially composed by Sir Karl Jenkins, in a London studio and see it broadcast on Classic FM.
The joint-runners up, Margherita Balanas (cello) and Tabea Debus (recorder) each received a cash prize of £500. All three prize winners are currently studying at the Royal Academy of Music in London.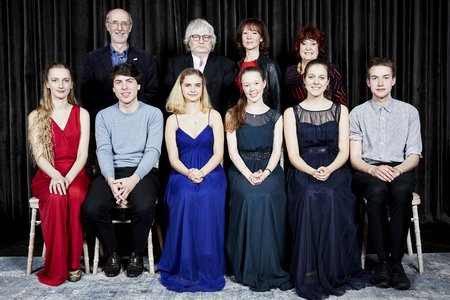 The Arts Club played host to six talented finalists; the other three were violinists Nicolas Dupont and Charlotte Saluste-Bridoux, and percussionist Jacob Brown. During the evening event, candidates were judged upon technique, individualism, musicality, interpretation, communication and overall performance.
The judging panel comprised well-respected industry figures including Emma Johnson MBE, Carol Barratt (eminent composer of educational music), Sam Jackson (Managing Editor, Classic FM), Patrick Lemanski (Head of Warner Classics) and Leslie East OBE (former CEO of ABRSM, music publisher and a past Master of The Musicians' Company), with Chairman Sir Karl Jenkins.
Supporting the judges was a consultation panel consisting of internationally renowned soloists: Alison Balsom, Nicola Benedetti, Catrin Finch, Dame Evelyn Glennie and Emma Johnson.