Does KJ Apa play the guitar in 'I Still Believe' and can he really sing?
28 August 2019, 11:57 | Updated: 28 August 2019, 11:59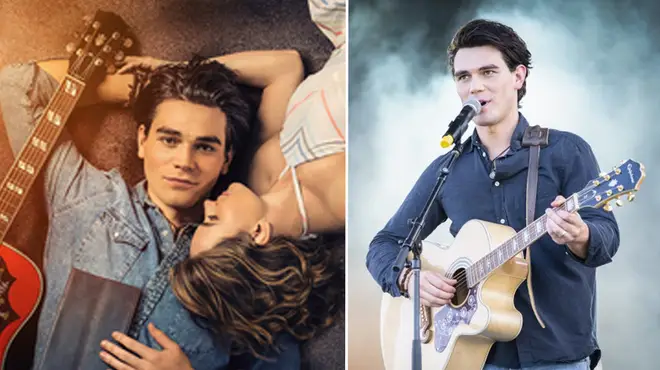 New Zealander KJ Apa is about to play real-life Christian singer, Jeremy Camp, in the new music biopic entitled 'I Still Believe'.
Actor KJ Apa is best known for playing TV heartthrob Archie Andrews in Netflix's hit series, Riverdale.
Indeed, in the teen drama based on the Archie's comics collection, KJ has flaunted his musical talents – with his character flitting between playing sports, pursuing a career as a singer, becoming a gang leader, and finally taking up boxing after a short stint in prison (we kid you not).
But now, KJ is taking on a new role as Christian musician and singer, Jeremy Camp, in a biopic entitled I Still Believe, which also stars Britt Robertson.
So, can KJ Apa really play guitar and will he sing in the film? Here's the lowdown.
Can KJ Apa really play the guitar and sing?
He certainly does! Proving to be a far more successful musician than Archie Andrews, KJ actually plays guitar in a band IRL.
The group was originally called The Good Time Boys, but they changed their name to Legend recently. The band also features KJ's Riverdale co-star Rob Raco, who plays Joaquin DeSantos in the Netflix show.
Read more: Does Himesh Patel really sing and play guitar in Yesterday the movie? >
Joining them is Josh Wyper as lead vocalist and keyboarder, and Alex Hooch on bass.
They've released various singles and covers together, including a rendition of The Strokes' 'You Only Live Once', John Mayer's 'Vultures' and Fleetwood Mac's 'Dreams'.
KJ Apa has also released solo music, with his debut album The Third Room coming out in 2012.
Speaking to Teen Vogue about his love of music, KJ revealed: "I'm always excited to play, I don't care if it's in front of a thousand people or in front of three people.
"It's definitely a different dynamic [to acting]. I don't know if I would prefer one or the other, but I definitely know that I was meant to play music."
Who is Jeremy Camp?
In the new music biopic, I Still Believe, KJ Apa will be playing successful Christian musician, Jeremy Camp.
Hailing from Lafayette, Indiana, Jeremy, 41, was raised by his pastor father, who taught him how to play guitar.
It is said that a worship leader at his college in California heard Camp play, and encouraged him to share his talents with others and spread the word of God.
As well as releasing an impressive number of albums (eleven, to be precise), Camp has achieved 32 number one hits on Christian Radio and was even nominated for a Grammy Award.
When is I Still Believe released in the UK and what is the film about?
As well as exploring his music career, the film will look at the personal life of Camp and his relationship with wife Melissa Lynn Henning-Camp (Britt Robertson), who tragically died in 2001, after her battle with ovarian cancer.
Lending its name to the film's title, 'I Still Believe' is a song Camp wrote about Melissa, and was the first ballad he created after her death.
Later, in 2003, Camp remarried to the frontwoman for The Benjamin Gate, Adrienne Liesching. The couple have two daughters and one son together.
You can watch the trailer below:
I Still Believe is scheduled to be released in cinemas worldwide on 20 March, 2020.