5 Baroque pieces that sound incredible on electric guitar
25 August 2017, 16:59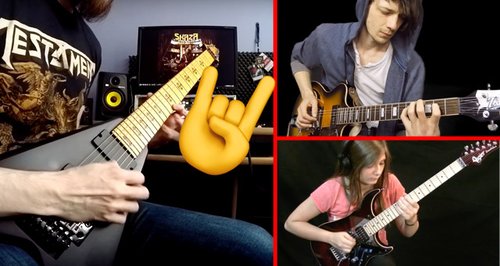 Some of the very best music videos on the internet are Rock-Baroque crossovers. Here are some of our favourites…
1. This lovely electric guitar cover of Bach's Cello Suite No.1
Bertie Webb brings an indie teenager vibe to JSB's Prélude, and it fits perfectly.
2. A 14-year-old's heavy-metal Vivaldi tribute, which went viral
Not only is the Four Seasons arrangement absolutely blinding, Tina's sulky-faced playing is breathtaking. Even Eddie Van Halen is a fan, apparently.
3. This head-banging version of Bach's Toccata and Fugue in D minor
Marcin Jakubek's metal cover makes Bach's music sound like it was MEANT to be played on an electric rock instrument.
*permission for hardcore classical fans to object to the above*
4. When this guitarist duetted with himself and created a face-melting Handel cover
Yes, Handel wrote his Passacaglia for harpsichord. But did that stop Ibrahim Birdal from arranging it for his electric guitar? Did it ever.
5. When Bertie Webb used a loop pedal to create this beautiful cover of Pachelbel's Canon
Turn a cello round on its side School of Rock-style, and BAM, you've got yourself an electric guitar. We're just waiting for this Pachelbel cover to be played at a rock 'n' roll wedding…
Hats off to Bertie for proving that not all electric guitar tracks have to melt your face... they can be nice and mellow, too.
These are the 8 times electric guitars were amazing at classical music.