Unearthed footage shows virtuosic 'Ski Ballet' performed at the 1992 Winter Olympics
4 January 2023, 16:42 | Updated: 5 January 2023, 11:41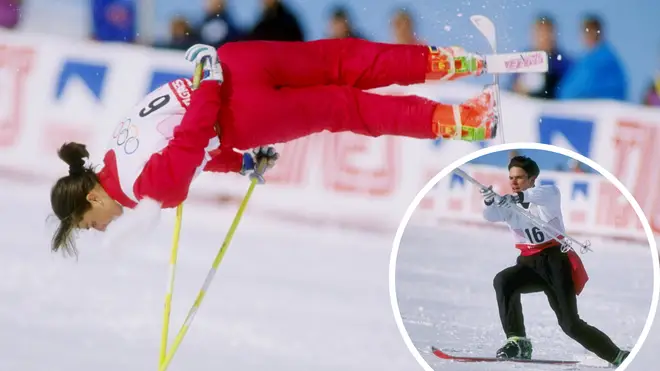 Did you know 'Ski Ballet' was once part of the Winter Olympics?
Skiing has been a staple sport at the Winter Olympics since the snowy games began almost a century ago in 1924.
But have you ever heard of Ski Ballet? This choreographed type of skiing, created in the 1970s, was actually featured in the Winter Olympics in 1988 and 1992 as a 'demonstration sport' (an event played to promote the activity, as opposed to being part of standard medal competition), and was scored in a similar way to figure skating.
However, due to a decline in popularity, the sport stopped being performed in professional tours and competitions, and was discontinued after the FIS (International Federation of Skiing) Freestyle Skiing World Cup in 1999.
The Olympics' YouTube channel recently re-shared footage from the men's final of the Ski Ballet event at the 1992 Winter Olympics, which took place in Southeastern France, and it's hard to see how audiences became bored of this choreographed sport.
Involving spins, jumps, flips, leg crossings and rolls, all taking place on a snow covered slope, this mesmerising sport has to be seen to be believed. Watch below.
Read more: Teenage skiing prodigy credits 'nine years of piano playing' for Gold medal at Winter Olympics
The three professional sportsmen who perform in the video above are (chronologically); Lane Spina representing the USA, Rune Kristiansen representing Norway, and Fabrice Becker representing France, finishing third, second, and first respectively.
Other skiers in the 1992 men's final included Richard Pierce (Canada), Heini Baumgartner (Switzerland), Armin Weiß (Germany), Roberto Franco (Italy), Jeffrey Wintersteen (USA).
Becker won the Olympic final with his tango-like performance on the slopes of Tignes as a spry 20-year-old sportsman, winning points on composition and style for his dance.
Last year, Becker – now age 50, proved he could still dance the award-winning routine three decades later, posting this side-by-side video below.
Read more: Here's what the 'West Side Story' remake looks like side-by-side with the original
Freestyle Ballet Skiing : 1992 Olympic champion Fabrice Becker...30 years later
"When I realized that the 92 Olympics 30th anniversary was this year," Becker wrote in a Ballet Skiing Facebook group on 10 February 2022, "I candidly asked myself 'what if at age 50, I would try to reproduce my run....'.
"Seemed a bit crazy at first. Was nervous as I could not guess how far my body would allow me to go. So I dusted off my ballet skis and poles that I hadn't touched for over....well....22 years(!) and went to the nearest ski hill near Montreal with a couple of friends and my son to make sure we captured the moment.
"It is incredible how the body remembers. Crazy how the mind remembers. How the tempo, the music is still somewhere deep inside our minds. Have to be honest, I kind of forgot what it felt to do ballet skiing and it reminded me how much I loved doing it. How beautiful the sport was. I'm not at all nostalgic. Wanted to share this with you today and thank all of you (for being) part of that legacy. We can be proud."
Read more: Remembering Torvill and Dean's timeless 'Boléro' figure-skating routine at the 1984 Winter Olympics
HOW was this an Olympic sport? Ski ballet!
Men were of course not the only performers of this graceful yet gruelling seasonal sport.
The Olympics' YouTube channel previously shared footage from the women's final in 1992, with clips from the top three skiers performances (watch above).
Skiers featured include Cathy Féchoz – who placed second representing France, Sharon Petzold – who placed third representing the USA, and the winner Conny Kissling, representing Switzerland.
Other competitors in the final included Great Britain's Julia Snell, Sweden's Annika Johansson, America's Ellen Breen, Switzerland's Maja Schmid, and Spain's Raquel Gutierrez.
While ballet did not return to the Olympics post 1992, its latest social media revival across YouTube and TikTok could persuade sports officials to consider adding it to the roster as a demonstration event once again.
Ski Ballet at the 2026 Winter Olympics? It's a yes from us...