Health worker performs graceful ballet routine in 'moment of pure joy' at Utah hospital
19 October 2021, 11:09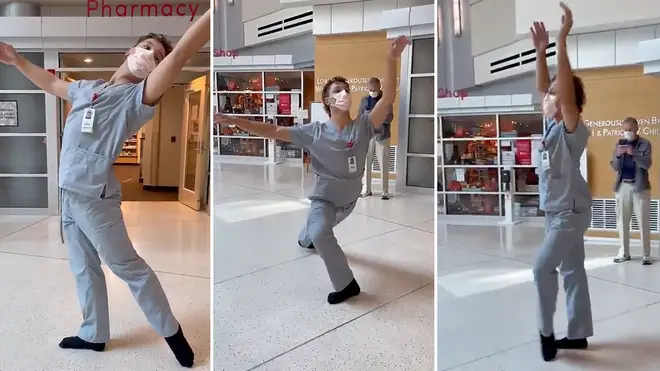 Watch a moment of beauty light up the days of passers-by at University of Utah Hospital.
A health worker has brought an unexpected moment of beauty to a Utah hospital, performing a graceful ballet routine in his scrubs.
Phlebotomist Teva Martinson was filmed donning a mask, kicking off his shoes, and proceeding to perform a beautiful routine at the University of Utah Hospital, accompanied by a pianist in the building's lobby.
The dancer was improvising to French pianist and composer Richard Clayderman's 1977 piece, Ballade Pour Adeline.
The refined moment must have been a welcome interlude in another busy day for the hospital, which is currently dealing with a surge in COVID-19 cases, 18 months into the pandemic.
Read more: Inspiring hospital staff surprise ballet-loving cancer patient with 'Swan Lake' routine
"A moment of pure joy at University of Utah Hospital ❤️", University of Utah Health tweeted when they shared the video. The replies are filled with love and appreciation for the young dancer's spontaneous performance.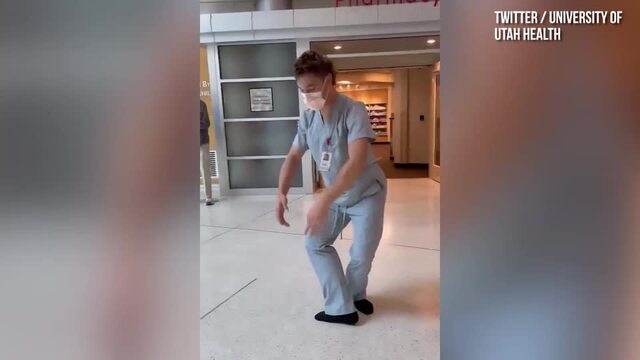 University of Utah Hospital staffer performs enchanting ballet dance
Martinson is a phlebotomist at University of Utah Health, meaning he is responsible for taking patients' blood samples for examination in the lab during tests and diagnoses.
During a 15 minute break, the 21-year-old dancer came across a pianist in the lobby of the hospital and requested a piece that might work for some impromptu ballet. Together they transformed a few minutes in an ordinary day into a bit of magic, which has been captured in a video now seen by millions online.
"I did it because I wanted to," the dancer has said. "I felt like it was something right for me, just to do something and make someone smile [and] to enjoy myself. I just took my little Crocs off, and just felt the music."
The US has seen over 40 million COVID-19 cases, and nearly 650,000 deaths so far in the pandemic.
"I've gotten to see some low moments, I've gotten to see some really high moments but overall I think everyone is just trying to work together to keep a positive, joyous mood in the hospital," Martinson said.
It's at times like this that we feel especially grateful for music, and for beauty.