We found an organist and a choral singer who can trace their teacher lineage back to Mozart and Bach
28 March 2017, 14:43 | Updated: 7 April 2017, 10:08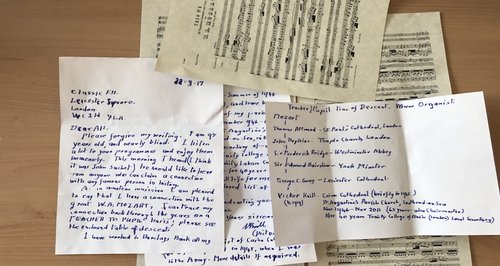 97-year-old Classic FM listener Victor can trace a line directly back to Mozart himself – and here's the evidence.
97-year old Victor wrote to Classic FM to reveal he has a teacher to pupil connection with none other than Wolfgang Amadeus Mozart, a connection spanning two centuries.
Victor, who's been the organist in his parish church for 65 years, was taught by one George C Gray, who was taught by Edward Bairstow, who was taught by Frederick Bridge, who was taught by John Hopkins, who was taught by Thomas Attwood, who was taught by… MOZART.
Victor wrote: "As an amateur musician I am pleased to say I have a connection to the great W.A. Mozart. I can trace my connection back through the years on a teacher to pupil basis."
Here's the diagram Victor included: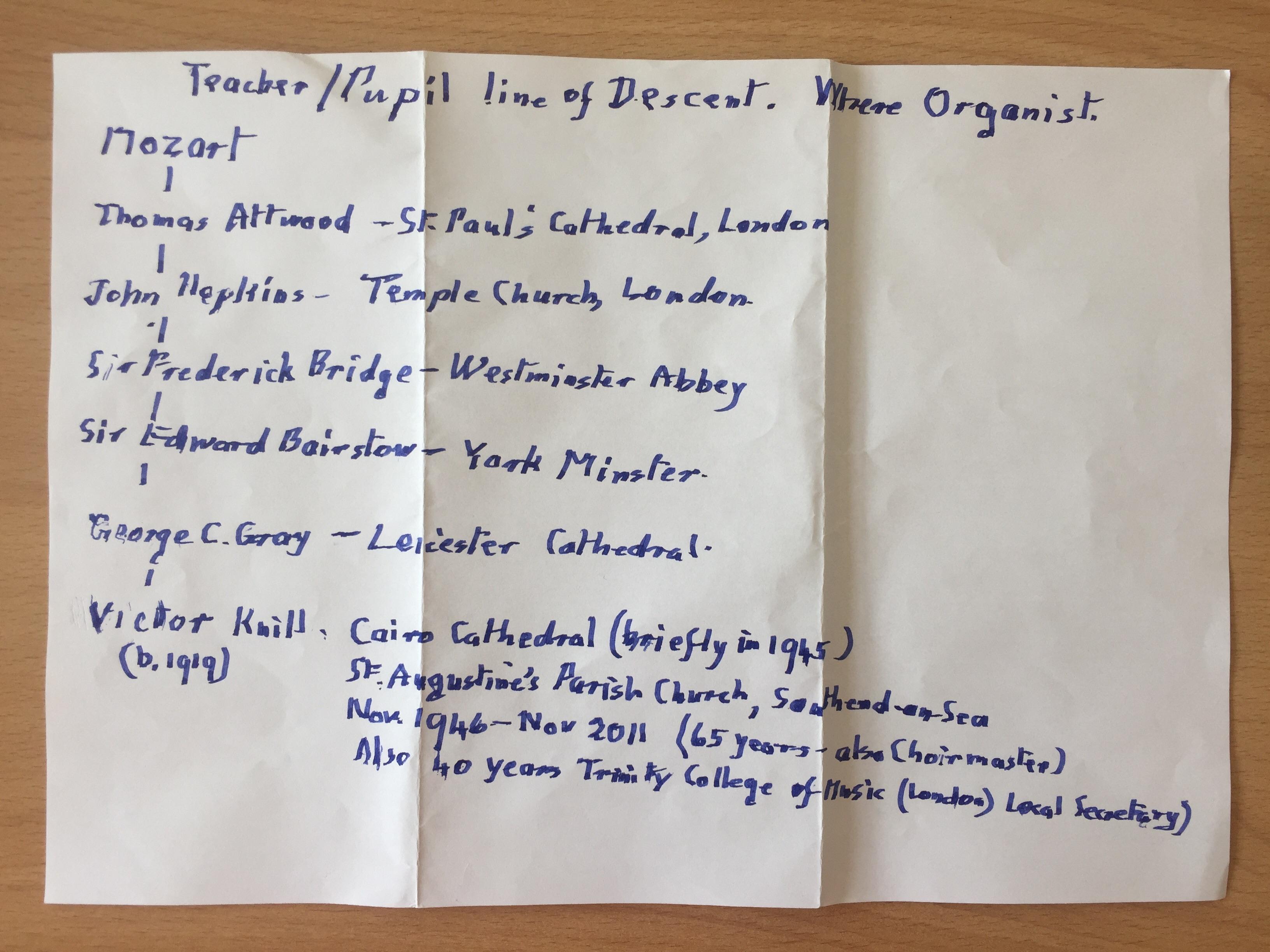 Victor also wrote:
"I have worked in Barclay's bank all my life (except July 1939-summer of 1946 - when I was in the army), and have been organist/choir master of my Parish Church for 65 years (November 1946-November 2011). The church is St. Augustine's in Thorpe Bay (near Southend-on-Sea, in Essex) - I have also been local secretary of what used to be known as Trinity College of Music, but now is, I think, Trinity Laban College of Music and Dance - for 40 years.
So it has been a full life for me!"
Victor got in touch because our presenter John Suchet has recently been asking his listeners to get in touch if they have any connection to musical history.
Ranging from Puccini to Pachelbel, listeners have told their tales and inspired others to do so as well. Have you got anymore connections to music history or classical composers? Get in touch with John Suchet – he'd love to hear from you.
Less than a week later, another listener has got in touch with John who was able to trace his teacher lineage back through Beethoven, Schubert, Liszt, Mozart all the way back to Johann Sebastian Bach.
Here is his connection:
Paul Hill - studied Music A-Level, Organ and Choral Singing in the 1960s with...
Thomas Tunnard (1918-2012) - who had been a choirboy at St George's Windsor under...
Sir Walford Davies (1869-1941) - who had studied with...
Sir Hubert Parry (1848-1918) - his lifelong mentor was...
Edward Dannreuther (1844-1905) - who had studied piano in Leipzig with...
Ignaz Moscheles (1794-1870) - who had been a pupil in Vienna of...
Antonio Salieri (1750-1825) - whose pupils included Ludwig van Beethoven, Franz Schubert and Franz Liszt - and who was an associate of Wolfgang Amadeus Mozart...
Salieri had been launched on his career by...
Florian Gassman (1729-1774) - who is thought to have studied in Bologna with...
Giovanni (Padre) Martini (1706-1784) - who was an authority on the stile antico of counterpoint and had taught...
Johann Christian Bach (1735-1782) - who was a son by his second marriage to Anna Magdalena of...
Johann Sebastian Bach (1685-1750)