Why is Elgar's Pomp and Circumstance March No.1 the US graduation song?
17 July 2023, 15:47 | Updated: 17 July 2023, 16:25
Elgar's Pomp & Circumstance March No. 1 has become known simply as 'the graduation song' in America. But how did that happen?
Edward Elgar had an unusual relationship with America. Although he never lived there, his music was greatly admired and over time it has become traditional for the Trio from Elgar's Pomp and Circumstance March No. 1 in D to be played at graduation ceremonies.
But there's more to this piece of music than its background role at graduations might imply.
To understand how the tradition started we have to cross back across the Atlantic, (and back through time), to Blighty at the end of the reign of Queen Victoria...
Read more: What are the lyrics to 'Land of Hope and Glory' and what do they mean?
What is Elgar's 'Pomp and Circumstance March No.1' played at US graduation ceremonies?
The Pomp And Circumstance March No. 1 in D caught the attention of the Crown Prince Edward, soon to be Edward VII, when it received a double encore in concert in 1901.
Prince Edward requested that the middle section be made into a song for his upcoming coronation that year, so Elgar engaged the poet A.C. Benson to set words to the famous tune, and 'Land Of Hope And Glory' (listen below) was born.
Land of Hope and Glory (2007 Remaster)
But if you were to ask an American to sing you the words to 'that graduation music' they'd be utterly confused.
The lyrics are never used in The States; the American tradition began when Elgar was awarded an honorary doctorate in Music from Yale University, at which only the orchestral version was played (hear it below).
The 1905 Yale graduation ceremony was full of music, including Mendelssohn's Ruy Blas overture and 'Seek Him that maketh the seven stars' from Elgar's Light of Life, but it was the 'Trio' from Pomp and Circumstance March No. 1 in D which was the greatest hit, and in later years other universities followed suit, starting with Princeton in 1907, Chicago in 1908 and Columbia in 1913.
Elgar was an inspired writer of melodies, and it's not hard to hear why the tune was so appropriate for graduating students.
It manages to sound triumphant and nostalgic in equal measure, making it perfect for a ceremony that marks the end of one era and the beginning of a new stage of life.
Back in England, the patriotism of A.C. Benson's lyrics gave the piece the status of a second National Anthem.
Nowadays there's such a rich cultural memory of patriotism associated with the song that it is bound to affect even the hardest hearted amongst us. These lyrics are an integral part of what has made this piece so iconic in England, and the text is still relevant after more than a hundred years.
Read more: What are the lyrics to 'God Save the King', Britain's national anthem?
Elgar: Pomp and Circumstance / Rattle · Berliner Philharmoniker
Written before the World War I, the Pomp and Circumstance March No.1 was initially intended to be a celebration of the glory of war and Britain's power on the international stage. However, over the centuries people have taken strength from the song in different ways.
The events of the last few years have given a striking new relevance to this Victorian text, with words such as 'wider still and wider may thy bounds be set' challenging us to think about what it means to be British in this day and age, within an increasingly connected world.
But whether it's nation or graduation, (see what we did there?) there's no doubt that Elgar has created an emotive masterpiece. So what makes it so moving?
Read more: 10 of Elgar's greatest pieces of music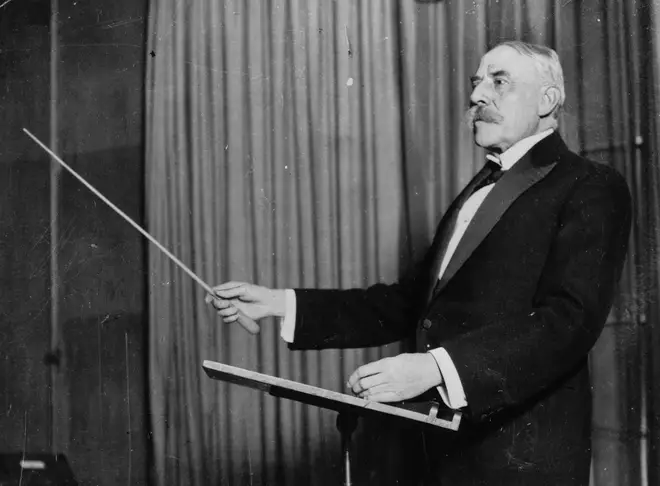 What makes Elgar's 'Land of Hope and Glory' the perfect graduation song?
Context
Firstly, this music is most powerful when it's heard within the context of the full march. Sit down and listen to the whole thing: the trio is an oasis of calm within the brass- and timpani-clad textures of the march's main themes, starting quietly and vulnerably, like a hymn, which is simultaneously reassuring and nostalgic.
Tempo
Then there's the tempo. There's something about slow-moving music which is evocative of size and strength. Elgar's use of a slow tempo gives the music its regal mood and reinforces a sense of patriotic pride.
Melody
Words or no words, the short phrases make this tune inherently singable. What's more is that the overall melody is shaped like a wedge, getting gradually higher and louder and finishing with a triumphant climax which leaves the listener with a sense of joyful optimism.
Sir Edward Elgar - Pomp and Circumstance March No.1
Before the premiere in 1901 Elgar wrote that he had a tune which would 'knock 'em flat', but rather sadly, his love of the piece didn't last.
The composer became jaded by the work's popularity and relentless jingoism and grew to resent how it overshadowed the rest of his oeuvre.
Nevertheless, Pomp and Circumstance March No. 1 in D made Elgar a steady income for the rest of his life, and has brought joy to generations of listeners on both sides of the pond by evoking a sense of pride and nostalgia which is equally suited to patriotism, and celebration.