This Beethoven score is causing huge music geek arguments because of the handwriting
29 November 2016, 11:41 | Updated: 29 November 2016, 12:00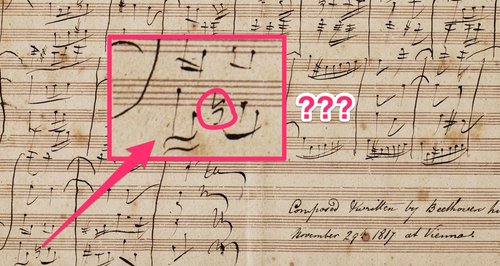 Sotheby's are auctioning a prized original Beethoven score with a crucial talking point - but it might not actually be original...
The manuscript itself, which is an Allegretto for string quartet composed late in Beethoven's career, is claimed by Sotheby's to be written in the composer's own hand.

However, the style of one particular written element - a natural sign - is causing massive music geek rage among academics. The way Sotheby's see it, with access to experts of their own, is that this is absolutely how Beethoven wrote his natural signs: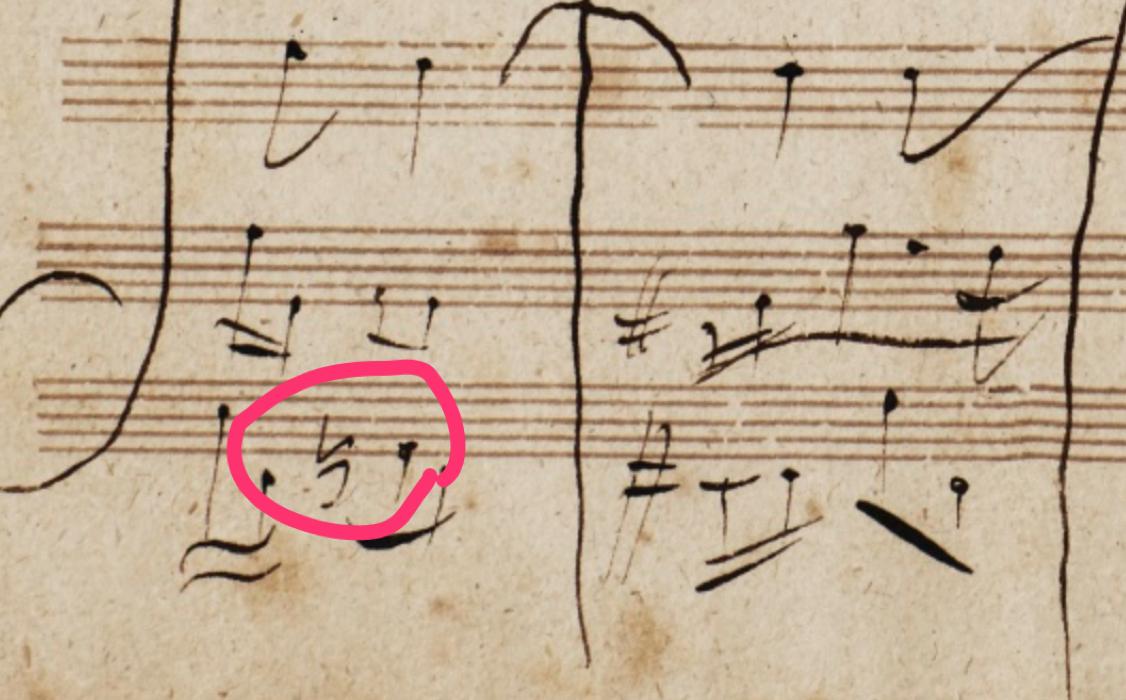 However, academics like Barry Cooper of Manchester University argue that, thanks to the many examples of verified Beethoven scores, we can conclude that the composer did NOT write his naturals like this, suggesting that this was the work of a copyist. Sotheby's very own head of musical scores and manuscripts Simon Maguire absolutely refuted this in a tense radio argument this morning, claiming that were many examples of Beethoven writing his natural signs in this manner from various sources.
Fortunately, we have our very own Beethoven expert in John Suchet, who had the following to contribute:

"There's obviously history between Barry Cooper and Sothebys! I know Barry Cooper well. He's written so many books on Beethoven, including editing the Urtext edition of the Piano Sonatas, which I launched at the Wigmore Hall for him. He also completed the first movement of the 10th symphony, so he really knows what he's talking about."

"He has examined more Beethoven manuscripts, original handwriting, notation, than Simon Maguire has had hot dinners. My money is on Barry Cooper! The piece is an obscure little item that Beethoven wrote quite late in life. He didn't give it an opus number, so it's unlikely he spent much time on it, or rated it highly. All points to a copyist for me."
Have a look at the original lot here - Sotheby's has since confirmed that the score has failed to sell as a result of the debate. With the item unsold, they have released the following statement:
"Sotheby's categorically rejects the suggestion that the Beethoven manuscript is a contemporary copy."

"It has been suggested that the Rev John Abbiss of St Bartholomew the Great, Smithfield, forged this copy of Beethoven's "Allegretto" in B minor, transcribing it from a score given by Beethoven to Richard Ford in Vienna in November 1817."
"However, the manuscript is so close in all respects to the other original, discovered by Sotheby's in 1999, that it cannot be a contemporary transcript. Instead, Beethoven made this copy for John Abbiss himself, almost immediately after he wrote out Ford's score."
"The manuscript carries an inscription by Abbiss in a completely different hand and ink from the music (cf numerous pages in contemporary notebooks in Abbiss's hand from the Church of St Bartholomew the Great, Smithfield). Unless he was a practised forger, it is very unlikely that he would master an imitation of hand so characteristic and difficult to achieve. Abbiss's copy was not laboriously traced either: it is not an exact replica."