Violinist Joshua Bell joins 'heroic' healthcare workers to play virtual Bach Double Concerto
5 August 2020, 13:00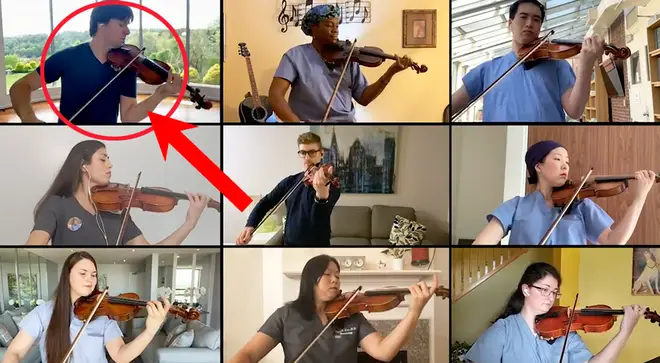 An international violin virtuoso thanks healthcare workers by joining them in a virtual Bach concerto. This is wonderful…
Lockdown has made us deeply appreciate our brilliant healthcare workers, and really miss making music together.
American violin virtuoso Joshua Bell saw that and provided us with some musical magic.
Together with ten healthcare workers, who all happen to be fantastic violinists on the side, Bell organised a multitracked rendition of the first movement of Bach's Double Violin Concerto.
"Over the past several months I've been so moved by the heroism of the healthcare workers who've really risked their lives on the frontlines of this pandemic," Bell said.
Read more: 11,000 voices sing 'You Are My Sunshine' in Gareth Malone choir finale >
Bach Double Violin Concerto - a tribute to healthcare workers with Joshua Bell
"I'm also very much aware that many of them are fabulous musicians. So I'm very glad I have this opportunity to make music with some of them."
Bravo to Catherine Lee Chen, MD, MPH, Siobhan Deshauer, MD (aka ViolinMD), Abbey Hafen, RN, BSN, Grace Lee, MD, Evan Liang, MD, Georgiana Marusca, MD, Liaht Slobodkin, EMT, Lori Sykes, RN, BSN, Jasper Yung, DO and Mark Weatherall, MD.
Thank you for the music...