Classic FM Chart: Vienna New Year's Concert makes a late entry in top 10
20 January 2019, 18:55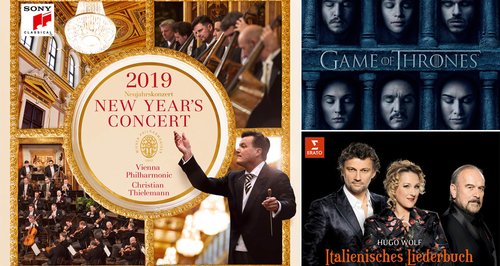 Whilst the frontrunners remain unchanged, four new entries diversify this week's chart.
It's another week at No. 1 for Andrea Bocelli's latest album Sì, closely followed by Andre Rieu's Romantic Moments II, Katherine Jenkins' Guiding Light and Aled Jones and Russell Watson's In Harmony.
There are four new entries that have made it on to the chart this week, including the New Year's Concert 2019. The annual concert performed by the Vienna Philharmonic and conducted by Christian Thielemann makes a late entry after the New Year celebrations, but comes in strong at No. 8.
Other new albums on the chart are In a Strange Land by Stile Antico, a compilation of pieces by Elizabethan composers in exile, Italienisches Liederbuch by Diana Damrau, Jonas Kaufmann and Helmut Deutsche, and Bach: Keyboard Works by Federico Colli.
Score by 2Cellos also re-enters the chart at No. 27 this week, as does the Game of Thrones Season 6 soundtrack by Ramin Djawadi at No. 29 in anticipation of the new season, which is out this April.
This
Week
Last
Week
Title & Artist
1
1
SI, ANDREA BOCELLI


Download from iTunes

-

Buy from Amazon

2
2
ROMANTIC MOMENTS II, ANDRE RIEU & JOHANN STRAUSS OR


Download from iTunes

-

Buy from Amazon

3
3
GUIDING LIGHT, KATHERINE JENKINS


Download from iTunes

-

Buy from Amazon

4
4
IN HARMONY, ALED JONES & RUSSELL WATSON


Download from iTunes

-

Buy from Amazon

5
6
THE ULTIMATE CLASSICAL COLLECTION, VARIOUS ARTISTS


Download from iTunes

-

Buy from Amazon

6
7
ISLANDS - ESSENTIAL EINAUDI, LUDOVICO EINAUDI


Download from iTunes

-

Buy from Amazon

7
5
THE 50 GREATEST PIECES OF CLASSICAL, LPO/PARRY


Download from iTunes

-

Buy from Amazon

8
NEW
NEW YEAR'S CONCERT 2019, VP/THIELEMANN


Download from iTunes

-

Buy from Amazon

9
8
EVOLUTION, ALEXIS FFRENCH


Download from iTunes

-

Buy from Amazon

10
12
DIVENIRE, LUDOVICO EINAUDI


Download from iTunes

-

Buy from Amazon

11
13
THE REAL CLASSICAL, VARIOUS ARTISTS


Buy from Amazon

12
16
THE LORD OF THE RINGS - TRILOGY - OST, HOWARD SHORE
13
15
THE LITTLE MERMAID - OST, ALAN MENKEN


Download from iTunes

-

Buy from Amazon

14
NEW
IN A STRANGE LAND, STILE ANTICO


Download from iTunes

-

Buy from Amazon

15
17
IN A TIME LAPSE, LUDOVICO EINAUDI


Download from iTunes

-

Buy from Amazon

16
19
THE LORD OF THE RINGS - OST, HOWARD SHORE
17
14
SLEEP, MAX RICHTER


Download from iTunes

-

Buy from Amazon

18
18
ELEMENTS, LUDOVICO EINAUDI


Download from iTunes

-

Buy from Amazon

19
NEW
WOLF/ITALIENISCHES LIEDERBUCH, DAMRAU/KAUFMANN/DEUTSCH


Download from iTunes

-

Buy from Amazon

20
9
INSPIRATION, SHEKU KANNEH-MASON


Download from iTunes

-

Buy from Amazon

21
21
GLADIATOR - OST, HANS ZIMMER & LISA GERRARD


Download from iTunes

-

Buy from Amazon

22
26
UNA MATTINA, LUDOVICO EINAUDI


Download from iTunes

-

Buy from Amazon

23
22
THE BLUE NOTEBOOKS, MAX RICHTER


Download from iTunes

-

Buy from Amazon

24
NEW
BACH/ITALIAN CONCERTO/PARTITA NO 4, FEDERICO COLLI


Download from iTunes

-

Buy from Amazon

25
23
MAGIC OF THE MOVIES, ANDRE RIEU & JOHANN STRAUSS OR


Download from iTunes

-

Buy from Amazon

26
28
THE VERY BEST OF, KARL JENKINS


Download from iTunes

-

Buy from Amazon

27
RE
SCORE, 2CELLOS


Download from iTunes

-

Buy from Amazon

28
29
I GIORNI, LUDOVICO EINAUDI


Download from iTunes

-

Buy from Amazon

29
RE
GAME OF THRONES - SEASON 6 - OST, RAMIN DJAWADI


Download from iTunes

-

Buy from Amazon

30
24
100 YEARS OF NINE LESSONS & CAROLS, KING'S CC/WILLCOCKS/LEDGER


Download from iTunes

-

Buy from Amazon