Classic FM Chart: Sir Karl Jenkins solo album enters the top 10
17 February 2019, 18:55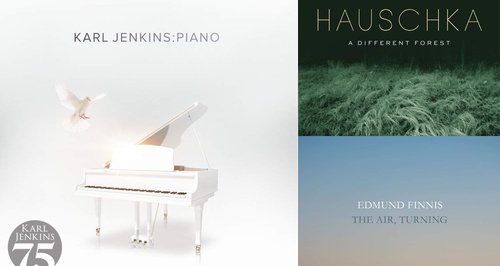 In his 75th birthday week, Sir Karl Jenkins' new album 'Piano' enters the chart at No. 8.
Andrea Bocelli stays at No. 1 for yet another week alongside other favourites André Rieu, Aled Jones & Russell Watson and Katherine Jenkins.
Sir Karl Jenkins' new album Piano enters at No.8. It's accompanied by three other new entries on the chart – Liszt: Sardanapalo & Mazeppa by Staatskapelle Weimar under conductor Kirill Karabits' direction at No. 24, A Different Forest by Hauschka at No. 28 and The Air, Turning by composer Edmund Finnis at No. 29.
2Cellos have re-entered the chart at No. 26 with their album Score.
This
Week
Last
Week
Title & Artist
1
1
SI, ANDREA BOCELLI


Download from iTunes

-

Buy from Amazon

2
2
ROMANTIC MOMENTS II, ANDRE RIEU & JOHANN STRAUSS OR


Download from iTunes

-

Buy from Amazon

3
4
IN HARMONY, ALED JONES & RUSSELL WATSON


Download from iTunes

-

Buy from Amazon

4
3
GUIDING LIGHT, KATHERINE JENKINS


Download from iTunes

-

Buy from Amazon

5
6
ISLANDS - ESSENTIAL EINAUDI, LUDOVICO EINAUDI


Download from iTunes

-

Buy from Amazon

6
7
THE ULTIMATE CLASSICAL COLLECTION, VARIOUS ARTISTS


Download from iTunes

-

Buy from Amazon

7
5
NOCTURNE, VANGELIS


Download from iTunes

-

Buy from Amazon

8
NEW
PIANO, KARL JENKINS


Download from iTunes

-

Buy from Amazon

9
18
IN A TIME LAPSE, LUDOVICO EINAUDI


Download from iTunes

-

Buy from Amazon

10
8
THE 50 GREATEST PIECES OF CLASSICAL, LPO/PARRY


Download from iTunes

-

Buy from Amazon

11
13
THE LITTLE MERMAID - OST, ALAN MENKEN


Download from iTunes

-

Buy from Amazon

12
16
THE LORD OF THE RINGS - TRILOGY - OST, HOWARD SHORE
13
12
DIVENIRE, LUDOVICO EINAUDI


Download from iTunes

-

Buy from Amazon

14
11
EVOLUTION, ALEXIS FFRENCH


Download from iTunes

-

Buy from Amazon

15
15
SLEEP, MAX RICHTER


Download from iTunes

-

Buy from Amazon

16
20
THE LORD OF THE RINGS - OST, HOWARD SHORE
17
17
THE BLUE NOTEBOOKS, MAX RICHTER


Download from iTunes

-

Buy from Amazon

18
21
ELEMENTS, LUDOVICO EINAUDI


Download from iTunes

-

Buy from Amazon

19
23
GLADIATOR - OST, HANS ZIMMER & LISA GERRARD


Download from iTunes

-

Buy from Amazon

20
22
THE REAL CLASSICAL, VARIOUS ARTISTS


Buy from Amazon

21
19
ENCHANTED ISLE, VOCES8


Download from iTunes

-

Buy from Amazon

22
24
UNA MATTINA, LUDOVICO EINAUDI


Download from iTunes

-

Buy from Amazon

23
14
SLEEP BABY SLEEP, RPO/MORGAN


Download from iTunes

-

Buy from Amazon

24
NEW
LISZT/SARDANAPALO/MAZEPPA, STAATSKAPELLE WEIMAR/KARABITS


Download from iTunes

-

Buy from Amazon

25
25
INSPIRATION, SHEKU KANNEH-MASON


Download from iTunes

-

Buy from Amazon

26
RE-ENTRY
SCORE, 2CELLOS


Download from iTunes

-

Buy from Amazon

27
28
GAME OF THRONES - SEASON 6 - OST, RAMIN DJAWADI


Download from iTunes

-

Buy from Amazon

28
NEW
A DIFFERENT FOREST, HAUSCHKA


Download from iTunes

-

Buy from Amazon

29
NEW
FINNIS/THE AIR TURNING, VARIOUS ARTISTS


Buy from Amazon

30
27
I GIORNI, LUDOVICO EINAUDI


Download from iTunes

-

Buy from Amazon