Sexual assault claims against conductor Charles Dutoit are 'credible', says Boston Symphony
5 March 2018, 13:08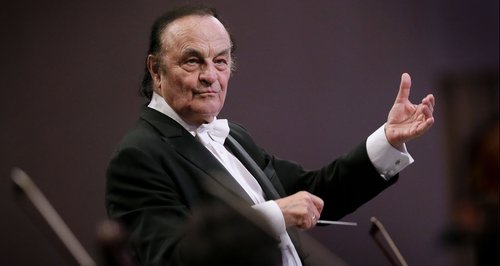 The Boston Symphony Orchestra has announced that an independent investigation into allegations of sexual misconduct made against the conductor found the women's claims credible.
On Friday, the orchestra announced that four women employed in the 1980s and 1990s had given credible accounts of sexual assault by Charles Dutoit, a frequent guest conductor.
The allegation that triggered the independent investigation came from a woman named Fiona Allan, who was working as an intern with the orchestra at Tanglewood, in Lenox, Massachusetts (United States) in the summer of 1997, when the assault happened.
Allan, who is now artistic director and chief executive of the Birmingham Hippodrome, claimed last year in the classical music blog Slipped Disc that Dutoit allegedly assaulted her in his Tanglewood dressing room, where she had been sent to drop off papers.
She continued: "I alerted the orchestra manager, who told me (too late...) that they usually advised women not to enter his dressing room unaccompanied, as there had been previous complaints. So they knew what was going on... I have never felt angrier or less protected by an organisation. They continued to employ him, whilst knowing he harassed women."
In its statement, the investigator for the orchestra reported that "three women with whom [I] spoke credibly described incidents in the 1980s and 1990s in which they too were victims of sexual misconduct by Mr. Dutoit." The orchestra said it would not be releasing more information about the incidents, to protect the identities of the three women.
The Boston Symphony Orchestra severed ties with Mr Dutoit in December 2017, after several women, including Allan, accused him of incidents of sexual assault dating between 1985 and 2010, including one allegation of rape. The 81-year-old conductor also stepped down as artistic director and principal conductor of the Royal Philharmonic Orchestra in January – he was originally set to stand down in October 2019.
Dutoit denied all claims in December, issuing a statement in which he said: "The allegations made against me are as shocking to me as they are to my friends and colleagues. I do not recognise the man or the actions being described in the media.

"Whilst informal physical contact is commonplace in the arts world as a mutual gesture of friendship, the serious accusations made involving coercion and forced physical contact have absolutely no basis in truth."
However, the investigator said that until it was reported late last year, none of the women had contacted the orchestra's management to complain, and they therefore had no indication that the management had been aware of Mr Dutoit's behaviour.
The orchestra has since stripped Dutoit of an honorary title it gave him in 2016. "Let me be clear that we want to send a strong message that any form of sexual harassment or assault goes completely against our values and will not be tolerated," said the orchestra's managing director, Mark Volpe.
"The Boston Symphony Orchestra is extraordinarily thankful to the women who participated in its independent investigation and shared information about their experiences, and wants them and the entire BSO community to know that all reports of sexual misconduct will be taken seriously, investigated, and handled expeditiously and appropriately."