The More Music Breakfast 25th Anniversary Christmas Quiz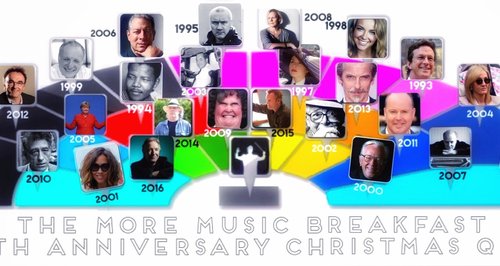 Tim Lihoreau's come up with a festive yet fiendish quiz for you...
As Classic FM's 25th Anniversary Year comes to a close, our very own Tim Lihoreau has drawn up a celebrity orchestra – one player for each year since Classic FM first graced the airwaves.
But who are these mystery players? Fortunately, Tim's left you with some clues... See the image below, and find the clues below that (oh, and because it's Christmas, there's no 'L').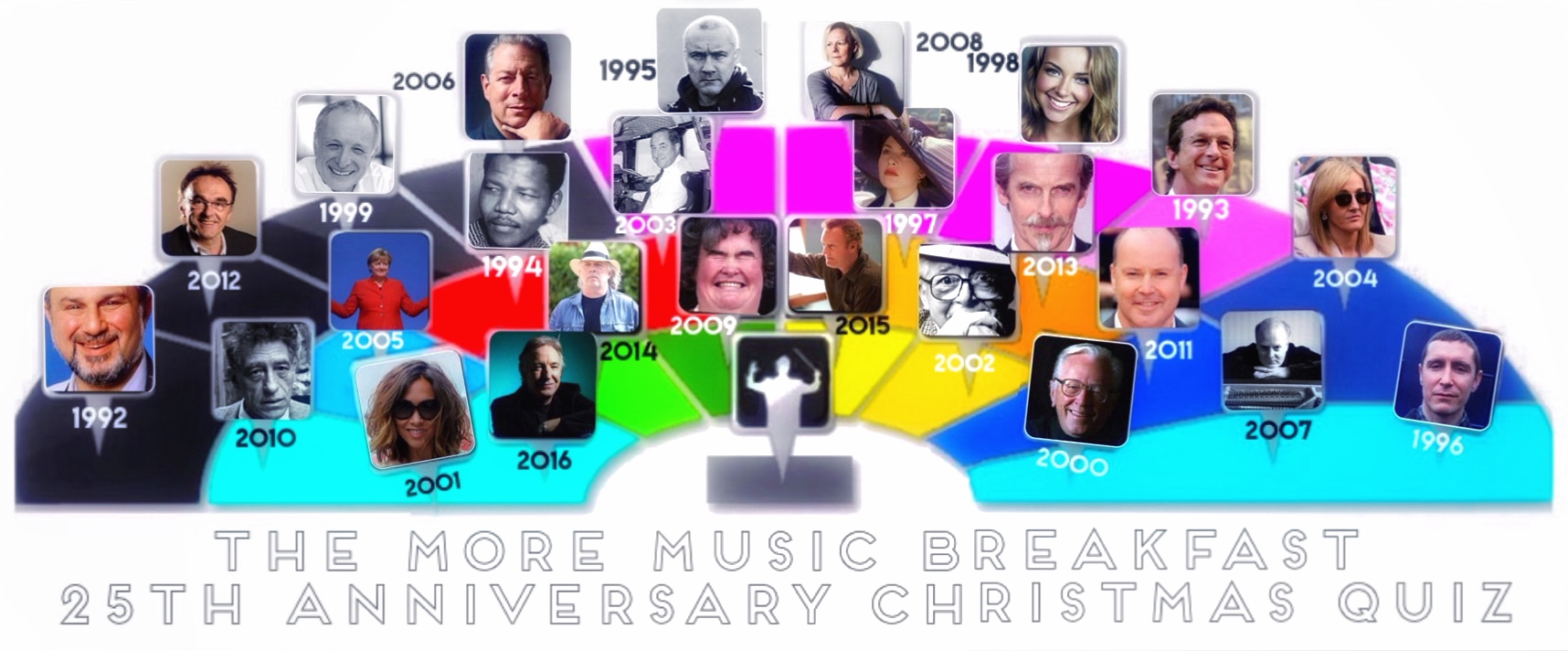 A
Pop stars - she was one of them.
Now she's here on Klassic FM.
B
He found riches with his mutts
in cartoons – may contain nuts.
C
Ask yourself the State of Play
When Harry Potter brought fame his way
D
The chancellor rules the land of Bach
Where euros overcame the mark.
E
Wizard who in death did weep
We loved that he was true, mad, deep.
F
For Classic FM he wrote the book
The hale and hirsute Crafty Cook
G
Monty was his uncle – true.
One of brothers who played who.
H
His ceremony turned our heads
With Minis, Brunel and NHS beds
I
When it came to directing or plot
This director liked it hot.
J
His freedom walk was some event
For a convict turned president.
K
William's vice turned writer sleuth
To tell the world about the truth.
M
She made The Iron Lady here.
Perhaps you'll know her mamma, Mia?
N
20th Century Coyote man
Forever young one – I'm a fan.
O
Writer of 'those dinosaurs' fame
Alan Partridge shouts its name.
P
Tony and Cherie were arm in arm
In his dome which worked its charm.
Q
His plane was faster than the rest
This super pilot passed the test
R
Malcolm turned the air so blue
Till Peter showed us who was who.
S
She was safe but Jack was gone.
When, they sang, her heart went on
T
Tunesmith from the Oxford scene
Just where has this mister been?
U
Her classical side is but a relic
Of a time and voice angelic.
V
Her Prisoner, this year, was released
These days, she has unleashed the beast.
W
A voice that some could not foresee
She put the B in BGT
X
Swiss Alberto might think it harsh -
The millions for the 'L'homme qui marche'.
Y
"We're only making plans for" him -
His book of tunes full to the brim.
Z
He works in glass, in paint, applied
With love and formaldehyde.