Andrea Bocelli headlines BST Hyde Park 2024 – tickets on sale now!
16 November 2023, 08:00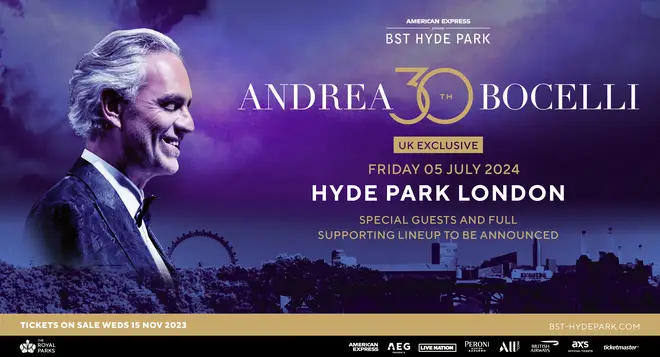 Famed Italian tenor Andrea Bocelli will become the first classical artist to headline the London summer festival, celebrating 30 years of his singing career.
Star Italian singer Andrea Bocelli is the first headline act announced to perform at American Express presents BST Hyde Park in 2024.
In a special celebratory performance marking 30 years of his incredible international singing career, Bocelli will take to the stage in London's beautiful royal park on Friday 5 July to become the first classical artist to headline in BST Hyde Park's history, in a 2024 UK exclusive.
"A career spanning 30 years, 30 years – a lifetime! – spent on stages around the world, striving to brush with beauty and offer my voice to those who wish to hear it, as part of the soundtrack of their lives," Bocelli said.
"I am delighted to see how today this anniversary has become a celebration for many: a collective way to celebrate three decades of music and excitement, of memories and feelings, that can bloom to life to the notes of a score each time.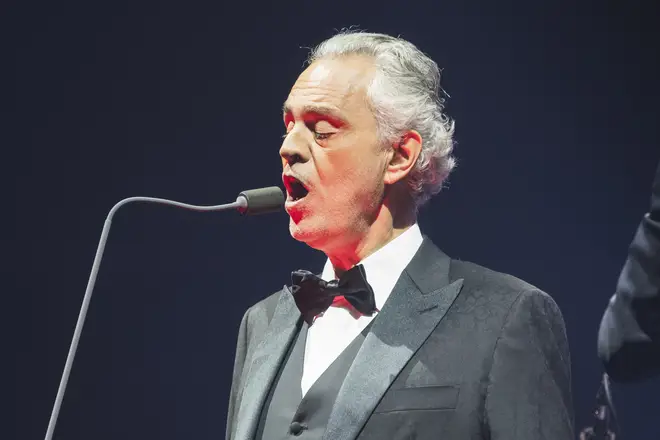 "Hyde Park is the perfect place for coming together to celebrate my 30th anniversary and reimagine it as a springboard propelling us into the future, imbued with positivity and the power of good."
Andrea Bocelli is arguably the most successful classical artist in recent history. He has performed for Popes, Presidents, Prime Ministers and royalty, sung in many of the greatest concert halls and opera houses, sold 90 million records, and even lent his voice to a John Lewis Christmas ad.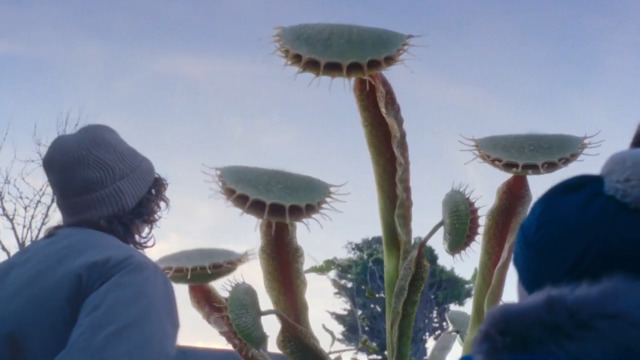 'Snapper' stars in the John Lewis 2023 Christmas Advert
With a Golden Globe, seven Classical BRITS and seven World Music Awards under his belt, plus a star on the Hollywood Walk of Fame, Bocelli has also performed at some of the most significant events in recent years, including The Queen's Platinum Jubilee at Buckingham Palace, and at Olympic Games ceremonies.
This special UK exclusive show at BST Hyde Park comes at a milestone year for Bocelli, who celebrates 30 years of his career in 2024. Drawing millions in with his popular crossover appeal, Bocelli has collaborated with iconic opera singers such as Pavarotti and Sir Bryn Terfel, as well as a host of A-list pop stars from Ed Sheeran and Ariana Grande to Céline Dion and Tony Bennett.
Jim King, CEO of European Festivals at festival promoter AEG Presents, says: "We have wanted to host Andrea Bocelli in Hyde Park for many years and so it's a great honour for us that we are able to share this special moment with him and his loyal fans.
"There can be no bigger occasion for all music than experiencing the world's greatest tenor in London's Hyde Park."
Tickets to American Express presents BST Hyde Park are on sale now – buy at BST-HydePark.com