Quarantined Barcelona opera singer brings her neighbourhood to tears with heartfelt Puccini
19 March 2020, 12:20 | Updated: 19 March 2020, 20:11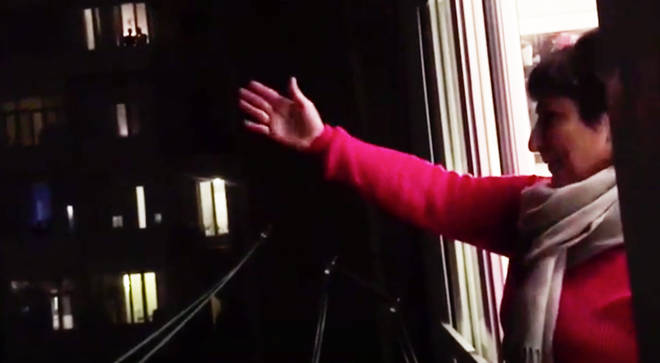 With thousands of local residents currently self-isolating in Barcelona as a result of the coronavirus outbreak, this soprano was determined to lift people's spirits through song...
A quarantined opera singer in Barcelona, Spain has brought her neighbourhood to tears with a spine-tingling performance from her window.
In the video (watch below), we hear 56-year-old soprano, Begoña Alberdi, sing a stunning rendition of Puccini's famous aria, 'O mio babbino caro', in an attempt to cheer up her self-isolating neighbours following the coronavirus outbreak.
It's a fitting choice of song while people are having to spend time in isolation. Taken from Puccini's 1918 opera Gianni Schicchi, the aria is sung by Lauretta after tensions between her father Schicchi and the family of Rinuccio, the boy she loves, reach breaking point and they threaten to keep the lovers separated.
Listening from their balconies, residents let out literal gasps of joy (and what sounds like some tears) at hearing the singer's voice ringing out over the city, before giving her a well deserved round of applause with plenty of 'whoops'.
The person filming can also be heard sniffling behind the lens – and given the aria's moving theme, we can't exactly blame them.
Click here to view the NHS's latest coronavirus advice >
Alberdi is just one of the 263,000 local residents currently forced to stay indoors in Barcelona's Eixample district as a result of COVID-19.
The talented soprano has been self-isolating with her husband in their apartment since the Spanish government decided to put the country on lockdown last Sunday.
She told The Daily Mail: "It was 8pm and neighbours applauded hospital workers and we cheered them on too, it was so moving to see everybody coming together to thank them.
"It touched me and I thought, we live in a very cool world. I thought I want to sing and my husband told me 'do it then' so I started singing."
Read more: Gareth Malone brings together self-isolating singers with 'at home' choir project >
She added: "Now is time to stay at home. We will have time to go on walks and do normal stuff later, this is a life lesson, to make us feel that common objectives can be accomplished after this."
The video of her performance comes after a quarantined Italian tenor sang 'Nessun Dorma' over the rooftops in his hometown (watch above).
After Alberdi's friend informed her about the clip, the opera singer vowed to keep lifting people's spirits: "It is so beautiful and I will continue to carry on during the whole lockdown, one song every evening.
"I have performed at the Liceu [Gran Teatre del Liceu in Barcelona] 273 times and now it seems I have become famous for singing at my window."
Since then, she has treated her neighbours to classical songs including 'Ave Maria', 'Cançó d'amor i de guerra' and 'Casta diva', from Bellini's famous opera, Norma.
Lovely work, Begoña.