First female principal dancer of Asian descent at New York City Ballet is 'important milestone'
31 May 2023, 13:30 | Updated: 31 May 2023, 15:04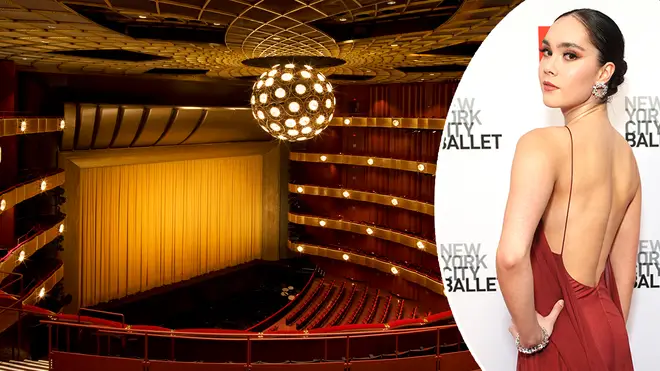 Mira Nadon has been appointed principal dancer at the ballet company, making her the first woman of Asian descent to hold the title in the company's 75-year history.
The New York City Ballet's first female principal dancer of Asian descent has said it feels like the dance company has entered a "new era", following her historic appointment earlier this year.
21-year-old Mira Nadon, who was born in Boston, Massachusetts to her Indian mother, was appointed principal dancer of the New York City Ballet in February 2023, becoming the first woman of Asian descent to hold the title at the company.
Nadon joins the ranks of four other Asian principal dancers in all 75 years of the New York City Ballet, all of whom have been men.
Japanese dancer Gen Horiuchi became the first Asian principal dancer at the company in 1989, followed by Amar Ramasar in 2009, Anthony Huxley in 2015, and Chun Wai Chan, who became the company's first principal dancer of Chinese descent in late 2022.
Read more: 11-year-old Japanese dancer takes top ballet prize with this dazzling routine
Nadon, whose mother was born in India, began taking ballet lessons at the age of six and joined the School of American Ballet's summer program aged 12. She became a full-time student at the school aged 14, and took an apprenticeship at the New York City Ballet two years later, at 16.
Since then, she has ascended the ranks of the New York City Ballet to become soloist and now principal dancer.
"It does feel like a kind of new era in the company", the ballet dancer told CBS News. "It's exciting for me to have some responsibility and feel like I can do something to help the culture in our company."
Nadon has also spoken to 19th News about the tropes and stereotypes of Chinese and Asian people in the dance community, including performances of The Nutcracker's 'Tea' dance in 'yellowface'.
"Even at New York City Ballet, they only recently changed the choreography and changed the costumes. You look back on videos from only seven or eight years ago, and it seems so distasteful and offensive. But that was such a norm that nobody ever really questioned it."
Read more: The best ballet scores of all time
Jonathan Stafford, artistic director of the New York City Ballet, told CBS News that despite living in such a diverse city, "we haven't always been the most diverse ballet company".
He added: "What we've been really working hard on is increasing the diversity within our ranks at every level. And what we put on stage can be an inspiration for many, many young girls out there to see [Nadon] and see something in themselves, reflected back."
Nadon agrees: "To look up at the stage and see such a variety of faces is so special. And also just makes the company more interesting and even more vibrant."
Stafford continued: "She's such a wonderful role model already, even at such a young age. And she represents an important milestone for us that we hope to continue to build on.
"I'm not happy that it's taken so long. But I'm really grateful that we've gotten to the point where we've crossed a milestone. And I think she will continue to inspire other generations."