We're *obsessed* with this saxophone cover of a 20th century violin sonata
23 March 2017, 17:40 | Updated: 24 March 2017, 09:54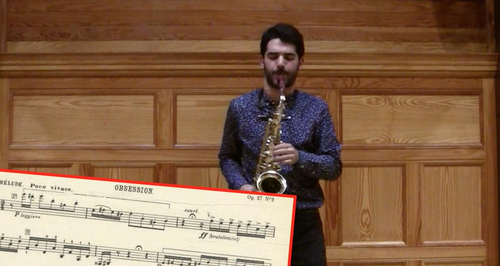 A 20th century violin sonata that directly quotes Bach - sounds like our kind of piece!
For those who haven't heard of Eugène Ysaÿe, he was a Belgian late nineteenth/early twentieth century violinist, composer and conductor, regarded by some as 'The King of the Violin'.
His second violin sonata, 'Obsession', directly quotes the beginning and other parts of J. S. Bach's Partita No. 3 in E Major for solo violin, reflecting Ysaÿe's preoccupation with Bach's work. Ysaÿe was inspired to compose the work after hearing Joseph Szigeti perform Johann Sebastian Bach's sonata for solo violin in G minor, and sought to represent the evolution of musical techniques and expressions of Bach's time. Much like the Bach, the movement consists of virtuosic semi-quavers throughout, but Ysaÿe adds a twentieth century touch by using chromatic tonality and other prominent characteristics of early twentieth century music such as whole tone scales, dissonances, and quarter tones.
So when we heard that saxophonist Manu Brazo had taken on the challenge of playing this complex piece on saxophone, we just had to hear it. He is probably the first person to ever perform Ysaÿe's 'Obsession' on sax, so enjoy his flawless performance below: