How do you circular breathe? We asked an expert
13 February 2017, 12:06 | Updated: 13 February 2017, 12:13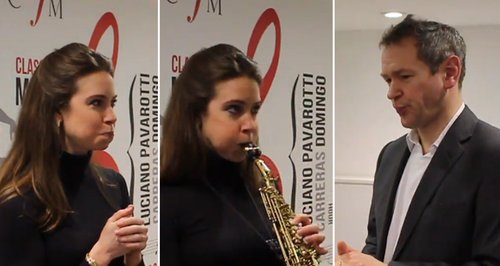 The brilliant saxophonist Amy Dickson popped into the studio to give our presenter Alexander Armstrong – who plays the oboe – a lesson in this notoriously tricky technique
What is circular breathing?
Circular breathing is a technique used by musicians who play wind instruments to produce a continuous sound, without interrupting to take a breath.
It means they can play long stretches of music by the likes of minimalist composer Philip Glass without breaking the flow of the music.
Amy Dickson has just released an album of music by Glass – so we asked her to stop by the studio to show us exactly how you can play without seemingly taking breath.
The technique you need for circular breathing
Her willing pupil was fellow woodwind player and Classic FM presenter, Alexander Armstrong.
You can hear Alexander Armstrong on air every weekend: Saturdays 3-5pm and Sundays 12-3pm.