'Many people don't believe playing the recorder is something you can do seriously'
6 April 2016, 16:35 | Updated: 20 April 2017, 16:32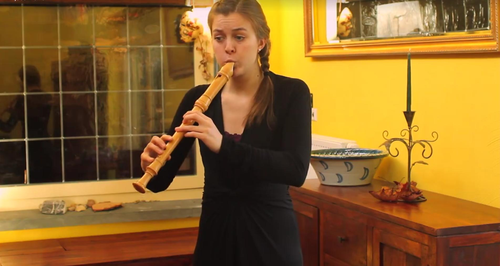 Tabea Debus is one of the most exciting young musicians in the early music world. Ahead of her concert this weekend at Saint John's Smith Square, she told us how she's challenging perceptions of the instrument one person at a time.
The recorder seems to be having a bit of a renaissance at the moment – why do you think that is?
Well a lot of people my age grew up learning to play recorder and now they are the teachers who go into schools and do incredible work there. There's also something about the sound of the recorder – it's very close to the human voice and can sound very mellow. It's also very flexible and there are lots of nuances of colour that you can create as a player.
What's the worst thing about playing the recorder?
A lot of people have a very fixed view about the instrument. When I meet someone and they ask "what do you do?" the first response is often doubtful – they don't believe playing the recorder is something you can do seriously. But then it's very rewarding to convince people to come and listen to a concert because they always say "I'm so impressed, I honestly didn't know you could play the recorder in that way."
Which three pieces would you recommend for someone new to recorder music?
Maurice Steger
Maurice is a Swiss recorder player and on his recording 'Venezia 1625' there's the most beautiful early Baroque sonata by a composer called Marco Uccellini for violin and recorder. The harmonies are gorgeous, the two parts work together to create beautiful dissonant chords. Here he is playing some Vivaldi:
Telemann Sonatas
Telemann definitely played the recorder himself. And you can feel that he understood how the instrument worked and what would work well on it. My teacher Pamela Thorby has just released a new recording of Telemann recorder sonatas and she has a really personal touch when she plays the music. Here's a taster:
Quartet: New Generation
The German group 'Quartet: New Generation' recently released their recording 'Fantasy 'n' symmetry' 2012 which included a piece called Airlines. The sound they make is very close to the human voice. This piece has a lot of noise, they often speak during the piece and there are lots of very contemporary techniques. Here's a clip:
Tabea Debus is a Young Artist at Saint John's Smith Square, where she performs music from the Baroque era this Sunday, 10th April and on 19th May when she performs as part of the London Festival of Baroque Music.