These are the 16 greatest cellists of all time
15 November 2016, 17:06 | Updated: 24 October 2019, 11:55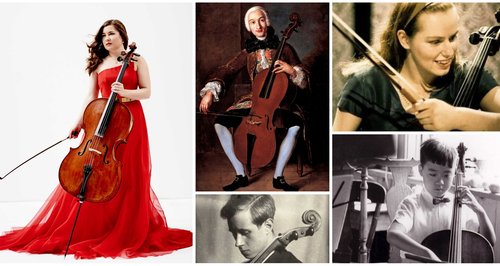 From legends like Rostropovich to contemporary masters like Yo-Yo Ma and Weilerstein, we've assembled a list of the best cellists ever.
Luigi Boccherini
You'll know him best from his celebrated String Quintet in E, but Boccherini was actually one of the foremost influences on modern cello repertoire thanks to his eternally rewarding cello concerto. Still performed constantly today and viewed by cellists as something of a staple, Boccherini's shadow looms longer than even he would've predicted.
Adrien-François Servais
This great Belgian muso lived from 1807 to 1866) and was one of the most influential cellists of the nineteenth century. He is one of the founders of the Modern Cellistic Schools of Paris and Madrid, and was also a highly regarded composer. Top mustache too.
Pablo Casals
The Spanish cellist was responsible for some of the most scintillating Bach recordings ever made, and was a genuine link between the modern age and the true history of the instrument. Having played with the likes of Fritz Kreisler and performed in front of Theodore Roosevelt, you could say he was pretty well respected.
Pierre Fournier
Fournier was known in musician circles as 'the aristocrat of cellists', thanks to his refined sound and stage presence. But that didn't mean he was in any way polite or conservative: in fact, his apparent ease just makes his musicianship all the more impressive. In his later years, he also taught Julian Lloyd Webber.
Natalia Gutman
She's by no means the most famous name on our list, but her sheer verve and electricity as a performer guarantee her place. A pupil of Rostropovich, she shares with him that certain indefinable poise that comes out of the Russian school of cello playing.
Steven Isserlis
More proof that a fine head of hair can stand you in good stead for a lifetime playing the cello, Steven Isserlis is fast become a national treasure thanks not only for his incendiary playing, but also for just being a lovely, lovely bloke. He's written children's books about music, he's premiered modern works and he continues to electrify concert-goers all over the world. What a force for good.
Julian Lloyd Webber
Another fine ambassador for the instrument, and a long-serving one at that. JLW announced his retirement from the cello in 2015 due to shoulder fatigue but, thankfully, since then he's been able to keep up a modest calendar that reminds of us just what an extraordinary, lyrical talent he still is.
Yo-Yo Ma
Ask anyone who the most famous cellist in the world is, and chances are they'll say Yo-Yo Ma. Whether he's being discovered by Leonard Bernstein, playing bluegrass or lying on the floor with a wombat, he's an ambassador for the instrument - loved and respected in equal measure.
Mischa Maisky
Maisky has one of the most essential ingredients for any cellist - iconic hair. But aside from that, he was a student of the great Mstislav Rostropovich and has since enjoyed an international career thanks to the intensity of his playing. His vibrato is full-blooded and warm, his power in forte is almost unparalleled.
David Popper
Not content with being one of the greatest cellists of his generation, David Popper also composed some truly fiendish works for the instrument. He also hung out with people like Liszt and Hans von Bülow, so that pretty much makes him musical royalty just by association.
Jacqueline du Pré
Few stories are as romantic, tragic and human as Jacqueline du Pré's. Of course, our tendency to over-romanticise plays into how we see her today, but that should not take away from the astonishing power of her playing.
Mstislav Rostropovich
This list couldn't NOT have Rostropovich on it. A Russian master, inextricably inveigled with the most influential composers of his time, and one of the first true stars of recorded classical music. Simply, without Rostropovich, the cello wouldn't have been the instrument it is today.
Heinrich Schiff
Schiff inspired a generation of great new cellists, teaching the likes of Natalie Clein and Gautier Capucon in their early careers. But in his own right, the late cellist was a daring and accomplished pro - just listen to his super-fast rendition of Bach's cello suites:
János Starker
Starker was such a virtuoso in his youth that, unbelievably, he was giving lessons to other students at the age of just 8. Predictably, things escalated from there and, besides a long and decorated teaching career, he made some of the finest cello recordings available, most notably tackling Kodaly's fiendish solo sonatas.
Paul Tortelier
After an impeccable start in his career performing under the batons of Bruno Walter and Arturo Toscanini, as well as playing the cello solo in Richard Strauss' Don Quixote under the composer himself, Tortelier then cemented himself in cello history by teaching Jacqueline du Pré.
Alisa Weilerstein
If you're worried about who will carry the torch for inventive cellists in the coming years, worry no longer: recipient of a MacArthur Genius Grant and the Leonard Bernstein prize, American cellist Alisa Weilerstein will be adventuring through the world of new contemporary music for the foreseeable future.