Hans Zimmer: we reveal the film composer's movies, net worth and awards
14 February 2020, 11:45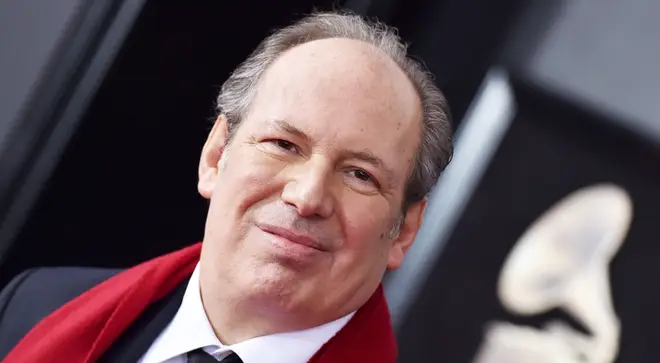 Hans Zimmer is one of the world's most successful film composers – here's everything you need to know about the movie maestro, including his awards roster and how to hear his music live.
Hans Zimmer was born in Frankfurt, Germany on 12 September 1957. He has said that his musical training was just two weeks of piano lessons and joining a band: "I am self-taught. But I've always heard music in my head. And I'm a child of the 20th century; computers came in very handy."
Read more: Hans Zimmer and Billie Eilish to perform 'No Time To Die' at BRITs >
Which movies did Hans Zimmer write music for?

It might be quicker to answer which movies he didn't write the music for… Sometimes it feels like Hans Zimmer has written the music for every blockbuster of the last few decades. His film scores include: Pirates of the Caribbean, Gladiator, Inception, The Dark Knight trilogy, The Lion King, Interstellar and the latest instalment in the Bond franchise: No Time To Die.

He also wrote the music for Planet Earth II and Blue Planet II.

How many awards and Oscars has Hans Zimmer won?

90th Annual Academy Awards - Arrivals. Picture: Getty

Zimmer currently holds 23 awards, including one Academy Award, two Golden Globe Awards, four Grammy Awards and three Classical Brit Awards.

The composer received the Best Original Score Oscar for The Lion King in 1994 – a composition that also gained him a Golden Globe.

Zimmer's earned his second Golden Globe in 2001 for his work on Gladiator with Lisa Gerrard.

His phenomenal score to The Dark Knight bagged him two awards, as did his scores for Inception, Interstellar and The Last Samurai.

Is Hans Zimmer touring?

The World of Hans Zimmer | To be part of the show

Currently, The World of Hans Zimmer concert tour is making its way around the globe, showcasing the composer's incredible work from his recent album of the same name.

Unfortunately Zimmer isn't actually performing in the shows – but he is the curator and musical director of the tour.

Renowned international musicians, all friends of the composer, feature in the shows, including Lisa Gerrard, Pedro Eustache, Aleksandra Šuklar, Rusanda Panfili and more.

You can find tickets here.

What's Hans Zimmer's net worth?

87th Annual Academy Awards - People Magazine Arrivals. Picture: Getty

He's one of the most successful film composers of all time, and according to various online sources his net worth is around $200 million (£153 million).

Hans Zimmer's albums

Hans Zimmer Live On Tour 2017 - New York, New York. Picture: Getty

Besides the soundtrack albums for all the films he's scored, Hans Zimmer has also released albums called 'Hans Zimmer Live in Prague' (2017) and 'The World of Hans Zimmer – A Symphonic Celebration' (2019).

Hans Zimmer's early life

22nd Annual Hollywood Film Awards - Arrivals. Picture: Getty

Although Zimmer didn't have any formal training, he began his music career in the 1970s playing in the band Krakatoa playing keyboards and synthesizers.

He began working with film composer Stanley Myers on films including Moonlighting (1982). His first solo score was Terminal Exposure (1987), directed by Nico Mastorakis.

Shortly afterwards he was approached by Barry Levinson to write the music for the 1988 film Rain Man and his Hollywood career began to take off.

What's Hans Zimmer's musical style?

Hans Zimmer Breaks Down His Legendary Career, From "Rain Man" to "Inception" | Vanity Fair

Zimmer combines traditional instruments with electronic sounds and techniques. For example, the soundtrack for Inception includes electronically manipulated clips from the song 'Non, je ne regrette rien'.

And the music for Christopher Nolan's Dunkirk uses the sound of a ticking watch Nolan owned while also referencing Elgar's 'Nimrod' from the Enigma Variations.