14-year-old's heavy metal Vivaldi tribute is viral hit
9 August 2013, 12:32 | Updated: 5 January 2017, 11:38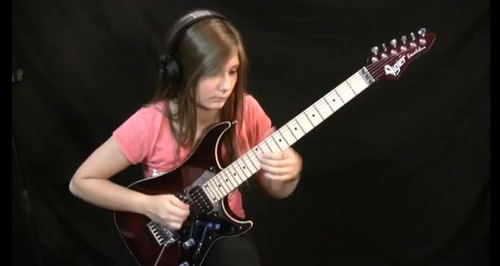 Vivaldi's Four Seasons has been given a heavy metal makeover by a French teenage girl, and become a YouTube sensation in the process.
The enigmatically-named 14-year-old Tina S posted the video of herself playing the Presto from 'Summer' in Vivaldi's legendary concerto on YouTube last week and it has already amassed more than 6 million views (updated 17 July 2015).

Tina's video was filmed by her guitar teacher Renaud Louis-Servais. It's not the first time she's had success with videos of her guitar-playing - back in May she shot to internet stardom when a video of her playing Van Halen's 'Eruption' caused Eddie Van Halen to tweet: "I need to meet this girl!!!"

The arrangement, originally conceived by French guitarist Patrick Rondat, has a metal backing track and contains all the features of the original violin melody with some extra ornamentation.