How the Louisville Orchestra brought Yo-Yo Ma and his cello into the world's longest cave system
15 May 2023, 18:26 | Updated: 19 May 2023, 14:30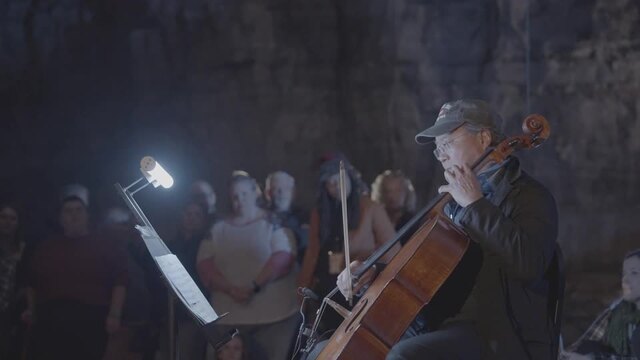 Yo-Yo Ma plays a solo section in Mammoth Cave
Music Director Teddy Abrams tells Classic FM about his musical partnership with the world's great cellist, which was 10 million years in the making.
Home to thousands of years of human history, Mammoth Cave in Kentucky became the unexpected home of an orchestra last month, joined by special guest, Yo-Yo Ma.
The internationally acclaimed cellist was invited by the Louisville Orchestra and their conductor Teddy Abrams to perform in a free concert taking place – in a historic first – in the world's longest cave system.
Ma famously has a penchant for playing in natural yet unexpected concert spaces. Most recently, he has performed at sea from the deck of a marine biology research ship, as whales listened in, and at the edge of the Grand Canyon, working with Native indigenous composers to explore the dramatic landscape's soundscape.
However, bringing both Ma and music to the longest cave system in the world was the brainchild of Louisville Orchestra conductor, Teddy Abrams. Abrams spoke to us about bringing music into nature, and how the acclaimed cellist inspired him throughout this musical journey.
Read more: Cellist Yo-Yo Ma surprised passers-by in a picturesque national park, because music and nature are one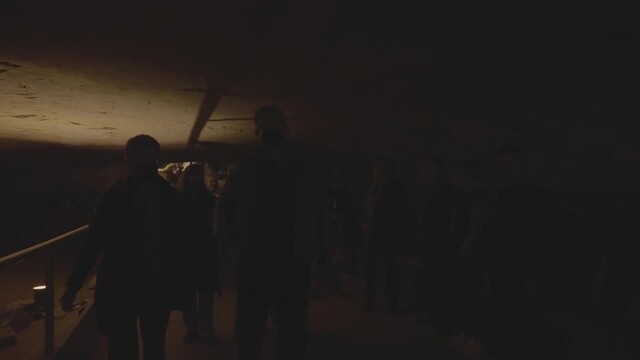 The audience walks through Mammoth Cave
How a 10 million-year-old cave became an orchestral concert venue
36-year-old Abrams is one of America's most recognisable young conductors. He was made the youngest-ever director of the Louisville Orchestra at just 27 years old, and has continued to impress the American classical music industry since his tenure began in 2014.
"When I got the job here in Louisville," Abrams told Classic FM ahead of his concert with Ma last month, "I saw a city that has so many resources, and has such a rich history and orchestra that has one of the most incredible stories in America."
And it was Abrams' knowledge of Louisville's resources that led to placing this historic orchestra into perhaps the city's most famous resource.
The origins of Mammoth Cave date back to an intimidatingly impressive 10,000,000 BCE. Filled with an underground labyrinth of wonder, the cave is home to thousands of years of human history, as well as flora, fauna, and captivatingly patterned dripstone. It is also UNESCO World Heritage Site and an International Biosphere Reserve.
Though perhaps not the most obvious choice of venue for an orchestral concert, with its low temperatures usually hovering around 12.2°C year round, to Abrams, the cave presented a new form of accessible venue.
Read more: How do extreme temperatures affect our musical instruments?
"Regardless of how you look at things politically in America right now," Abrams began, "it's very fractured and complicated.
"But people are proud and genuinely connected to our National Parks. They're just a unifying force in a really divisive time. I think our parks are one of the really genuinely special things about this country."
Abrams had previously hosted other concerts in National Parks, including one at Crater Lake in Oregon, which at the time caught the eye of star cellist Yo-Yo Ma.
Taking place in 2016, Abrams conducted the Britt Festival orchestra and choir in a concert on the edge of Crater Lake. The young conductor commissioned American composer Michael Gordon to write a piece that involved the Klamath tribe, for whom Crater Lake is their sacred land.
A documentary about the concert was released in 2017, and Ma watched this film whilst he was developing his own National Parks project.
So while Ma knew of Abrams' work, and Abrams of Ma, the two did not get a chance to truly connect over their love of music and nature until they were brought together on a podcast six years after the Crater Lake concert. This is where the idea for a concert at Mammoth Cave was born.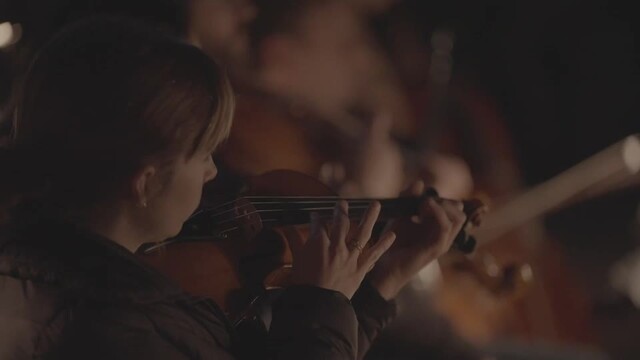 Teddy Abrams conducts the Louisville Orchestra in Mammoth Cave
Teddy Abrams, meet Yo-Yo Ma
Great Podversations is a podcast which matches nationally-recognised writers to discuss a manner of subjects from across sciences, culture, and history. However, on 2 April 2022, the podcast format instead matched two musicians, Ma and Abrams.
"In true [Yo-Yo] style," Abrams recounted, "instead of me asking him questions, like what was supposed to happen, he asked me questions for the first 30 minutes. He's the most genuinely curious person; he wants to know everything about everybody and ask them questions and make them feel important and valued.
"But that's when we started talking about his National Parks project, and he said, 'hey, what National Parks are in Kentucky'".
You can hear the idea begin to take shape during the last section of the podcast, and just over a year after the recording of that episode aired, Ma joined Abrams and the Louisville Orchestra in concert at the Mammoth Cave on 29th April 2023.
Abrams, a composer as well as a conductor, created a work specifically for the cave, writing in parts for soloists, including Ma. When asked why he felt a new piece needed to be composed for the concert Abrams responded, "When you go to a place like Mammoth Cave, you ask yourself, 'What kinds of music belongs here'?
"The idea of imposing something that we feel comfortable with [like something you would hear in any concert hall around the world] on this great space that is so historic and naturally important in the world, just seemed wrong."
In Abrams' composition, Ma acts as a 'celebrant', inspired by the way Leonard Bernstein structures his celebrant role in his Mass.
"He's the musical side of the celebrant," Abrams explains, and the other soloist for the concert, bass-baritone Davóne Tines who joins Ma, is the spoken half of this character. With the Louisville Orchestra and Louisville Chamber Choir, along with an array of percussion soloists, the work brings the interdependent natural, human, and mythological stories of Mammoth Cave to life.
Writing for the promotional materials for this concert, Abrams said, "The inspiration for this work is the interlinking of nature and humanity—the role caves play in our collective imagination and storytelling.
"From ancient mythology to modern fiction, caves have represented archetypical wonder and terror, symbolized the unknown, and served as the setting for our contemplation of the borders of life, death, and the great beyond."
Read more: Yo-Yo Ma opens JFK exhibition, 60 years after he performed as a child for the late President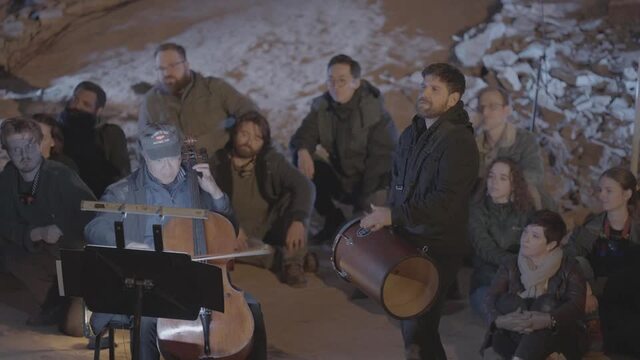 Yo-Yo Ma performs with a solo percussionist in Mammoth Cave
A friendship 10,000,000 years in the making
Recounting his preparation for the concert, Abrams told Classic FM, "Yo-Yo was full of questions.
"About who we're playing for, why we're playing for them and what we're trying to leave them with when it's done. And as an orchestra, how many times do we even think about that when programming a normal concert?
"How many times do we really say, 'Who are we playing for?' 'What are we trying to impart in the message' and 'What do we hope that they leave with?'
"So for this particular concert, I found his support so helpful and inspiring and energising."
Read more: Yo-Yo Ma's 'Bach' cameo in Glass Onion: A Knives Out Mystery explained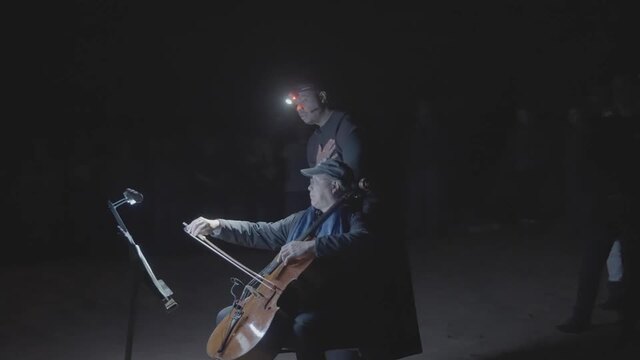 Yo-Yo Ma performs sections of Teddy Abrams' work in Mammoth Cave
The friendship between the internationally acclaimed cellist and Abrams is clear from the way the conductor speaks of Ma.
"I find often in our industry people can place celebrity musicians on pedestals," Abrams said. "To the extent that I often find deeply uncomfortable.
"But with Yo-Yo, the second you start talking to him, in fact, the second you're in his presence, you forget all of that. You forget that this is the person who knows all the dignitaries of the world and is the best recognised classical musician."
Abrams recounted a story about a time he watched the cellist greet every single person who had waited in line to meet him after a concert. "He's so empowering," Abrams shared, smiling.
"Sometimes you'll have audience members who just have strange things to say. But I watched as they would tell stories about themselves or their kids or something that they saw 30 years ago, and Yo-Yo was so deeply interested and fascinated, and it was so genuine.
"And every person left feeling better about themselves than they probably had in years. And I thought that's what I want to be like."