Who was Luciano Pavarotti? How this Italian tenor became the world's most famous opera star
2 October 2023, 14:17
Luciano Pavarotti was one of the greatest tenors of modern times. But where was he from, and how did he become one of the most famous opera singers in the world?
Italian tenor Luciano Pavarotti was one of the greatest opera singers of the 20th century, and one of the most famous tenors in history.
His career highlights included performances at the world's most famous opera houses, celebrity duets from stadium stages, and being a member of The Three Tenors – an operatic 'supergroup' whose musical legacy lives on through countless recordings and broadcasts.
Pavarotti was born on 12 October 1935 in Modena, Italy. His father, Fernando Pavarotti, was a baker and amateur tenor, and his mother, Adele Venturi, worked in a cigar factory. When he was a boy, Pavarotti showed an interest in farming and football, as well as music.
Read more: Take a listen to the incredible fresh voice of a 28-year-old Luciano Pavarotti
Nicoletta Mantovani on life with Luciano Pavarotti
How did Pavarotti become one of the greatest operatic tenors of all time?
Not many opera singers become household names. But Pavarotti did, and in fact the name 'Pavarotti' has become synonymous with opera for music lovers and non-music lovers alike.
His career as a tenor can be traced back to the time he sang with Corale Rossini, a male voice choir from his hometown, Modena, which his father was also a member of. In 1955, the choir won first prize at the International Eisteddfod in Llangollen, in Wales.
Pavarotti cited the experience of performing in the choir, and winning that competition, as the most important experience of his life, and the one that inspired him to become a professional singer.
One of his first major operatic roles was Rodolfo in Puccini's La bohème, in a production at the regional Italian opera house Teatro Municipale in Reggio Emilia, Northern Italy. The role suited Pavarotti, and it was as Rodolfo that he made his Royal Opera House debut, standing in for established tenor Giuseppe Di Stefano.
Read more: When Whitney Houston surprised the world with an extraordinary Verdi aria… with Luciano Pavarotti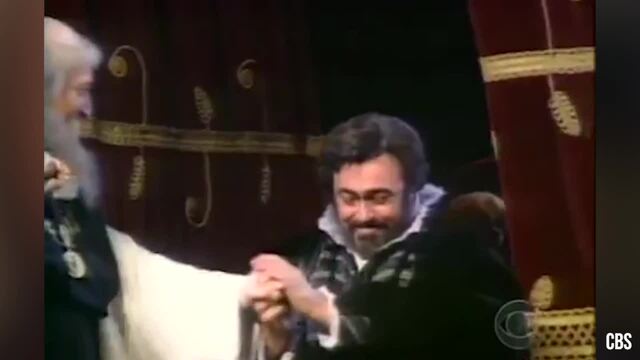 Luciano Pavarotti Speaks About His Voice Cracking During Don Carlo in 1992
On 28 April 1965, Pavarotti made his La Scala debut in the revival of Franco Zeffirelli's production of La bohème, with his childhood friend Mirella Freni singing Mimì and the legendary Herbert von Karajan conducting. Apparently Karajan had particularly asked for Pavarotti; his career was set.
Pavarotti's career went from highpoint, to higher, and in June 1965 he first appeared as Tonio in Donizetti's La fille du régiment, at the Royal Opera House. It was this role that earned him the title of 'King of the High Cs'.
Seven years after his first turn as Tonio, Pavarotti was at the New York Met driving the crowd into a frenzy with his nine effortless high Cs in the opera's signature aria: he went down in history as the audience's response led to a record 17 curtain calls!
Why was Pavarotti so famous?
Pavarotti's blistering success in opera coincided with the growth of television as an everyday part of our lives, and he was soon making frequent performances that were broadcast to homes around the world. Pavarotti's 1977 appearance as Rodolfo in La bohème for the first Live from the Met telecast attracted one of the largest audiences ever for a televised opera.
In 1982, Pavarotti starred in a movie, the romantic comedy Yes, Giorgio. Sadly the film flopped, but the big screen was an opportunity for the name 'Pavarotti' to spread far and wide.
As well as acting, Pavarotti was known for his love of painting. In 1986 he exhibited a collection of his own works in New York, alongside work by other artists from Modena.
Pavarotti also loved football, and in 1990 began a love affair and close association with the World Cup. Pavarotti's version of the famous aria 'Nessun dorma' was used as the theme for World Cup coverage, and he used to perform at matches with The Three Tenors.
His incredible operatic performances made Pavarotti famous in the classical music and now sports worlds, and his collaborations with rock and pop stars spread his fame even wider.
Read more: Relive the time Luciano Pavarotti sang with the Spice Girls
Luciano Pavarotti sings "Nessun dorma" from Turandot (The Three Tenors in Concert 1994)
His Pavarotti & Friends concerts saw him collaborate with the most famous pop and rock musicians of his day, performing with them to sell-out stadium crowds, featuring the likes of Pavarotti's unlikely close friend, Lady Diana.
His first collaboration was with Irish rock band U2 in 1995, singing 'Sarajevo Girl'. Another of the 'Pavarotti & Friends' concerts saw Pavarotti and British girl band phenomenon The Spice Girls team up in 1998.
In 1998, Pavarotti was presented with the Grammy Legend Award. By that time, only 11 other artists had ever been given the same award, including Billy Joel, Liza Minelli and Frank Sinatra.
On 24 August 2022, Pavarotti was posthumously honoured with a star on the Hollywood Walk of Fame.
Read more: Princess Diana once sat in the pouring rain to hear Pavarotti live
Why did Pavarotti carry a handkerchief?
Pavarotti carried a handkerchief when he was asked to perform in recitals and concerts to give him something to do with his hands.
By the early 1970s, Pavarotti's fame and status as one of the greatest tenors in the world created the demand for the tenor to perform regular concerts and recitals. He felt awkward because he didn't know how to present himself and hold his hands when he wasn't playing a character on the opera stage.
Stepping on stage with his signature large white handkerchief gave him something to hold, and made him feel comfortable and relaxed enough to focus on giving a fantastic performance.
Read more: The time Aretha Franklin stepped in for 'good friend' Pavarotti, and sang Nessun Dorma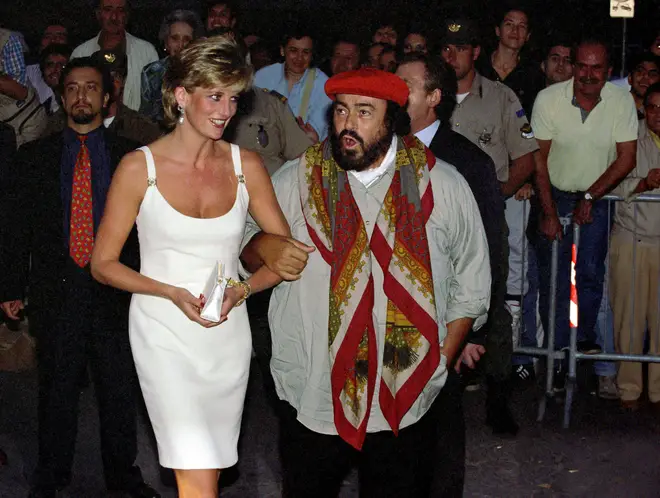 Who were Pavarotti's family, wife and children?
Pavarotti's father was Ferdinando Pavarotti, a baker and passionate amateur singer – also a tenor – from Modena. His mother Adele Venturi, was a cigar factory worker. The house was filled with music when Pavarotti was a boy.
Pavarotti once shared that Fernando had turned down the possibility of a singing career because he was prone to stage fright and nerves. That didn't stop the pair coming together for a touching duet on more than one occasion.
Read more: When Luciano Pavarotti sang with his 88-year-old father in an emotional duet
The famous tenor married twice: his first marriage was with Adua Veroni, who he married in 1961, and the second was with Nicoletta Mantovani, who he married in 2003, three years after his first marriage had ended.
Luciano Pavarotti has four children: three daughters, Giuliana, Lorenza and Cristina Pavarotti, from his first marriage, and one daughter, Alice Pavarotti, from his second marriage.
Pavarotti also had a baby son, Riccardo, who was Alice's twin brother. Sadly, Riccardo died at birth, leaving Pavarotti and his family with a deep grief. "Every time that life has put tough obstacles in my way, my faith has always helped me through," Pavarotti said at the time of Riccardo's death. "But confronted with the death of a son, the greatest of pain, not even faith can help the feeling of desperation."
Read more: Pavarotti's wife Nicoletta Mantovani: 'Luciano had a deep love for all human beings'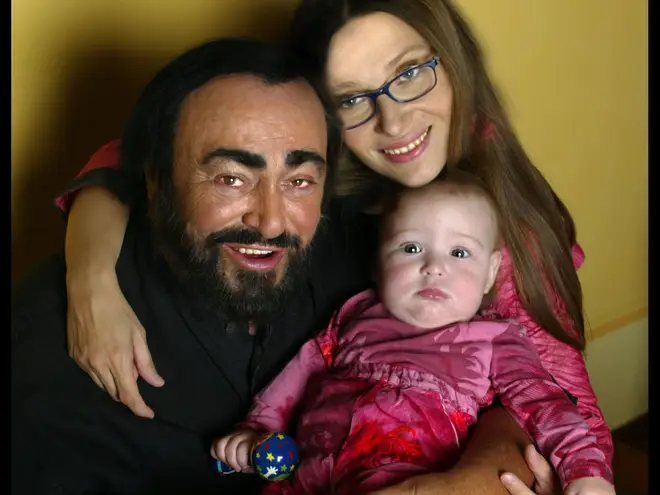 What was the cause of Pavarotti's death?
Pavarotti died of pancreatic cancer on 6 September 2007, after being diagnosed with the disease a year earlier.
His diagnosis came while he was undertaking his international "farewell tour". He began the 40-city tour in 2004 at the age of 69, performing "one last time" in old and new locations, after more than four decades on the stage.
Watch more: Pavarotti performs 'Nessun dorma' at the 2006 Winter Olympics in Turin
The tour culminated in Pavarotti's 70th birthday party which was a typically colourful and raucous affair.
The final public performance he gave was on 10 February 2006: he performed 'Nessun dorma' at the 2006 Winter Olympics opening ceremony in Turin. A suitable send off for an incredible legacy.