Classic FM Chart: Karl Jenkins enters the chart at No. 1 with Miserere: Songs of Mercy and Redemption
20 October 2019, 18:55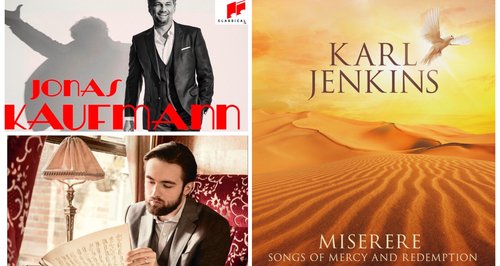 Karl Jenkins enters the chart with his latest release 'Miserere: Songs of Mercy and Redemption', which heads straight to No. 1 – beating Jonas Kaufmann's 'Wien' to the top spot.
Karl Jenkins' latest release Miserere: Songs of Mercy and Redemption has entered the Classic FM Chart at No. 1 spot, closely followed by Jonas Kaufmann's new album Wien at No. 2.
Last week, Jenkins' album was Classic FM's Album of the Week, while Wien was our Drive Discovery.
There's only one other new addition to the chart this week, with Daniil Trifonov's Destination Rachmainov: Arrival entering at No. 12 – just behind Víkingur Ólafsson's Johann Sebastian Bach which makes a re-entry at No. 11. Ólafsson was announced as Artist of the Year at the Gramophone Awards 2019 on Wednesday (16 October).
This
Week
Last
Week
Title & Artist
1
NEW
MISERERE - SONGS OF MERCY & REDEMPTION, KARL JENKINS


Download from iTunes

-

Buy from Amazon

2
NEW
WIEN, KAUFMANN/VP/FISCHER


Download from iTunes

-

Buy from Amazon

3
1
JOKER - OST, HILDUR GUDNADOTTIR


Download from iTunes

-

Buy from Amazon

4
2
ISLANDS - ESSENTIAL EINAUDI, LUDOVICO EINAUDI


Download from iTunes

-

Buy from Amazon

5
5
SI, ANDREA BOCELLI


Download from iTunes

-

Buy from Amazon

6
19
IN HARMONY, ALED JONES & RUSSELL WATSON


Download from iTunes

-

Buy from Amazon

7
4
VOYAGER - ESSENTIAL, MAX RICHTER


Download from iTunes

-

Buy from Amazon

8
6
THE LITTLE MERMAID - OST, ALAN MENKEN


Download from iTunes

-

Buy from Amazon

9
9
SLEEP, MAX RICHTER


Download from iTunes

-

Buy from Amazon

10
8
THE BLUE NOTEBOOKS, MAX RICHTER


Download from iTunes

-

Buy from Amazon

11
RE-ENTRY
JOHANN SEBASTIAN BACH, VIKINGUR OLAFSSON


Download from iTunes

-

Buy from Amazon

12
NEW
DESTINATION RACHMANINOV - ARRIVAL, TRIFONOV/PHILADELPHIA OR


Download from iTunes

-

Buy from Amazon

13
13
SEVEN DAYS WALKING - DAY ONE, LUDOVICO EINAUDI


Download from iTunes

-

Buy from Amazon

14
11
THE LORD OF THE RINGS - TRILOGY - OST, HOWARD SHORE
15
7
SEVEN DAYS WALKING - DAY SEVEN, LUDOVICO EINAUDI


Download from iTunes

-

Buy from Amazon

16
14
STRAUSS/FOUR LAST SONGS, NORMAN/GEWANDHAUS OR/MASUR


Download from iTunes

-

Buy from Amazon

17
18
UNA MATTINA, LUDOVICO EINAUDI


Download from iTunes

-

Buy from Amazon

18
12
MY MUSIC MY WORLD - THE VERY BEST OF, ANDRE RIEU & JOHANN STRAUSS OR


Download from iTunes

-

Buy from Amazon

19
16
IN A TIME LAPSE, LUDOVICO EINAUDI


Download from iTunes

-

Buy from Amazon

20
15
THE 50 GREATEST PIECES OF CLASSICAL, LPO/PARRY


Download from iTunes

-

Buy from Amazon

21
17
THE LORD OF THE RINGS - OST, HOWARD SHORE
22
20
AVENGERS - ENDGAME - OST, ALAN SILVESTRI


Download from iTunes

-

Buy from Amazon

23
22
GLADIATOR - OST, HANS ZIMMER & LISA GERRARD


Download from iTunes

-

Buy from Amazon

24
21
DIVENIRE, LUDOVICO EINAUDI


Download from iTunes

-

Buy from Amazon

25
23
ELEMENTS, LUDOVICO EINAUDI


Download from iTunes

-

Buy from Amazon

26
25
I GIORNI, LUDOVICO EINAUDI


Download from iTunes

-

Buy from Amazon

27
24
EVOLUTION, ALEXIS FFRENCH


Download from iTunes

-

Buy from Amazon

28
10
SOUND OF SILENCE, MILOS KARADAGLIC


Download from iTunes

-

Buy from Amazon

29
RE-ENTRY
THE ARMED MAN - A MASS FOR PEACE, KARL JENKINS


Download from iTunes

-

Buy from Amazon

30
29
HARRY POTTER & THE PHILOSOPHER'S STONE, JOHN WILLIAMS


Download from iTunes

-

Buy from Amazon