Classic FM Chart: Joker movie soundtrack enters the chart at No. 1
13 October 2019, 18:55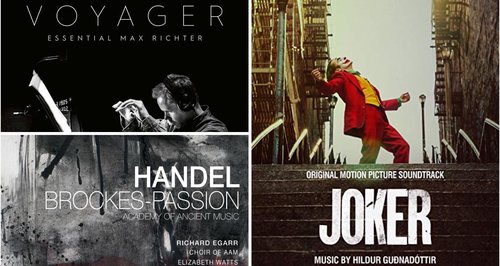 The release of 'Joker' last weekend sends the movie soundtrack straight to the top position – knocking Einaudi to No. 2 – and is joined by two other new entries in the top 10.
The movie soundtrack to the recently released Joker soars straight to No. 1 in this week's chart, knocking Einaudi's Islands - Essential Einaudi to No. 2. The soundtrack to the film was composed by Hildur Guðnadóttir – who also recently scored the Emmy-winning Chernobyl miniseries.
Along with Joker, there are also two other new entries which have flown straight into the top ten. Handel: Brockes-Passion by the Academy of Ancient Music enters at No. 3, and Max Richter's Voyager – Essential Max Richter at No. 4.
This
Week
Last
Week
Title & Artist
1
NEW
JOKER - OST, HILDUR GUDNADOTTIR


Download from iTunes

-

Buy from Amazon

2
1
ISLANDS - ESSENTIAL EINAUDI, LUDOVICO EINAUDI


Download from iTunes

-

Buy from Amazon

3
NEW
HANDEL/BROCKES-PASSION, AAM & CHOIR/EGARR


Download from iTunes

-

Buy from Amazon

4
NEW
VOYAGER - ESSENTIAL, MAX RICHTER


Download from iTunes

-

Buy from Amazon

5
3
SI, ANDREA BOCELLI


Download from iTunes

-

Buy from Amazon

6
7
THE LITTLE MERMAID - OST, ALAN MENKEN


Download from iTunes

-

Buy from Amazon

7
6
SEVEN DAYS WALKING - DAY SEVEN, LUDOVICO EINAUDI


Download from iTunes

-

Buy from Amazon

8
12
THE BLUE NOTEBOOKS, MAX RICHTER


Download from iTunes

-

Buy from Amazon

9
11
SLEEP, MAX RICHTER


Download from iTunes

-

Buy from Amazon

10
5
SOUND OF SILENCE, MILOS KARADAGLIC


Download from iTunes

-

Buy from Amazon

11
10
THE LORD OF THE RINGS - TRILOGY - OST, HOWARD SHORE
12
9
MY MUSIC MY WORLD - THE VERY BEST OF, ANDRE RIEU & JOHANN STRAUSS OR


Download from iTunes

-

Buy from Amazon

13
13
SEVEN DAYS WALKING - DAY ONE, LUDOVICO EINAUDI


Download from iTunes

-

Buy from Amazon

14
17
STRAUSS/FOUR LAST SONGS, NORMAN/GEWANDHAUS OR/MASUR


Download from iTunes

-

Buy from Amazon

15
8
THE 50 GREATEST PIECES OF CLASSICAL, LPO/PARRY


Download from iTunes

-

Buy from Amazon

16
15
IN A TIME LAPSE, LUDOVICO EINAUDI


Download from iTunes

-

Buy from Amazon

17
18
THE LORD OF THE RINGS - OST, HOWARD SHORE
18
16
UNA MATTINA, LUDOVICO EINAUDI


Download from iTunes

-

Buy from Amazon

19
2
IN HARMONY, ALED JONES & RUSSELL WATSON


Download from iTunes

-

Buy from Amazon

20
14
AVENGERS - ENDGAME - OST, ALAN SILVESTRI


Download from iTunes

-

Buy from Amazon

21
21
DIVENIRE, LUDOVICO EINAUDI


Download from iTunes

-

Buy from Amazon

22
20
GLADIATOR - OST, HANS ZIMMER & LISA GERRARD


Download from iTunes

-

Buy from Amazon

23
25
ELEMENTS, LUDOVICO EINAUDI


Download from iTunes

-

Buy from Amazon

24
29
EVOLUTION, ALEXIS FFRENCH


Download from iTunes

-

Buy from Amazon

25
28
I GIORNI, LUDOVICO EINAUDI


Download from iTunes

-

Buy from Amazon

26
30
GAME OF THRONES - SEASON 8 - OST, RAMIN DJAWADI


Download from iTunes

-

Buy from Amazon

27
RE-ENTRY
SCORE, 2CELLOS


Download from iTunes

-

Buy from Amazon

28
27
100 HITS - RELAXING CLASSICS, VARIOUS ARTISTS


Download from iTunes

-

Buy from Amazon

29
RE-ENTRY
HARRY POTTER & THE PHILOSOPHER'S STONE, JOHN WILLIAMS


Download from iTunes

-

Buy from Amazon

30
24
THE WORLD OF - A SYMPHONIC CELEBRATION, HANS ZIMMER


Download from iTunes

-

Buy from Amazon