Classic FM Chart: Female composers take over top 10
17 March 2019, 18:55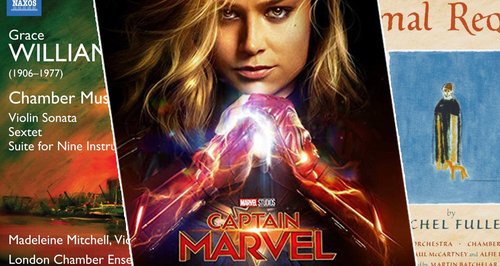 The chart gets a refreshing shake-up this week as three new albums by female composers earn their place in the top 10. Andrea Bocelli still sits at No. 1 with his album Sì, but not far behind is Pinar Toprak's newly released soundtrack to the latest Marvel film, Captain Marvel, at No. 4. Toprak has now set the record for the top-grossing film scored by a woman, as the film made an astonishing $153 million in its opening weekend alone.
Entering at No. 7 and 8 respectively are two other new releases, Animal Requiem by Rachel Fuller (released in January 2019) and Grace Williams: Chamber Music recorded by violinist Madeleine Mitchell and the London Chamber Ensemble.
Two other albums re-enter the chart, Piano Magic at No. 27 and Romance at No. 29, both by pianist Lang Lang. This presumably anticipates his new album Piano Book that will be released at the end of March.
This
Week
Last
Week
Title & Artist
1
1
SI, ANDREA BOCELLI


Download from iTunes

-

Buy from Amazon

2
3
ROMANTIC MOMENTS II, ANDRE RIEU & JOHANN STRAUSS OR


Download from iTunes

-

Buy from Amazon

3
2
ISLANDS - ESSENTIAL EINAUDI, LUDOVICO EINAUDI


Download from iTunes

-

Buy from Amazon

4
NEW
CAPTAIN MARVEL - OST, PINAR TOPRAK


Download from iTunes

-

Buy from Amazon

5
4
IN HARMONY, ALED JONES & RUSSELL WATSON


Download from iTunes

-

Buy from Amazon

6
5
GUIDING LIGHT, KATHERINE JENKINS


Download from iTunes

-

Buy from Amazon

7
NEW
FULLER/ANIMAL REQUIEM, RPO/CHAMBER CH LONDON/ZIEGLER


Download from iTunes

-

Buy from Amazon

8
NEW
WILLIAMS/CHAMBER MUSIC, MITCHELL/LONDON CHAMBER ENS


Download from iTunes

-

Buy from Amazon

9
7
THE LITTLE MERMAID - OST, ALAN MENKEN


Download from iTunes

-

Buy from Amazon

10
12
THE LORD OF THE RINGS - TRILOGY - OST, HOWARD SHORE
11
15
IN A TIME LAPSE, LUDOVICO EINAUDI


Download from iTunes

-

Buy from Amazon

12
8
THE ULTIMATE CLASSICAL COLLECTION, VARIOUS ARTISTS


Download from iTunes

-

Buy from Amazon

13
10
SLEEP, MAX RICHTER


Download from iTunes

-

Buy from Amazon

14
17
ELEMENTS, LUDOVICO EINAUDI


Download from iTunes

-

Buy from Amazon

15
18
THE LORD OF THE RINGS - OST, HOWARD SHORE
16
13
DIVENIRE, LUDOVICO EINAUDI


Download from iTunes

-

Buy from Amazon

17
9
THE 50 GREATEST PIECES OF CLASSICAL, LPO/PARRY


Download from iTunes

-

Buy from Amazon

18
16
NOCTURNE, VANGELIS


Download from iTunes

-

Buy from Amazon

19
14
PIANO, KARL JENKINS


Download from iTunes

-

Buy from Amazon

20
11
THE BLUE NOTEBOOKS, MAX RICHTER


Download from iTunes

-

Buy from Amazon

21
6
VIERNE/FRANCK/VIOLIN SONATAS, IBRAGIMOVA/TIBERGHIEN


Download from iTunes

-

Buy from Amazon

22
28
INSPIRATION, SHEKU KANNEH-MASON


Download from iTunes

-

Buy from Amazon

23
21
GLADIATOR - OST, HANS ZIMMER & LISA GERRARD


Download from iTunes

-

Buy from Amazon

24
19
THE REAL CLASSICAL, VARIOUS ARTISTS


Buy from Amazon

25
23
EVOLUTION, ALEXIS FFRENCH


Download from iTunes

-

Buy from Amazon

26
30
THE ARMED MAN - A MASS FOR PEACE, KARL JENKINS


Download from iTunes

-

Buy from Amazon

27
RE
PIANO MAGIC, LANG LANG


Download from iTunes

-

Buy from Amazon

28
22
UNA MATTINA, LUDOVICO EINAUDI


Download from iTunes

-

Buy from Amazon

29
RE
ROMANCE, LANG LANG


Download from iTunes

-

Buy from Amazon

30
27
I GIORNI, LUDOVICO EINAUDI


Download from iTunes

-

Buy from Amazon