Classic FM Chart: Andrea Bocelli holds No. 1 place for fourth week in a row
25 November 2018, 18:55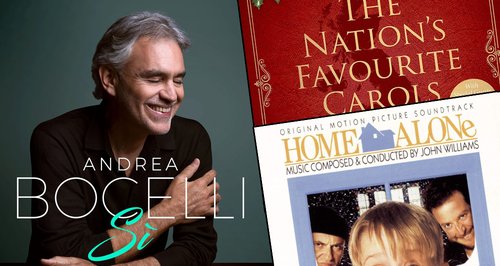 It's Andrea Bocelli's fourth week at No. 1, but Aled Jones and Russell Watson aren't far behind. Christmas music is also starting to take over the chart.
There has been no change in the chart's top three albums this week – Sì by Andrea Bocelli still leads the way, followed by In Harmony by Aled Jones and Russell Watson, while The Ultimate Classical Collection hovers just behind at No. 3.
The top 10 consists of the same albums as last week, only slightly re-ordered. André Rieu's Best of Christmas album with the Johann Strauss Orchestra has edged past James Newton Howard's soundtrack to Fantastic Beasts: The Crimes of Grindelwald. As we near the end of November, The Nation's Favourite Carols recorded by the Royal Philharmonic Orchestra moves up fifteen places in the chart to No. 14.
Three albums have made a leap into the chart this week. A compilation of Vaughan Williams' orchestral works jumps in at No. 21, and two re-entries make it in at No. 23 and 24 – Johann Sebastian Bach by Vikingur Olafsson and the Home Alone soundtrack by John Williams.
This
Week
Last
Week
Title & Artist
1
1
SI, ANDREA BOCELLI


Download from iTunes

-

Buy from Amazon

2
2
IN HARMONY, ALED JONES & RUSSELL WATSON


Download from iTunes

-

Buy from Amazon

3
3
THE ULTIMATE CLASSICAL COLLECTION, VARIOUS ARTISTS


Buy from Amazon

4
5
DREAMS AND SONGS, BRYN TERFEL


Download from iTunes

-

Buy from Amazon

5
4
EVOLUTION, ALEXIS FFRENCH


Download from iTunes

-

Buy from Amazon

6
7
ISLANDS - ESSENTIAL EINAUDI, LUDOVICO EINAUDI


Download from iTunes

-

Buy from Amazon

7
6
INSPIRATION, SHEKU KANNEH-MASON


Download from iTunes

-

Buy from Amazon

8
9
BEST OF CHRISTMAS, ANDRE RIEU & JOHANN STRAUSS OR


Download from iTunes

-

Buy from Amazon

9
8
FANTASTIC BEASTS - CRIMES OF GRINDELWALD, JAMES NEWTON HOWARD


Download from iTunes

-

Buy from Amazon

10
10
100 YEARS OF NINE LESSONS & CAROLS, KING'S CC/WILLCOCKS/LEDGER


Download from iTunes

-

Buy from Amazon

11
26
CAROLS FROM KING'S COLLEGE CAMBRIDGE, KING'S COLLEGE CHOIR/WILLCOCKS


Download from iTunes

-

Buy from Amazon

12
13
THE REAL CLASSICAL, VARIOUS ARTISTS


Buy from Amazon

13
11
THE 50 GREATEST PIECES OF CLASSICAL, LPO/PARRY


Download from iTunes

-

Buy from Amazon

14
29
THE NATION'S FAVOURITE CAROLS, RPO/CITY LONDON CH/WETTON


Download from iTunes

-

Buy from Amazon

15
19
THE ARMED MAN - A MASS FOR PEACE, KARL JENKINS


Download from iTunes

-

Buy from Amazon

16
25
JOHN WILLIAMS - A LIFE IN MUSIC, LSO/GREENAWAY


Download from iTunes

-

Buy from Amazon

17
18
DIVENIRE, LUDOVICO EINAUDI


Download from iTunes

-

Buy from Amazon

18
14
SLEEP, MAX RICHTER


Download from iTunes

-

Buy from Amazon

19
16
THE LITTLE MERMAID - OST, ALAN MENKEN


Download from iTunes

-

Buy from Amazon

20
15
THE LORD OF THE RINGS - TRILOGY - OST, HOWARD SHORE
21
NEW
VAUGHAN WILLIAMS/ORCHESTRAL WORKS, ASMIF/MARRINER/NQHO/WORDSWORTH


Download from iTunes

-

Buy from Amazon

22
20
ELEMENTS, LUDOVICO EINAUDI


Download from iTunes

-

Buy from Amazon

23
RE
JOHANN SEBASTIAN BACH, VIKINGUR OLAFSSON


Download from iTunes

-

Buy from Amazon

24
RE
HOME ALONE - OST, JOHN WILLIAMS


Download from iTunes

-

Buy from Amazon

25
21
THE LORD OF THE RINGS - OST, HOWARD SHORE
26
28
THE BLUE NOTEBOOKS, MAX RICHTER


Download from iTunes

-

Buy from Amazon

27
22
SCORE, 2CELLOS


Download from iTunes

-

Buy from Amazon

28
23
IN A TIME LAPSE, LUDOVICO EINAUDI


Download from iTunes

-

Buy from Amazon

29
17
CINEMA, ANDREA BOCELLI


Download from iTunes

-

Buy from Amazon

30
30
UNA MATTINA, LUDOVICO EINAUDI


Download from iTunes

-

Buy from Amazon