Classic FM Chart: Andrea Bocelli, Gareth Malone and Alison Balsom compete for the top spot
17 November 2019, 18:55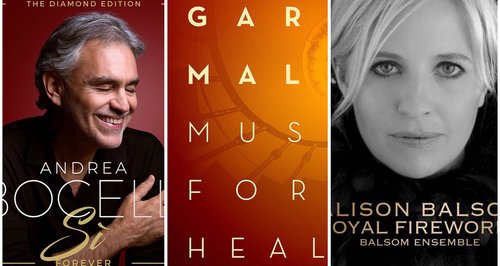 Three new releases from Andrea Bocelli, Gareth Malone and Alison Balsom enter the chart - but Aled Jones and Russell Watson remain unmoved at No. 1.
There's lots of movement in the chart this week, as three new entries soar into the top five. Andrea Bocelli's Si Forever; Gareth Malone's Music for Healing; and Royal Fireworks by Alison Balsom are all battling it out for the top position – sitting at No. 2, 3 and 4 respectively.
But sitting tight at No. 1 are Classic FM presenter Aled Jones and Russell Watson with their latest release, Back in Harmony, which enjoys its second week in the top spot.
Further down the chart, Jakub Józef Orliński, Jessye Norman, and Alma Deutscher also make new entries, along with three re-entries from King's College Choir, Karl Jenkins and André Rieu.
This
Week
Last
Week
Title & Artist
1
1
BACK IN HARMONY, ALED JONES & RUSSELL WATSON


Download from iTunes

-

Buy from Amazon

2
NEW
SI FOREVER, ANDREA BOCELLI


Download from iTunes

-

Buy from Amazon

3
NEW
MUSIC FOR HEALING, GARETH MALONE


Download from iTunes

-

Buy from Amazon

4
NEW
ROYAL FIREWORKS, ALISON BALSOM/BALSOM ENSEMBLE


Download from iTunes

-

Buy from Amazon

5
3
ISLANDS - ESSENTIAL EINAUDI, LUDOVICO EINAUDI


Download from iTunes

-

Buy from Amazon

6
4
SI, ANDREA BOCELLI


Download from iTunes

-

Buy from Amazon

7
2
IN HARMONY, ALED JONES & RUSSELL WATSON


Download from iTunes

-

Buy from Amazon

8
5
SEVEN DAYS WALKING - DAY ONE, LUDOVICO EINAUDI


Download from iTunes

-

Buy from Amazon

9
6
VOYAGER - ESSENTIAL, MAX RICHTER


Download from iTunes

-

Buy from Amazon

10
NEW
FACCE D'AMORE, ORLINSKI/IL POMO D'ORO


Download from iTunes

-

Buy from Amazon

11
7
SLEEP, MAX RICHTER


Download from iTunes

-

Buy from Amazon

12
8
THE LITTLE MERMAID - OST, ALAN MENKEN


Download from iTunes

-

Buy from Amazon

13
17
MY MUSIC MY WORLD - THE VERY BEST OF, ANDRE RIEU & JOHANN STRAUSS OR


Download from iTunes

-

Buy from Amazon

14
13
THE LORD OF THE RINGS - TRILOGY - OST, HOWARD SHORE
15
12
THE ULTIMATE CLASSICAL COLLECTION, VARIOUS ARTISTS


Download from iTunes

-

Buy from Amazon

16
NEW
MAHLER/SYM NO 3, NORMAN/VP/ABBADO


Download from iTunes

-

Buy from Amazon

17
14
THE BLUE NOTEBOOKS, MAX RICHTER


Download from iTunes

-

Buy from Amazon

18
15
THE 50 GREATEST PIECES OF CLASSICAL, LPO/PARRY


Download from iTunes

-

Buy from Amazon

19
RE-ENTRY
BEST OF CHRISTMAS, ANDRE RIEU & JOHANN STRAUSS OR


Download from iTunes

-

Buy from Amazon

20
RE-ENTRY
THE ARMED MAN - A MASS FOR PEACE, KARL JENKINS


Download from iTunes

-

Buy from Amazon

21
9
JOKER - OST, HILDUR GUDNADOTTIR


Download from iTunes

-

Buy from Amazon

22
18
THE LORD OF THE RINGS - OST, HOWARD SHORE
23
19
IN A TIME LAPSE, LUDOVICO EINAUDI


Download from iTunes

-

Buy from Amazon

24
27
100 HITS - RELAXING CLASSICS, VARIOUS ARTISTS


Download from iTunes

-

Buy from Amazon

25
20
YOU'LL NEVER WALK ALONE - THE COLLECTION, ALFIE BOE


Download from iTunes

-

Buy from Amazon

26
16
THE KING - OST, NICHOLAS BRITELL


Download from iTunes

-

Buy from Amazon

27
21
UNA MATTINA, LUDOVICO EINAUDI


Download from iTunes

-

Buy from Amazon

28
RE-ENTRY
CAROLS FROM KING'S COLLEGE CAMBRIDGE, KING'S COLLEGE CHOIR/WILLCOCKS


Download from iTunes

-

Buy from Amazon

29
NEW
FROM MY BOOK OF MELODIES, ALMA DEUTSCHER


Download from iTunes

-

Buy from Amazon

30
30
GLADIATOR - OST, HANS ZIMMER & LISA GERRARD


Download from iTunes

-

Buy from Amazon