Tragic new opera exploring Litvinenko assassination seeks 'justice' for his widow
26 February 2020, 13:52 | Updated: 26 February 2020, 14:31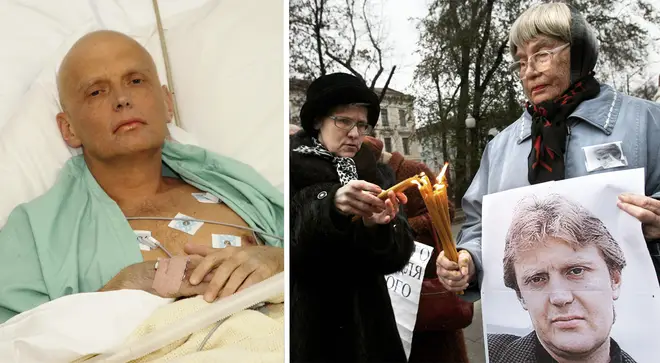 Ever since Marina Litvinenko's husband, Alexander Litvinenko, was assassinated in 2006, she has fought for justice. Now, her tragic love story is being played out in a heart-breaking new opera.
A gripping new opera exploring the murder of Alexander Litvinenko will see its debut in the UK this summer.
Litvinenko, a former Russian secret service officer, tragically died in London in 2006 after being poisoned with the radioactive isotope, polonium-210.
It is believed the plan to murder Litvinenko was formulated by two assassins sent by the Russian government, and a British public inquiry showed compelling evidence against the suspects.
However, his killers continue to live in Russia with no prospect of extradition – and since the inquiry, Litvinenko's widow, Marina, has fought for justice.
But when British composer Anthony Bolton listened to the CD of a book Marina had written about the case (Death of a Dissident) in 2014, he decided to give it a voice through the power of music.
Read more: Italy's iconic La Scala opera house closes amid coronavirus fears >
The retired City fund manager then wrote a two-act opera, The Life and Death of Alexander Litvinenko, to a libretto by musician and screenwriter, Kit Hesketh-Harvey.
His operatic work incorporates several Russian songs – including a Red Army marching song, a Moscow football anthem and the Chechen national anthem – and also takes inspiration from composers such as Shostakovich, Rachmaninov and Tchaikovsky.
It took the pianist and cellist three years to pen the score, but now the world premiere of Bolton's opera is ready to be played out to the public.
Speaking about the upcoming production, Marina Litvinenko told The Guardian: "For me it is about justice. My motive is very personal.
"What I'm doing has never been politically motivated, it is all about love, a love story, the story of my husband."
After watching an orchestral run-through of the opera, Litvinenko cried and added: "If I was not optimistic I would not have been able to [do] everything I've done in the past 10 years."
The two performances will feature seven soloists and a chorus, who have been cast in the roles of Russian soldiers, Chechen Muslims, football supporters and hotel bar customers.
The Life and Death of Alexander Litvinenko takes place at Grange Park Opera, Surrey, on 16 and 18 July 2020.