We summed up famous operas using the hashtag #ExplainAnOperaPlotBadly
31 January 2019, 17:21 | Updated: 31 January 2019, 17:43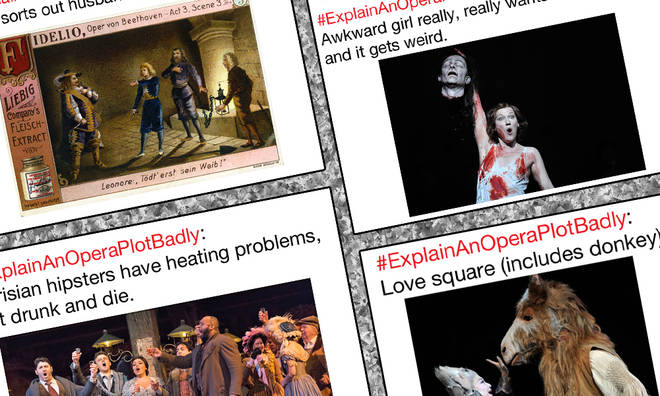 Can you #ExplainAnOperaPlotBadly? The great works of Puccini, Rossini, Verdi and Mozart: reduced to silly one-line tweets. You're welcome.
A night at the opera can be emotional, inspiring and even downright confusing.
Hours of complex music and stories often take a lot of explaining. But why have a three-page synopsis when you can summarise an opera plot in one sentence?
Introducing the hashtag #ExplainAnOperaPlotBadly...
The Barber of Seville – Rossini

Picture: Classic FM / Getty Images

La Bohème – Puccini

Picture: Classic FM / Getty Images

Don Giovanni – Mozart

Picture: Classic FM / Getty Images

Falstaff – Verdi

Picture: Classic FM / Getty Images

Faust – Gounod

Picture: Classic FM / Getty Images

Fidelio – Beethoven

Picture: Classic FM / Getty Images

Hansel and Gretel – Humperdinck

Picture: Classic FM / Getty Images

A Midsummer Night's Dream – Britten

Picture: Classic FM / Getty Images

Ring Cycle – Wagner

Picture: Classic FM / Getty Images

Salome – Strauss

Picture: Classic FM / Getty Images

The Magic Flute – Mozart

Picture: Classic FM / Getty Images

Turandot – Puccini

Picture: Classic FM / Getty Images