Battlestar Galactica theme: Stu Phillips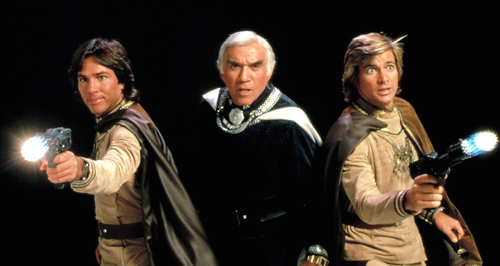 Battlestar Galactica's brassy fanfare signalled the arrival of a cult classic but financial flop.
Stu Phillips had produced a large number of television and film scores when he was approached to compose music for the original Battlestar Galactica in 1978.
It was initially planned as a series of TV movies, riding high on the success at the cinema of Star Wars. Originally designed as a three-hour pilot followed by two full-length TV movies, it ultimately became a regular series. To defray the costs of one of the most expensive series ever made, the pilot was re-edited as a cinema release.
Considered a failure by studio bosses, the series didn't run for long but the hours and hours of soundtrack music composed by Phillips, successfully conjuring up the immensity of space, has remained popular with enthusiasts ever since.
The main title with its introduction by Patrick 'John Steed' Macnee and Star Wars-style brass fanfare was even turned into a dance hit, inspired by the chart success of a disco version of Star Wars. It became the most memorable music from the composer who also gave us Buck Rogers in the 21st Century.